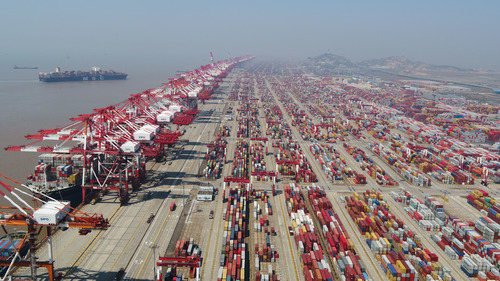 The photo shows the container terminal at Yangshan port of Shanghai, east China.
BEIJING, April 30 (Xinhua) -- China's domestic industries may have to face tougher market competition once the Regional Comprehensive Economic Partnership (RCEP) agreement formally takes effect, but over the long run, its entering into force in the future is helpful for these industries to grow new advantages in development, reported Economic Daily recently.
Currently, China is getting technically ready for the RCEP. Previously on April 15, China submitted the ratification documents to ASEAN, marking its formal completion, ahead of other non-ASEAN RCEP members, of ratifying the RCEP agreement.
-- RCEP to facilitate integration of markets at home and abroad
In November 2020, 15 RCEP participating countries including China, Japan, Australia, New Zealand, the Republic of Korea (ROK) and 10 ASEAN members signed the RCEP agreement, whose influence towards trade, investment and economic development of the related member countries aroused wide attention.
Research from UNCTAD highlighted that there is significant scope for RCEP members to invest more in each other. By 2025, RCEP may bring more than 10 percent of exports growth for the member nations, according to UNCTAD.
Previously in late March, Wang Shouwen, Vice Minister of Commerce told said that for China, the RCEP will be a key support to establish the new development pattern.
Through open trade and investment, RCEP is expected to help speed up formation of the new development pattern in China as it is conducive to smoothing regional industrial chain and supply chain, better connecting domestic and international markets and resources, smoothing the domestic circulation, and promoting the dual-circulation as well, according to Wang.
RCEP will also bring the Chinese economy to a higher industrial level, elevate Chinese products' quality standards, boost industrial upgrading and spur the high-quality development of Chinese economy, added Wang.
RCEP as an agreement on comprehensive economic partnership covers clauses on market entry and rules. It will have systemic and combined effects on China's domestic industry, said Yuan Bo, deputy director of the Institute of Asia Studies, Chinese Academy of International Trade and Economic Cooperation.
As Yuan thought, alongside RCEP participating countries' expected opening of commodity, service and investment sectors to each other, China will introduce rules and regulations of higher standards relating to competition policies, intellectual property rights (IPR), and market transparency.
While benefiting from more optimized business climate, better facilitation to corporate investment and wider opening up, China's domestic industries may face fairer and fiercer competition, which, in the long term, may boost structural economic upgrading and grow new advantages in development of higher levels at home.
Yuan highlighted that higher level of IPR protection rules will help China bring in high-quality foreign investment and further develop knowledge-intensive high-tech industries. Adopting uniform e-commerce rules for the first time in RCEP member countries will help e-commerce and digital economy-related industries in China expand the RCEP member markets and accelerate the regional digital transformation.
-- Rules of origin to perfect regional production factors
Cumulative rules of origin are believed to be the most eye-catching part of RCEP. According to the rules, when the origin of a product is determined, the added value of its raw materials from any RCEP participating nations can be accumulated, so as to avail the related place of origin of meeting the 40 percent added-value increase criterion on export of final product, making it easier to enjoy the preferential tariff rate.
Compared with bilateral free trade agreements (FTAs), RCEP cumulative rules to be applied to the 15 member countries will further lower the access threshold for preferential tariff and encourage exports, explained Jiang Feng, director general of the Department of Duty Collection under China's General Administration of Customs.
Cumulative rules of origin are usually found in bilateral FTAs where related accumulation and sales are limited only between the two countries, while in RCEP, the value components involved in the 15 participating states can be cumulated, allowing more choices of raw materials and making it easier to meet the added-value criterion, noted Shen Minghui, director of the Department of Emerging Economy Studies under the National Institute of International Strategy of the Chinese Academy of Social Sciences.
Shen held that, based on the value-added rules of origin, enterprises are given more choices of raw materials and accumulation is much easier. Labor-intensive assembly and processing industries will be the first to pick the benefit. From a value chain perspective, manufacturers of semi-products, components, parts and other intermediate products may benefit more, in particular for countries with established production strengths such as China, Japan and the ROK, all of which are likely to enjoy sharper strengths in semi-products and components and parts related industries.
Moreover, distribution of production factors will be perfected throughout the region, and industries and enterprises staying at the upstream and downstream of the value chain and serving final consumption may hopefully attract more investments, said Shen.
According to Yuan Bo, cumulative rules of origin give multinationals larger flexibility to, based on the resource endowments and advantageous markets in ASEAN, China and other related countries, readjust their industrial chains and supply chains to form highly effective factor and resource allocation in the region.
In Yuan's opinion, this will also boost trade of and investment in intermediate products and give shape to the closer, more stable and more competitive regional industrial chain division and cooperation system.
Yuan stressed that cumulative rules of origin may also divert labor-intensive industries or processes to ASEAN where lands and labors are cheaper. This will speed up restructuring of regional industrial chains and supply chains and consequentially impose competitive burden on central and western China.
-- Good to keep in line with higher level of international trade and economic rules
When RCEP comes into effect, nearly 30 percent of China's exports will enjoy zero tariff treatment, bringing opportunities for China's foreign investment and service export.
Wang Shouwen said that this will also push China to adopt higher level of international trade and economic rules, accelerate institutional opening-up and build a higher level of opening economic system.
RCEP will result in new changes in China's foreign trade pattern, said Yuan Bo. It will not only further consolidate the close trade bond between China and ASEAN as well as Australia and New Zealand, but also create new possibilities for its trade cooperation with Japan and the ROK, and effectively boom the Belt and Road Initiative-related trades.
For instance, it will tap the potential in China-Japan-ROK trade and investment cooperation and create new possibilities for trade growth. Together with in-place bilateral FTAs, it will promote the liberalization to a new level in the region to allow closer investment cooperation between industries. What's more, it will set a good example for Belt and Road countries who will be encouraged to make more free trade arrangements.
Shen Minghui expected that the RCEP will have more in-depth impact on domestic trade and investment.
As he reckoned, China's industries with competitive edges will build up their competitiveness and those less competitive will voluntarily upgrade themselves. Within the region of the 15 participating countries, China may be able to amplify its roles of regional industrial chain and supply chain centers, especially the regional production centers that serve the regional markets of semi-products, components and parts.
Moreover, RCEP has diversified impacts on industries. Textile, apparel, light industry, building materials, electronic equipment and agricultural products sectors are expected to enjoy more benefits, while auto parts, iron and steel and petrochemical as well may face tougher competition. However, this will promote upgrading and improve productivity of related industries.
Furthermore, RCEP also helps improve the level of opening in service trade. In addition to the service sectors China pledged to open in its WTO accession, 22 sub-sectors are added in RCEP including R&D, management consultation, manufacturing-related services, and air transportation. China also promises more in 37 sectors such as finance, legal, architecture and marine transportation. In the next phase, trade in services will undoubtedly be a new growth driver which is expected to inject new impetus into regional sustainable development.
Apart from these, China will be a more significant consumption market in the region. Chinese consumers will access to more high-quality imported commodities and services. The demand-supply imbalance is expected to be rectified. China will build up its role as the world's indispensable consumption market. Meanwhile, RCEP participating nations will see a larger market in China.
As Shen Minghui deemed, in signing and validating RCEP, China has probed into many new trade rules and elevated its market openness to create better business climate and market access opportunities. It is expectable that more foreign investments will be brought to China in the future, Shen said. (Edited by Duan Jing with Xinhua Silk Road, duanjing@xinhua.org)