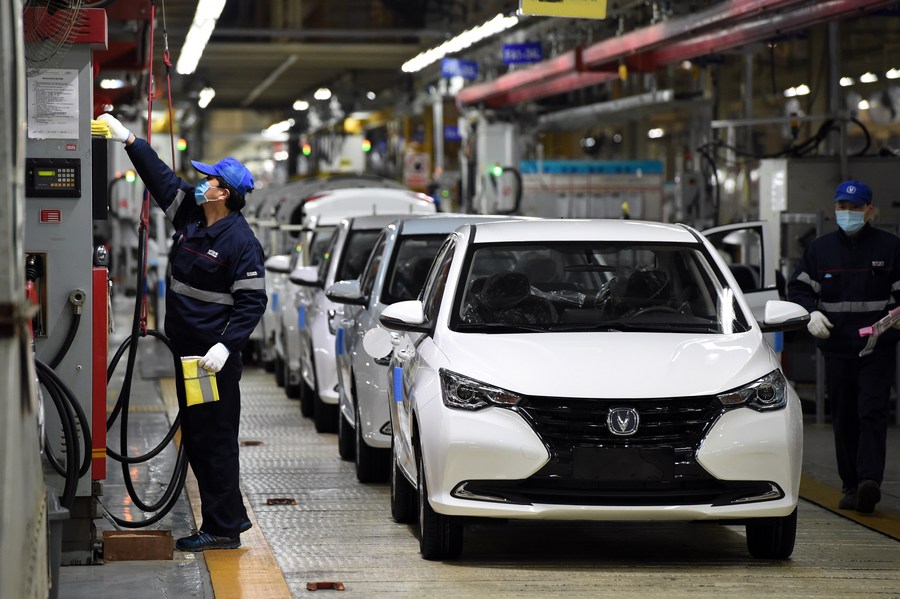 A man works at a workshop of Hefei plant of Changan Automobile in High-tech Industry Development Zone in Hefei, east China's Anhui Province, Feb. 26, 2020. (Xinhua/Zhou Mu)
BEIJING, April 8 (Xinhua) -- China is expected to see a faster economic recovery with its year-on-year growth rate of gross domestic product (GDP) likely to approach 20 percent or even exceed 20 percent for the first quarter of this year thanks to last year's low base and a steady acceleration of industrial production fired up by domestic and overseas demand.
With the normalization of epidemic prevention and control, consumption market sustained a steady recovery momentum.
In March, the services purchasing managers' index (PMI) was superior to that in previous years. Affected by local scattered COVID-19 outbreak, the PMI and the new order index of catering, sports and entertainment and other industries have increased significantly month on month.
With the arrival of the production and construction season, upstream and downstream business activities of supply chains have recovered.
In March, the business climate index of China's logistics industry amounted to 54.9 percent, up 5.1 percentage points compared with the previous month. The business climate of the logistics industry returned to the expansion zone, indicating an obvious pick-up momentum.
The excavator index, an important index for China's infrastructure investment, has also continued to soar.
According to data released by China Construction Machinery Association (CCMA), in February, 26 excavator manufacturers included in CCMA's statistics sold 28,300 excavators, an increase of 205 percent year on year.
Driven by pro-consumption policies for the automobile sector, automobile consumption demand has continued to recover. According to data of China Association of Automobile Manufacturers, in the first 20 days of March, 11 key enterprises produced 1,267,000 vehicles, 1.2 times of that in the same period of last year.
Industry insiders pointed out that the release of these key indexes suggested a strong sense of economic recovery, highlighting the strength and vitality of China's economy and constantly enhancing market expectations and confidence.
According to Fan Ruoying, a research fellow of Bank of China Research Institute, in the first quarter of 2021, China's economy continued to recover steadily on the whole. Affected by the low base of the previous year, key economic indexes all showed a significant improvement. First, the economic climate has recovered; second, enterprises are expected to record a significant improvement; third, consumption has continued to recover; and fourth, investment has witnessed restorative rebound.
Zhu Jianfang, chief economist of CITIC Securities, predicted a steady recovery in consumption in March, with a year-on-year growth of 28 percent. Compared with the same period in 2019, the growth rate will rise from 5.6 percent during January and February to about 6.5 percent.
In the next stage, against the backdrop of accelerating the construction of a strong domestic market and creating a new development pattern, the steady recovery momentum of the consumer market is expected to continue as the pro-consumption policies exert significant effects constantly, said Zhang Min, a statistician at Trade and Foreign Economy Department of National Bureau of Statistics.
Manufacturing investment will be a highlight in overall investment. Analysts believed that manufacturing investment is expected to maintain a double-digit growth in the first quarter, driven by the continued improvement in profits of industrial enterprises and the rebound in domestic and foreign demands.
Li Chao, chief economist of Zheshang Securities, analyzed that price rise of industrial products, recovery of corporate profits and start of the inventory cycle will further enhance enterprises' willingness in medium and long-term capital expenditure and are expected to provide strong support for manufacturing investment under the support of credit funds.
According to Liu Xuezhi, analyst of Bank of Communications, due to the disturbance of base factors, the year-on-year growth rate of fixed-asset investment in the first quarter is likely to fall from 35 percent during the January-February period to 28 percent. However, with the commencement of a large number of projects, the growth rate of infrastructure investment is expected to speed up.
While domestic demand has been rebounding steadily, foreign demand has been maintaining a recovery momentum. A series of high-frequency data showed that exports have continued to boom in March.
Analysts of Guotai Junan Securities believed that with recent overseas economic recovery and steady foreign demand, the USD-denominated year-on-year export growth rate was expected to surge 32.4 percent year on year in March. On a more comparable basis, the average two-year growth rate came at in 11 percent, a better performance than that before the COVID-19 outbreak.
The steady recovery of the major demands has jointly driven the remarkable rise of economic growth in the first quarter. Institutions generally predicted that the GDP growth rate in the first quarter will be close to or even exceed 20 percent.
According to Tang Jianwei, chief research fellow of Bank of Communications, investment, consumption and export have all achieved rapid growth since the beginning of the year, indicating a significant resumption of economic growth momentum. Meanwhile, as the economic growth was significantly negative in the first quarter of last year, the low base promoted a significant increase in economic growth. The economy is expected to grow by around 18 percent in the first quarter of this year.
In addition, Ping An Securities, TF Securities, Industrial Bank and other institutions all forecasted that the economy will grow at more than 20 percent in the first quarter. (Edited by Yang Yifan with Xinhua Silk Road, yangyifan@xinhua.org)