BEIJING, March 12 (Xinhua) -- A total of 38,200 registered enterprises in 11 key industrial parks of Hainan Free Trade Port (FTP) achieved an operating income of 466.534 billion yuan last year, a year-on-year increase of 80.85 percent, reported the Hainan Daily Thursday.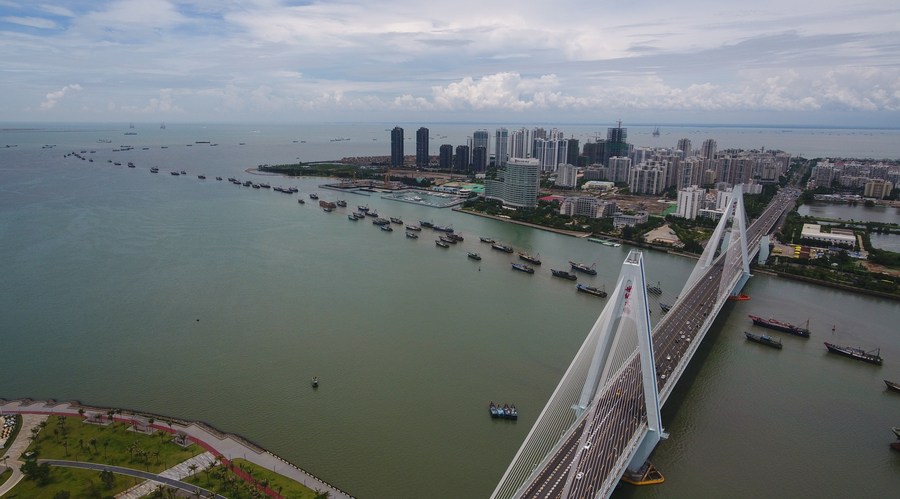 Aerial photo taken on Aug. 19, 2020 shows vessels sailing on the sea near Xin'gang port in Haikou, south China's Hainan Province. (Xinhua/Yang Guanyu)
Economic benefits and aggregation effects have gradually emerged in Hainan FTP. The operating income of the Yangpu Economic Development Zone last year increased by 35.25 percent year on year to 161.33 billion yuan. The Central Commercial District of Sanya drew 11 of Fortune Global 500 enterprises as well as 5 of the 500 largest enterprises in China by improving the business environment.
According to preliminary statistics, in 2020, more than 20,000 new registered enterprises settled down in 11 key industrial parks.
Moreover, infrastructure construction has been progressing steadily. In 2020, the provincial government allocated 26.1 billion yuan of funds to support the improvement of infrastructure and functional supporting facilities in key parks. As of the end of December 2020, a total of 60.557 billion yuan of fixed asset investment has been completed, with an annual completion rate of 120.67 percent.
(Edited by Bao Nuomin with Xinhua Silk Road, baonuomin@xinhua.org)