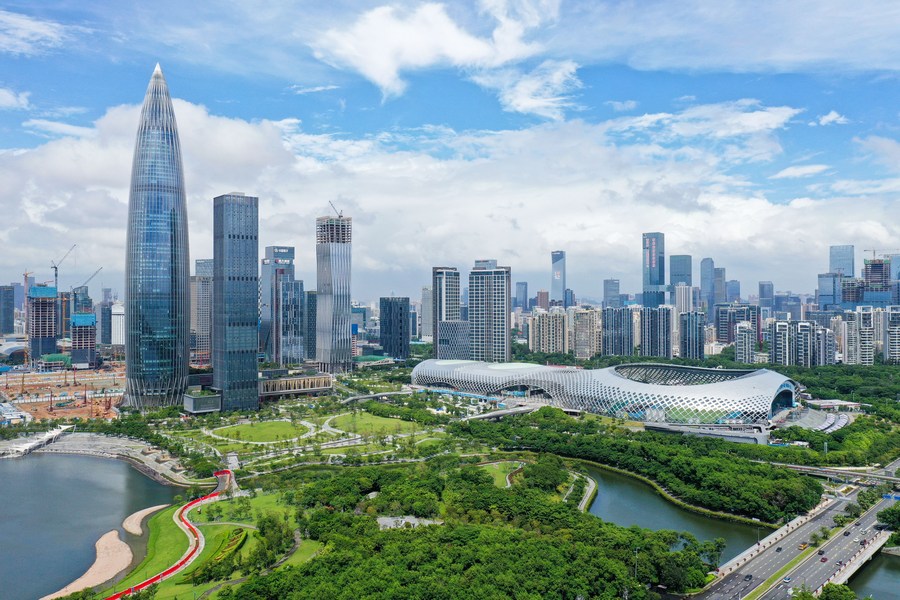 Aerial photo taken on Sept. 17, 2020 shows the Houhai area in Nanshan District of Shenzhen, south China's Guangdong Province. (Xinhua/Chen Yehua)
BEIJING, March 10 (Xinhua) -- China is making plans for the development of small and medium-sized enterprises (SMEs) during the 14th Five-Year Plan period (2021-2025), aiming to roll out more financial policies and measures to empower SMEs, reported Xinhua-run Economic Information Daily on Wednesday.
With a series of supportive policies, China's SMEs have managed to navigate the COVID-19 slump last year.
China's timely measures, such as tax cut and fee reduction, have granted necessary supports for its SMEs amid the unusual headwind last year. Financial institutions also contributed to their development by lowering average interest rate by 0.8 percentage point to 5.08 percent, compared to that of the beginning of 2020.
This year, China will continue to address financing difficulties facing small and micro enterprises. It has set a target that inclusive loans to micro and small businesses by large commercial banks will increase by over 30 percent this year, according to China's government work report delivered on March 5.
Besides, China will continue to provide rewards and subsidies to reduce financing guaranty fees for micro and small businesses, and improve mechanisms for risk sharing and compensation for loan defaults. New models for providing supply chain financial services will be developed to provide SMEs easier access to loans.
"Generally, these measures will energize market entities, reflecting that the financial institutions are dedicated to serve the real economy," said Wen Bin, chief analyst at China Minsheng Bank.
It is expected that new inclusive loans for small and micro enterprises will reach 1.45 trillion yuan (about 0.15 trillion U.S. dollars) in 2021, noted Wang Yifeng, an analyst with Everbright Securities, adding that large commercial banks will take the lead.
(Edited by Li Shimeng with Xinhua Silk Road, lishimeng@xinhua.org)