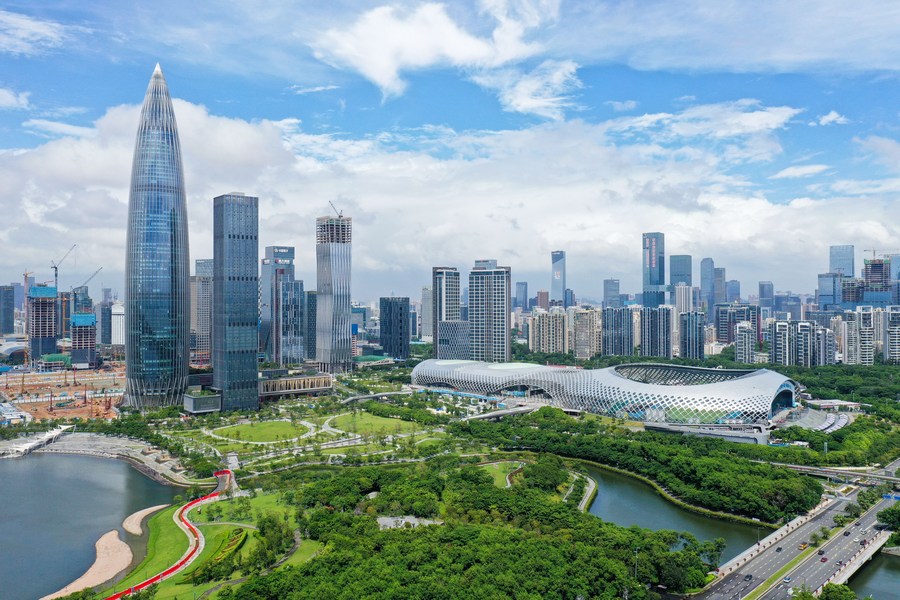 Aerial photo taken on Sept. 17, 2020 shows the Houhai area in Nanshan District of Shenzhen, south China's Guangdong Province. (Xinhua/Chen Yehua)
BEIJING, March 4 (Xinhua) -- China's Ministry of Commerce (MOC) on Monday announced a batch of specific measures in key aspects to stabilize foreign investment in 2021, reported Securities Daily Thursday.
The measures include expanding high-level opening-up to attract more quality foreign resources, improving the level of open platforms to create connection and support for both domestic and international circulations, enhancing investment attraction in industrial chains and promoting the integration of international and domestic industrial chains.
MOC also proposed to improve the service guarantee system for foreign investment to ensure the sound operation of key foreign-funded enterprises in the industrial chains and the supply chains, and deepen the reform on "streamlining administration, delegating power, strengthening regulation and improving services".
More foreign capital will be encouraged in advanced manufacturing and emerging industries to further promote China's industrial development, said Zhang Jun, chief economist with Morgan Stanley Huaxin Securities Co., Ltd., a joint venture between Morgan Stanley and Huaxin Securities.
In terms of strengthening investment attraction in industrial chains, the circular proposes to actively attract strategic investment by studying and improving the management system for foreign investors' strategic investment in listed companies, and easing requirements on foreign investors' qualifications, shareholding ratios and lock-up periods for strategic investment in listed companies.
Actively attracting strategic investment will not only help increase the effective capital supply and enrich market players, but also meet the needs of China's own financial development, noted Zhang.
With the increasing linkage between the domestic capital market and the international market, more and more foreign-funded institutions will enjoy the dividends of China's economic development, and China's own international discourse power and competitiveness will rise accordingly, he added.
(Edited by Gu Shanshan with Xinhua Silk Road, gushanshan.1987@163.com)