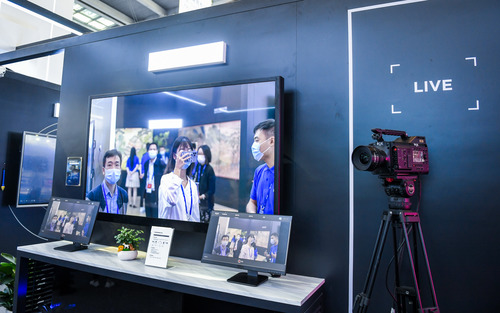 A visitor experiences 8K live streaming via 5G network at the booth of BOE Technology Group Co., Ltd. during the 22nd China Hi-Tech Fair (CHTF) in Shenzhen, south China's Guangdong Province, Nov. 11, 2020. (Xinhua/Mao Siqian)
BEIJING, Feb. 5 (Xinhua) -- Shandong Institute of Industrial Technology (SDIIT) recently launched 4K ultra HD artificial intelligence (AI) visual processing chip, a professional-grade chip for the pan-security market.
It is the second ultra HD chip that SDIIT jointly launched with Hunan Goke Microelectronics Co., Ltd. based on its Taishan chip platform after previous launch of an 8K chip.
The 4K chip adopts advanced 12-nanometer low power consumption processing technology, and innovatively integrates 4K60 frame image processing unit and neural network computing unit together in one "core", providing users with excellent visual effects. Also equipped with 4T computing capacity, efficient neural network computing unit, and dual-core digital signal processor, the chip is expected to meet the needs of users' differentiated machine vision computing, and can be flexibly applied to various usage scenarios.
SDIIT launched its Taishan 8K ultra HD chip platform that integrated high-performance 8K video codec processor, 8K image display processor and video AI super-division processor, earlier on December 28 of 2020.
The 4K and 8K chip will provide strong support for smart construction in east China's Shandong province, SDIIT said.
The 8K chip is expected to realize mass production next year in Jinan city, bringing out an industry scale of 10 billion yuan, said Sun Dianyi, director of SDIIT. (Edited by Niu Huizhe with Xinhua Silk Road, niuhuizhe@xinhua.org)