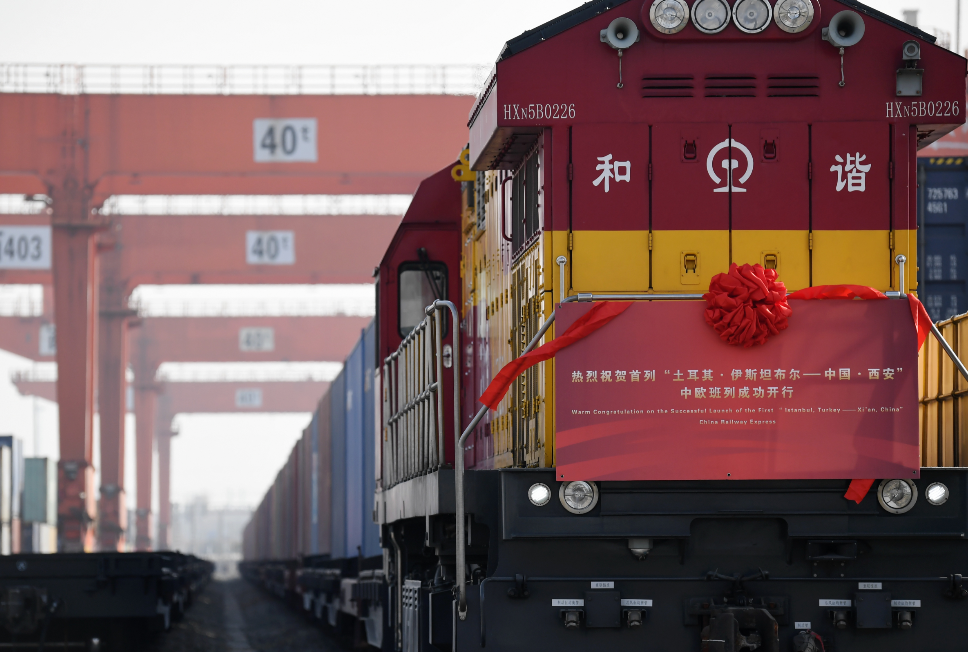 A congratulation ceremony is held for the successful launch of the first cargo train from Turkey to China in Xi'an, northwest China's Shaanxi Province, Dec. 23, 2020. (Xinhua/Li Yibo)
BEIJING, Jan. 29 (Xinhua) -- Northwest China's Shaanxi Province saw its trade with countries along the Belt and Road routes stand at 63.04 billion yuan (about 9.78 billion U.S. dollars), a year-on-year increase of 26.7 percent, according to statistics recently released by the local customs.
Republic of Korea (ROK), China's Taiwan, the European Union (EU), and the ASEAN are the top four trading partners of Shaanxi Province. Specifically, the province witnessed the highest growth rate of trade with the ASEAN.
In 2020, Shaanxi's trade with the ROK, the EU, and the ASEAN stood at 90.32 billion yuan, 41.19 billion yuan, and 40.43 billion yuan, a year-on-year increase of 23.5 percent, 15.7 percent and 45.6 percent, respectively.
The province saw its foreign trade grow by 7.3 percent year on year to a record high of 377.21 billion yuan in 2020, despite the COVID-19 pandemic, according to the customs of Xi'an, the provincial capital.
Its exports hit 192.96 billion yuan, up 3 percent year on year, while imports totaled 184.25 billion yuan, an annual increase of 12.2 percent.
The province saw a significant rise in imports of major commodities and key agricultural products last year. Its import volume of crude oil surged 60.5 percent year on year, while soybean imports registered a solid annual growth of 33.2 percent. (Edited by Hu Pingchao with Xinhua Silk Road, hupingchao@xinhua.org)