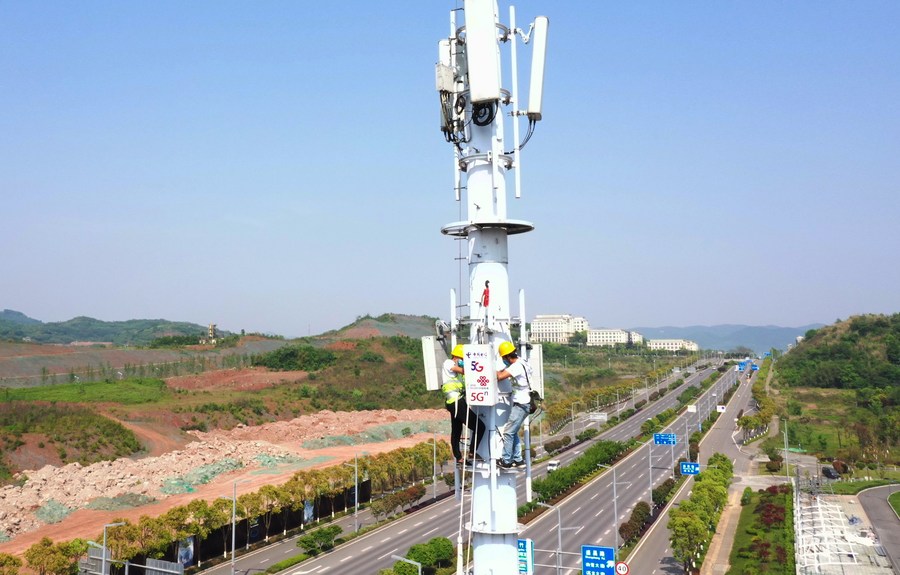 Aerial photo taken on April 15, 2020 shows people working at the construction site of a 5G base station in Chongqing, southwest China. (Xinhua/Wang Quanchao)
BEIJING, Jan. 26 (Xinhua) -- Chinese local governments have recently issued the 2020 annual economic reports in succession, which showed that new economy has injected strong power into the recovery of local economy, reported Shanghai Securities News Tuesday.
The exuberant development of the new economy is reflected through the economic data of various regions in 2020.
East China's Shandong Province has seen the added value of its new economy featuring new technologies, new industries, new forms of business and new modes take up more than 30 percent of the total in 2020, 2 percentage points higher than that of 2019, and the output value of high-tech industries accounting for 44.5 percent of the total, up 4.4 percentage points.
South China's Guangdong Province has seen the added value of its advanced manufacturing sector occupy 56.1 percent in that of industries above designated size in 2020, registering a year-on-year growth of 1.2 percentage points.
During that year, the output value of new energy vehicles in east China's Shanghai Municipality grew by 1.7 times, and those of new materials and new energy up 10.8 percent and 8.5 percent, respectively.
The internet and related services above designated size in southwest China's Guizhou Province recorded an increase of 115.7 percent in operating revenue from January to November 2020.
Affected by the COVID-19 pandemic, the demand for online meeting, online education and other online services soared in 2020, driving the rise of related industries and economic growth.
For instance, driven by the rapid growth of enterprises in chip research and development (R&D), game R&D, e-commerce, take-away and pan-entertainment, the production growth of Shanghai's information transmission, software and information technology services exceeded 15 percent in 2020, lifting the city's economic growth by 1.1 percentage points.
Local investment data also showed that high-tech industries were the main fields for investment in 2020, with investment growth in high-end manufacturing and high-tech services in various regions better than the overall level.
As many regions have proposed to vigorously develop strategic emerging industries and digital economy in 2021, it is foreseeable that new economy will continue to serve as an important engine for local economic development.
(Editedby Gu Shanshan with Xinhua Silk Road, gushanshan.1987@163.com)