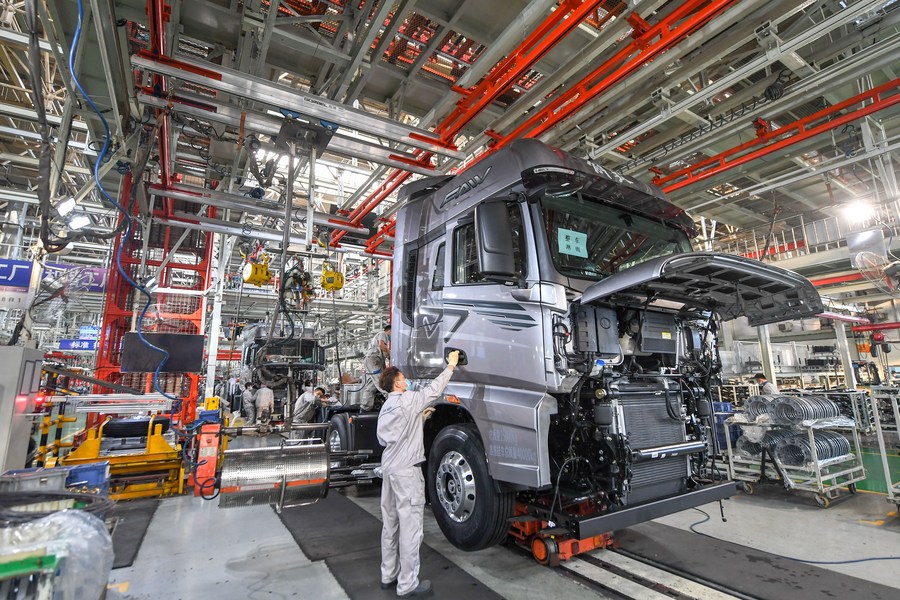 Workers assemble vehicles at the general assembly line of FAW Jiefang, a truck-manufacturing subsidiary of First Automotive Works (FAW) Group Co. Ltd., in Changchun, northeast China's Jilin Province, Sept. 23, 2020. (Xinhua/Zhang Nan)
BEIJING, Jan. 14 (Xinhua) -- China's manufacturing sector is expected to embrace more investment following marked recovery of China's economy, reported China Securities Journal Thursday.
This is on the one hand attributed to the policy support, said the report, pointing out that the Central Economic Work Conference held December 2020 has listed strengthening national sci-tech power and enhancing independent controllability of industrial chain and supply chain as the top two priorities in 2021.
It added that manufacturing occupies a key position in promoting high-quality development, and high-tech industries will receive far more investment than traditional manufacturing.
Besides, with loosening credit policies extending from short-term loans to long-term loans, the foreign direct investment (FDI) received by China remains stable, which will further support the investment capital needs of manufacturing.
On the other hand, the nominal GDP growth rate, manufacturing investment output rate, and manufacturing GDP share in 2021 will likely drive investment in the manufacturing sector, with investment growth projected to pick up sharply.
Some research institutions believe that China's nominal GDP growth has always played a key role for driving manufacturing investment growth, and with the low base effect and combined with the latest forecast of the International Monetary Fund (IMF), the nominal GDP growth of China may rebound to 9-10 percent in 2021 and drive manufacturing investment to grow rapidly.
With the transformation of traditional industries to high-tech industries, the manufacturing investment output rate has declined year by year since 2015, which means the continuous rise of the manufacturing investment efficiency, and it can be predicted that with the development of high-tech industries, the manufacturing investment output rate will continue to fall, and the manufacturing investment growth will increase greatly.
At CPC Central Committee's proposals for formulating the 14th Five-Year Plan (2021-2025) for National Economic and Social Development and the Long-Range Objectives Through the Year 2035, "maintaining the basic stability of the manufacturing sector" is placed in an important position as a quantitative indicator for the first time.
The manufacturing GDP share may remain stable with investment in related fields keeping certain momentum in 2021, the first year of the 14th Five-Year Plan period.
A range of leading indicators also forebode that China's manufacturing sector boasts the foundation for a sustained recovery in investment in 2021.
In December 2020, China's Purchasing Managers Index (PMI) stood at 51.9 percent, above the critical line for the 10th consecutive month, indicating the continuous and steady recovery of manufacturing production.
The profits of manufacturing firms are also recovering continuously and steadily. From January to November 2020, the profit margin of the operating revenue of industrial enterprises with annual main business revenue exceeding 20 million yuan registered 6.1 percent, up 0.14 percentage point year on year.
(Editedby Gu Shanshan with Xinhua Silk Road, gushanshan.1987@163.com)