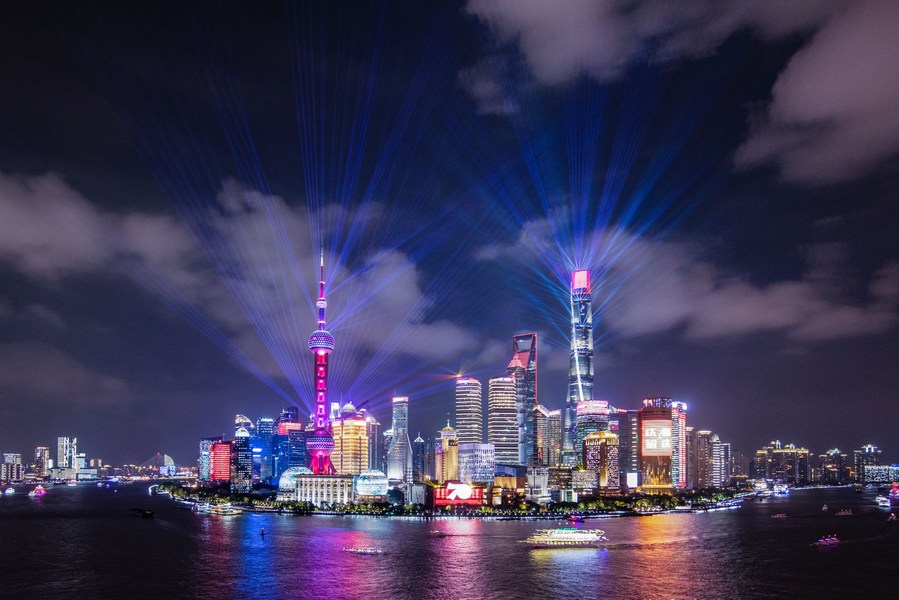 Aerial photo taken on Sept. 18, 2019 shows the night view of the Lujiazui area in Shanghai, east China.(Xinhua/Ren Long)
BEIJING, Jan. 13 (Xinhua) -- The digital yuan wallets in multiple pilot areas of China have developed into "hardware wallets" currently, and the application scenarios of digital yuan are expected to be more rich, reported China Securities News Wednesday.
"Harware wallet" refers to a physical medium opened through counters or electronic channels to store digital yuan in various forms like mobile terminals, cards and wearable devices.
For instance, at the digital yuan test activity held on December 29, 2020 in Beijing, ultra-thin card wallets, visual card wallets, badges, watches, bracelets and many other forms of "hardware wallets" made debuts.
It's learned that the "hardware wallet" is quite convenient to use.
The "hardware wallet" has satisfied the digital yuan payment needs of specific groups of people and under specific circumstances, and is an important supplement of the universality of digital yuan, said She Yunfeng, an analyst with mpaypass.com.cn, a media focusing on mobile payment research.
"Hardware wallet" includes real-name and non-real-name forms with the latter one similar to a prepaid card and convenient for inboud consumption. The wallet boasts a higher security level, supports "dual offline" payment as well a higher usage quota under the premise of counter certification, added She.
According to a senior insider, major banks in China have so far all made layouts in digital yuan "hardware wallet", and multiple regions may have already opened non-public tests.
Many insiders suggests further enrichment of digital yuan test scenarios.
Efforts should be made to enhance cooperation with all related parties to quicken the functional innovation of digital yuan, diversify online and offline application scenarios and build a more open, inclusive and win-win digital yuan ecosystem, said Dong Ximiao, adjunct professor with the Institute of Finance, Fudan University.
Jin Tian, senior researcher with the Institute of Digital Economy, Zhongnan University of Economics and Law, believed that in the future, the application scenarios of digital yuan may cover personal payment, enterprise application and cross-border payment among other fields.
The industrial application scenarios of digital yuan may concentrate on medium, small and micro-sized enterprise finance, supply chain finance, trade finance, corporate working capital management, corporate compensation and benefits, government services, cross-border payment and settlement, cross-border remittance, cross-border trade finance and cross-border investment and wealth management, predicted Liu Bin, director of the Financial Shipping Research Office with Pudong Academy of Reform and Development.
Insiders said that in order to further enrich the application scenarios of digital yuan, efforts should be made to solve related problems in technologies and systems.
(Edited by Gu Shanshan with Xinhua Silk Road, gushanshan.1987@163.com)