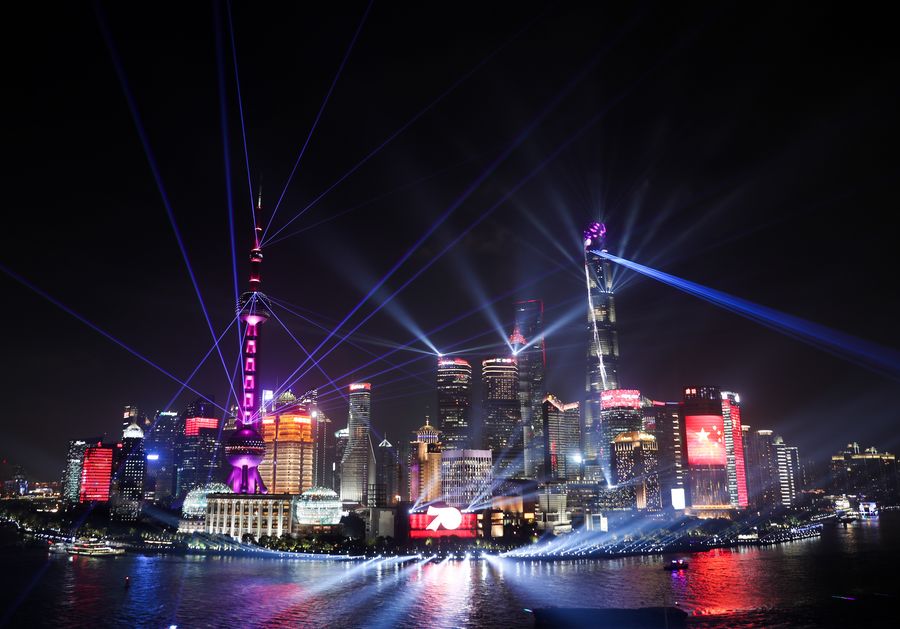 A night view of the Lujiazui area on the eve of China's National Day in east China's Shanghai, Sept. 30, 2019. (Xinhua/Ding Ting)
BEIJING, Oct. 26 (Xinhua) -- The COVID-19 outbreak has not undermined the confidence of most multinationals in investing in China. Instead, China has seen rising overseas investment to date this year, reported Shanghai Securities Journal on Monday.
China's non-financial foreign direct investment saw a year-on-year increase of 25.1 percent last month, marking this year's record high. Its cumulative growth during the first three quarters has turned positive by both RMB and USD, which indicates robust growth of foreign capital inflows in China amid sluggish global economy, according to the Ministry of Commerce (MOC).
Most foreign enterprises remain upbeat about the prospect of China's economy.
A report released by PwC and the American Chamber of Commerce in Shanghai in September showed that of over 200 respondents with manufacturing in China, 70.6 percent said they will not shift production out of China.
The Japanese Chamber of Commerce and Industry in China said in a report that over 90 percent Japanese enterprises in China will keep or expand their business here in the coming one to two years.
This year, China has witnessed increasing capital and expanding business of major foreign enterprises such as BMW, Daimler, Siemens, Toyota, LG and BASF. Their profits used for reinvestment in the first nine months registered a year-on-year growth of 25.5 percent by USD.
Zong Changqing, director of the Department of Foreign Investment Administration of MOC , believed that the confidence of foreign businesses comes from the resilience and vitality of Chinese economy.
Another important reason is the measures taken by the central and local governments to stabilize foreign investment.
This year has seen ten new policies concerning foreign investment launched by the central government, shortened negative list in free trade zones (FTZs) , the newly-built Hainan free trade port (FTP) and three new pilot free trade areas, namely Beijing, Hunan and Anhui.
Data showed that 19 regions in China registered positive growth in foreign investment in the first three quarters by USD, with major economic powerhouses Jiangsu, Shanghai, Zhejiang and Shandong reporting growth of 2.5 percent, 5.1 percent, 9.3 percent and 27.9 percent, respectively.
MOC said more policies to stabilize foreign investment are on the way. The ministry will revise the list of industries that encourages foreign investments, to offer more favorable policies.
(Edited by Li Shimeng, Hu Pingchao with Xinhua Silk Road, lishimeng@xinhua.org, hupingchao@xinhua.org)