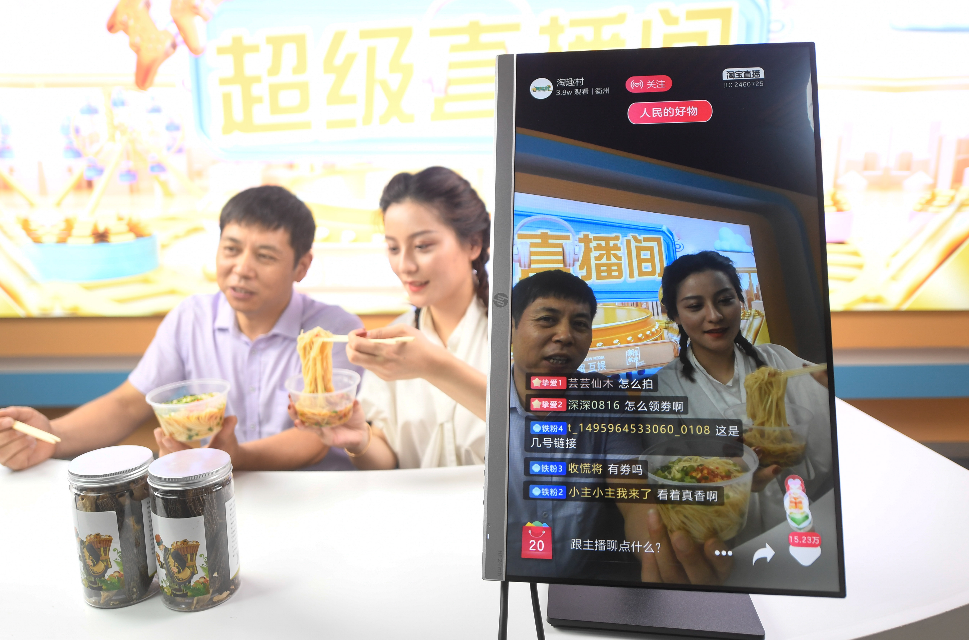 Photo: Villager Chen Jiasheng (L) and livestreaming host Shao Jie present handmade noodles to be sold during a live video stream in Wantian Township in Quzhou City, east China's Zhejiang Province, July 18, 2020.
BEIJING, Oct. 20 (Xinhua) -- China will further increase policy support to attract funds, technology and other resources from all sectors of society to promote development of the agricultural and rural informatization, according to Song Danyang, a senior official with Ministry of Agriculture and Rural Affairs on Sunday.
The rapid development of agricultural and rural informatization has played an important role in enhancing the farmers' income and improving rural living conditions and living standards, said Song.
In recent years, China has conducted explorations on the application of the Internet of Things (IoT), big data, intelligent control, satellite navigation and positioning in agricultural machinery equipment and agricultural machinery operations.
For example, Beijing Municipality has vigorously developed agricultural and rural informatization and built an e-commerce network in rural areas.
In 2019, the number of the fresh agricultural product orders via the e-commerce channels in Beijing was 470 million. It is worth noting that the figure reached 400 million in the first half of 2020, according to Ma Rongcai, deputy director of Beijing Municipal Bureau of Agriculture and Rural Affairs.
In the face of the huge market brought about by the development of agricultural informatization, many Internet giants have begun to set foot in the field.
Tencent, Alibaba and JD.com have all rolled out their platforms related to the agriculture. The e-commerce platform Pinduoduo Inc. also announced to invest no less than 50 billion yuan in the next five years to support the "new infrastructure" for the development of agriculture and rural areas. (Edited by Hu Pingchao with Xinhua Silk Road, hupingchao@xinhua.org)