by Xinhua writers Xu Ruiqing, Xu Yang, Wang Wei, Guo Xiang
SHENYANG, March 9 (Xinhua) -- As China goes all out to contain the novel coronavirus outbreak, authorities have stressed efforts to help foreign-funded companies resume production and operation in an orderly manner.
Thanks to unremitting anti-virus efforts, multinational companies and joint ventures across the nation are demonstrating their confidence in the Chinese market as their business activities have gradually recovered in the world's second-largest economy.
LyondellBasell, one of the largest plastics, chemicals and refining companies in the world, signed an agreement with the Liaoning Bora Enterprise Group through the Internet on Friday.
The two companies will invest 12 billion U.S. dollars over the next 10 years to build a petrochemical industry base in the city of Panjin, northeast China's Liaoning Province. The partnership will make the city a world-class production base of chemicals and drive the development of industrial chains including plastic packaging and building materials.
Executives from both companies witnessed the online signing ceremony in six cities worldwide including Shenyang, Shanghai, Hong Kong, Houston in the United States and Rotterdam in the Netherlands.
"I was worried that the signing ceremony would be postponed due to the epidemic, but LyondellBasell proposed to sign the contract online as scheduled," said Qu Baoxue, the controlling shareholder of Bora. "Both sides are very pleased to complete the investment on schedule."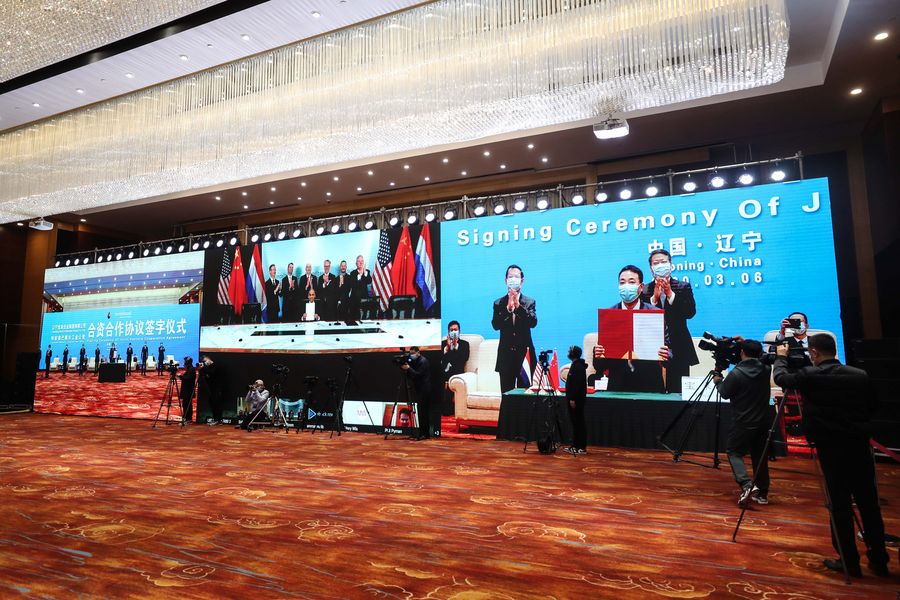 People attend a signing ceremony between Liaoning Bora Enterprise Group and LyondellBasell in Shenyang, northeast China's Liaoning Province, on March 6, 2020. (Xinhua/Pan Yulong)
"The signing of the agreement today is very timely. In terms of the coronavirus, we see that as a temporary situation. We know that will be solved in China and around the world," said Bob Patel, director of LyondellBasell. "And therefore, our work is very supportive because we see the strategic importance of the market in China."
In recent years, the global chemical giant has seen rapid growth in the Asian market, represented by China, at a rate of 7 to 8 percent per year.
The two companies first signed a memorandum of understanding and announced their investment plan in September 2019. Since the coronavirus outbreak, the two companies did not suspend their cooperation but sped up consultations and preparations to complete the investment project.
"I have been impressed with China's determination and tremendous efforts to combat the crisis," said Patel. "The outbreak will not affect the company's assessment of the Chinese market. China's economic prospects are very bright in the long term."
The partnership between LyondellBasell and Bora epitomizes how foreign-funded enterprises are maintaining their investment strategies in China and upholding their confidence in the Chinese market.
People attend a signing ceremony between Liaoning Bora Enterprise Group and LyondellBasell in Shenyang, northeast China's Liaoning Province, on March 6, 2020. (Xinhua/Pan Yulong)
As the world's second-largest economy, China's solid and stringent measures to curb the epidemic have helped cultivate a good business environment for foreign investors and offset the negative impact caused by the deadly pathogen.
Among those measures, local governments arrange chartered buses, trains and flights to bring employees of foreign-funded enterprises back to work, and implemented preferential taxation policies to reduce firms' production costs.
Zhang Yansheng, chief researcher of the China Center for International Economic Exchanges, said China's effective control of the epidemic is undoubtedly becoming a new "bonus" for the country to attract global foreign investment.
On March 4, the construction of Japanese electric motor manufacturer Nidec Corp's new plant began in Jinpu New Area of Dalian, Liaoning Province.
In 2019, the company said it would invest 50 billion yen (about 488 million U.S. dollars) in the new plant, but in February, amid the coronavirus outbreak, it announced it would double the figure.
According to Igarashi Kazutsugu, general manager of Nidec (Dalian) Ltd., China attaches great importance to the development of the new-energy vehicle industry, and the company is confident about the industry's future development in China.
A man works at Tiexi Plant of BMW Brilliance Automotive in Shenyang, capital of northeast China's Liaoning Province, Feb. 17, 2020. (Xinhua/Pan Yulong)
"Since the outbreak, we have seen the excellent governance capability of the Chinese government," said Igarashi Kazutsugu. "The country has struck a balance between epidemic prevention and production resumption to minimize the impact of the epidemic on foreign companies."
"We have faith in the local government and are very confident in our investment," added Igarashi Kazutsugu.
In Jinpu New Area, as of February, over 92 percent of foreign-funded enterprises above designated size had resumed production, helping stabilize global supply chains.
Meanwhile, in east China's Shandong Province, agreements were signed on Feb. 25 through video conferences for 66 foreign investment projects with a total investment of nearly 14.4 billion U.S. dollars.
In north China's Shaanxi Province, according to Samsung China Semiconductor Co., Ltd., the first phase of its chip plant, with a total investment of 10 billion U.S. dollars, achieved full capacity of 130,000 memory chips per month in January and February.
According to Hyunki Ji, vice president of Samsung China Semiconductor, in order to ensure normal production and supply chain security, local governments helped Samsung contact upstream and downstream enterprises to ensure the transportation and supply of key raw materials.
People work at the workshop in Faurecia (Chongqing) Automotive Parts Co., Ltd., a Sino-French joint venture, in southwest China's Chongqing Municipality, Feb. 12, 2020. (Xinhua/Tang Yi)
They also set up a special team to offer 24-hour service for the company to help solve transportation, logistics and manpower problems.
"Thanks to the efforts of local governments, we didn't even suspend production during the Spring Festival holiday," said Ji.
Foxconn, the world's leading contract electronics maker, is also gradually resuming production capacity at its major manufacturing base in Zhengzhou, central China's Henan Province.
Its production in the Zhengzhou Airport Economy Zone had been slowed due to the outbreak of the novel coronavirus in January, affecting the international supply chain.
With help from the local authorities, Foxconn's Zhengzhou production base, which had only 1,800 employees left behind during the Spring Festival at the end of January, now has around 80,000 people hard at work, approaching the level at the same period in previous years.
A man works at Tiexi Plant of BMW Brilliance Automotive in Shenyang, capital of northeast China's Liaoning Province, Feb. 17, 2020. (Xinhua/Pan Yulong)
"The epidemic will affect our production in the first quarter, but the impact on annual production will be limited," said Peng Jinhai, with the Zhengzhou branch of Lianchuang Electronic Component (Group) Co., Ltd.
In January, China's foreign investment law went into effect. Approved by the national legislature in March 2019, the landmark legislation will provide stronger protection and a better business environment for overseas investors.
While carrying out effective epidemic prevention and control measures, Chinese authorities are also putting this law in place to better protect the legitimate rights and interests of foreign investors at such a difficult time, Zhang the chief researcher said.
(Video reporters: Zhao Yong, Gao Ming; video editor: Yang Zhixiang)