China and Egypt inked a memorandum of understanding (MoU) on boosting cooperation under the Belt and Road Initiative (BRI) in 2016.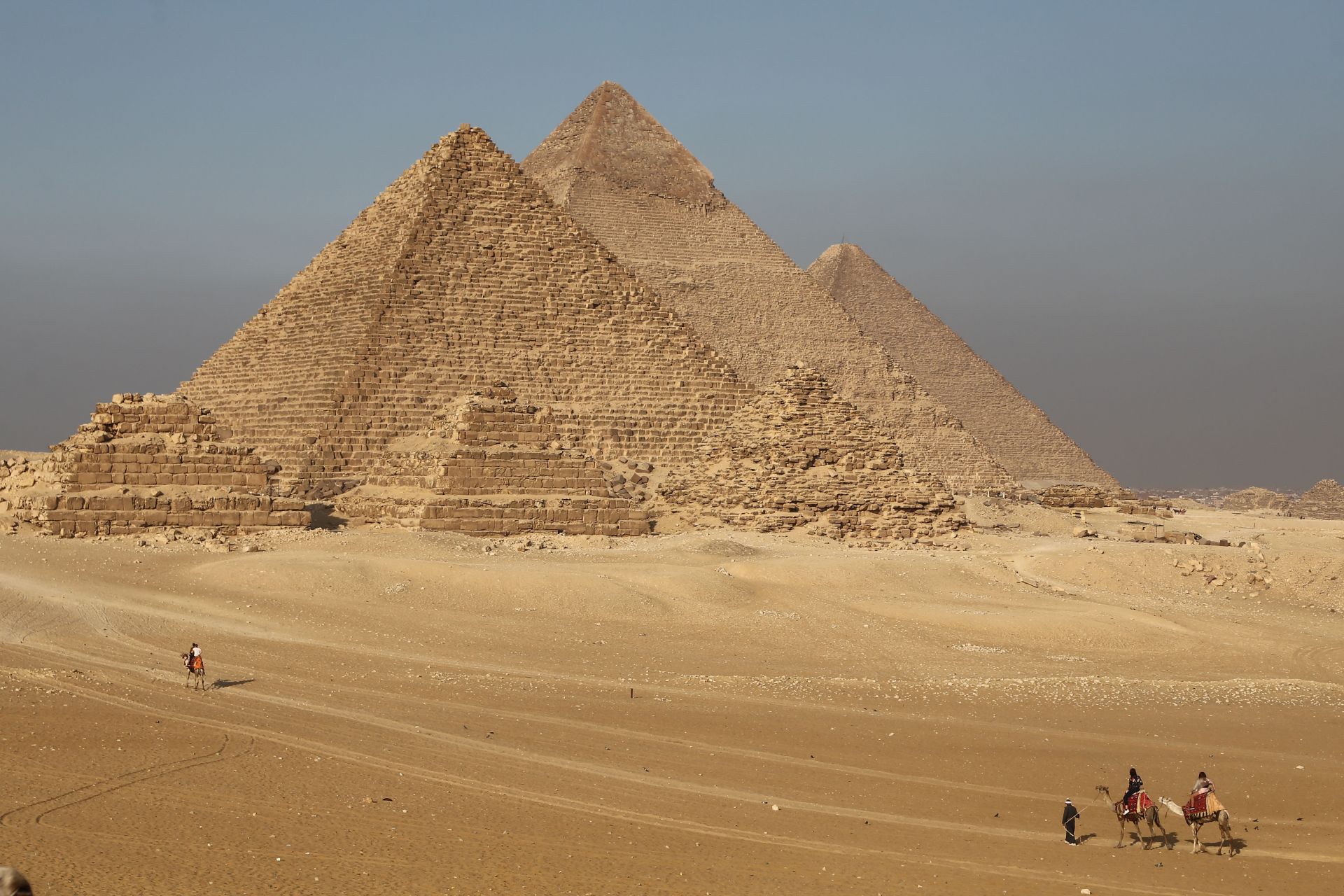 Photo: Tourists visit the Giza Pyramids in Giza Governorate, Egypt, on Jan. 12, 2019. (Xinhua/Ahmed Gomaa)
Economy

Egypt has embarked on an ambitious and transformative plan to advance its potential through the construction of a modern, responsive and equitable economy. Having inherited an economic system burdened with structural impediments to growth, the government today is working on multiple tracks to transform Egypt's economy through difficult political decisions, smart reforms, social justice and targeted investment.
The ambitious modernization program adopted by President El Sisi and supported by the IMF and World Bank includes several key components:
• Decreasing the budget deficit to 9.1 percent and reducing public debt to 95 percent of GDP;
• Cutting energy subsidies by 14 percent during the current fiscal year, introducing a 13 percent value-added tax (VAT) and limiting food subsidies;
• Liberalizing Egypt's foreign exchange policy to strengthen competitiveness, support exports and tourism and attract foreign direct investment, which in turn will foster growth and jobs and reduce financing needs;
• Overhauling the legislative and regulatory environment for investment, including the implementation of a new unified investment law that will significantly reduce bureaucratic hurdles;
• Ensuring social protection for all Egyptians by directing 1 percent of GDP to additional food subsidies, cash transfers to the elderly and low-income families, health insurance for young children and female primary family providers and other targeted social programs, including vocational training for youth; and
• Partially divesting from several state-owned enterprises and banks through public offerings, which, for the first time, will cover public utility companies that have historically been excluded from divesture as a strategic sector.
In addition, Egypt has embarked on a number of national megaprojects that aim to enhance the competitiveness of the economy, create employment opportunities and attract foreign and domestic private investments. With work underway by more than 1,000 companies and nearly two million Egyptian workers, these national megaprojects represent a new chapter for Egypt. Chief amongst these megaprojects is the historic $8.6 billion expansion of the Suez Canal. The enlargement of this strategically important waterway increases capacity, allowing two-way maritime traffic for the first time, reducing waiting and transit time and creating new jobs and revenue. A new integrated network of economic centers is being created, known as the Suez Canal Area Development Project (SCZone), an innovative development area that will transform 76,000 square kilometers along one of world's most important trading routes into an international commercial hub.
In addition to these projects, Egypt's energy sector is also ripe for growth and investment thanks to the massive Zohr natural gas field that was discovered in the Mediterranean Sea and began production in 2017. Daily production from the field is expected to begin at 350 million cubic feet per day, which will increase to 2.7 billion cubic feet by the end of 2019. Production from Zohr is expected to bring Egypt closer to energy independence.
To help foster growth and foreign investment, in June 2017 President El Sisi ratified a new investment law following its passage by the House of Representatives. The new law includes a 50 percent tax break on investments made in underdeveloped areas and government support for the cost of connecting utilities to new projects. This follows the February 2016 launch of Egypt Vision 2030, a sustainable development strategy that establishes a roadmap for maximizing the use of Egypt's competitive opportunities and advantages. The framework commits the government to continue supporting a competitive, diversified, knowledge-based and private sector-led economy, characterized by a stable macroeconomic environment and sustainable inclusive growth.
Additionally, one year after historic monetary and fiscal policy changes and an agreement with the International Monetary Fund (IMF), Egypt's economy has responded with rapid growth in exports, investment, and improved public finances. Through bold reforms to public subsidy programs, a modernized investment policy and progressive taxation reforms, Egypt has transformed its economy to better compete on the global stage and create jobs for Egyptians. As a result, today Egypt is building one of the most dynamic economies.
Culture
Egyptian culture dates back thousands of years to the ancient Pharaohs and has been influenced by numerous invaders throughout history. Without a doubt, this colonialist footprint has blended with the country's rich tradition to define Egyptian culture as we know it today.
Food-based gatherings are in fact one of the main social pillars of Egyptian culture with roundtable family feasts at its forefront. The local palette is geared heavily towards legumes and rice with onions, garlic and plenty of spices. There's nothing quite like filling up on the delicious national cuisine, including foul, ta'miyah, and koshari, while basking in the hospitality of the locals, be it in the city or a Bedouin camp in Aswan. Take a stroll on the Corniche in Zamalek and stop by any of the numerous Nile cruise boats. Authentic oriental dishes are served against an unbeatable backdrop of dancing city lights and shimmering water, enriched by a gentle breeze. If you're able to head north to Alexandria, then seafood is just what the doctor ordered. With the Mediterranean Sea just inches away, salt water fish and crustaceans are a dime a dozen. Select your fish and your favorite cooking style, and enjoy a seat by the window where you can watch small boats sail in and out of the marina while the sun sets in the distance on the Mediterranean.

Egypt is also well known for its captivating entertainment. Belly dancing, or oriental dancing as it's formally known, is a longstanding part of Egyptian culture permeating all facets of life, from cabarets to the most extravagant weddings. These cultural performances extend to the Sufi whirling dervishes and the famous tanoura. Originally a means to gain higher spiritual awareness, this display of dazzling, brightly colored skirts spinning to the hypnotic pulse of the music is guaranteed to mesmerize. The Egyptian's love of the performing arts even transcends into the world of live Arabic music concerts in the arching halls of the Cairo Opera House and the Sayed Dervish Theatre in Alexandria, where the beat of the tablah, or drum, reverberates into the depths of your bones.
In keeping with the oriental rhythm, Egyptians speak the official language, Arabic. While modern standard Arabic is used in television, government speeches, and educational institutions, Egyptian 'colloquial' Arabic is the common form that is universally understood, especially across the Middle East due to Egypt's prominence in the film industry. Within Egyptian Arabic, a number of different vernaculars exist, still fairly discernable but with a twist. The Bedouin of Sinai have their own dialect that differs from those of the Western Desert. There are also minor linguistic groups, such as that of the Nubians, who speak Eastern Sudanic languages, and other minorities such as Greek and Armenian which have undoubtedly shrunk over time.
Much like the official language, Egyptians across the country share a very similar trait; their friendliness. Egyptians are a very warm, sociable people who are always ready to strike up a conversation. They will offer you directions or assistance whether or not you asked for it, and will go out of their way to take you where you need to be. If you're invited over to an Egyptian's house for anything ranging from snacks to a six-course meal, don't expect to finish off your plate so easily as your generous hosts can refill faster than you can eat. If you truly want to experience Egypt, then you absolutely must mingle with the locals to learn the meaning of the expression "a home away from home".
Egypt's culture has so much to offer both locals and visitors who are looking to experience its charm. Whether you're interested in its ancient history or simply looking for an adventure, this place, and its people, are sure to captivate your very existence.
Source: www.egyptembassy.net
www.egypt.travel/en