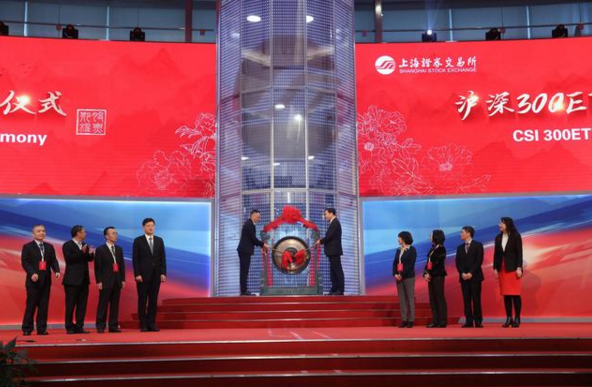 Photo: Launching ceremony of CSI 300 ETF Options

BEIJING, Dec. 24 (Xinhua) -- China's Shanghai Stock Exchange (SSE) and Shenzhen Stock Exchange (SZSE) both quoted their CSI 300 ETF Options for trading on Monday.
For SSE, the CSI 300 ETF Option is its second ETF product following the SSE 50 ETF Option it launched on February 9 of 2015 and also marks its first cross-market ETF option product.
On Monday, a total of 72 different CSI 300 ETF Option contracts were quoted on SSE for trading, including contracts for both call options and put options, with expiration months respectively in January, February, March and June of 2020 and nine strike price series.
As many as 468,700 units of 72 CSI 300 ETF Option contracts were transacted on SSE Monday, including 275,200 units of call options and 193,500 units of put options. Turnover of their premiums stood at 425 million yuan, with the par value at 18.838 billion yuan.
Liu Ti, vice president of SSE said the CSI 300 ETF Options covers more target A-share assets, thus boasts better risk guarantee and asset pricing efficiency.
For SZSE, the trading object of its CSI 300 ETF Option contracts is Harvest CSI 300 ETF, one of the most closely followed stock market indices with wide coverage and great influence.
Li Chao, vice chairman of China Securities Regulatory Commission (CSRC), China's securities regulator, said on the ceremony for rolling out the options that as an important step to deepen capital market reform, launching the product is good to improve China's multilayer capital market product system and attract long-term capital. (Edited by Duan Jing, duanjing@xinhua.org)