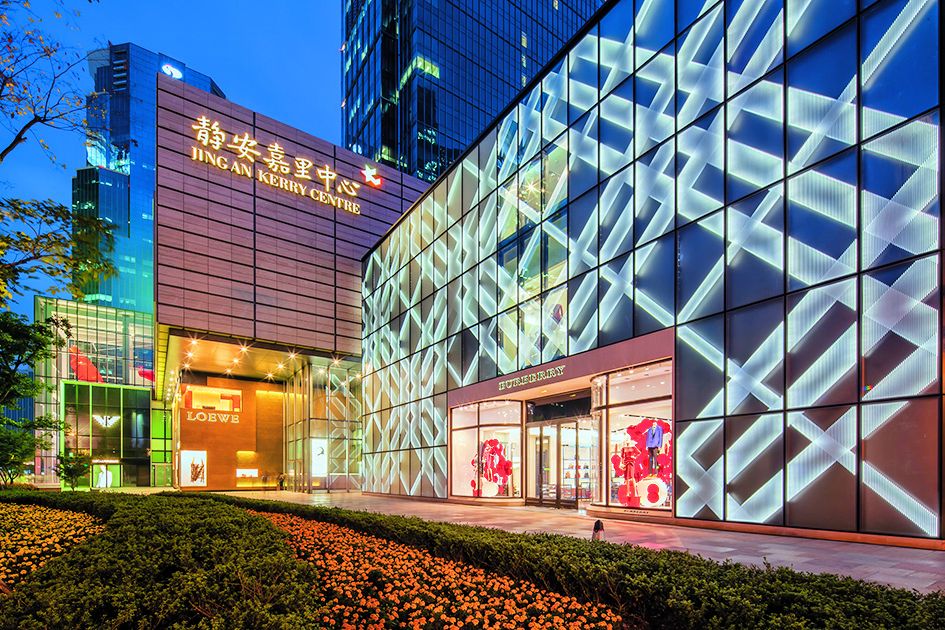 Photo:Jing'an Kerry Centre
Ke Jiayun
Shanghai has been called a "sleepless city" because of its vibrant night life, but what some residents consider fun is nothing but a headache for others.
The streets that have become hotspots for nighttime dining and drinking often are characterized by large crowds that spill out onto the pavement and even streets, noisy conversations, loud music, littering and sometimes rowdy behavior. For people living in adjacent residential areas, the night scene is a nightmare, and they complain constantly to authorities.
What to do? Night spots create a vibrant after-hours economy and serve a certain lifestyle population. Where is the balance between party goers and local residents?
Among the nightlife areas that came out on the wrong side of the equation were the Pengpu night market in Jing'an, "crayfish street" on Shouning Road in Huangpu District and "pub street" on Yongkang Road in Xuhui. All have closed.
One possible solution to this enduring dilemma seems to be working on Dagu Road in Jing'an District. The road is a magnet for people who want a late dinner with family or drinks with friends.
When darkness falls, the 500-meter road, located between Chengdu and Shimen No. 1 roads, starts to buzz with activity as people crowd into restaurants and bars. There are more than 20 eateries and 10-plus pubs on Dagu among the 74 businesses on the road.
It all started when a French restaurant and an Indian eatery opened there. Other businesses followed. Soon the area became the in-place to go at night. As its popularity grew, so too complaints from local residents.
The Nanjing Road W. Subdistrict addressed the problem by shortening business hours and banning outside tables. It worked to improve the evening environment but resulted in fewer customers.
In July 2017, the bars on Dagu Road wrote to the subdistrict expressing their willingness to work with authorities to balance their business interests with neighborhood sensitivities.
Subdistrict officials met with bar owners, who agreed to standardize operations and address noise levels and sanitation. The number of complaints from area dropped to single digits from more than 40 a month.
There is now a committee of Dagu Road businesses that self-polices the street. When a French bar ignored the rules and kept drawing neighborhood complaints, it was quietly forced to close without any intervention by authorities.
It's all quite a contrast with two years ago. Zhang Jian, chief of the committee, recalled the loud music, noise levels and other problems on the road.
"The street is adjacent to a residential complex, and every day we received tens of calls complaining about nighttime problems on Dagu," said Shen Yu, deputy head of the subdistrict's sanitation office. "Sometimes the number of calls reached almost 100."
When authorities launched a crackdown in 2017, reducing business hours and prohibiting tables out on the pavement, "the environment did improve, at the cost of customers," Zhang said. "The income in the first month dropped by 40 percent, and we realized that our street was dying."
On behalf of other business owners on Dagu Road, Zhang wrote to Wang Jieming, director of the subdistrict office.
The two sides agreed on that sidewalk tables and seats would be permitted but they had to be removed before 11pm, and the outdoor music speakers had to be removed. Committee members visited the homes of nearby residents to gauge acceptable noise levels.
The subdistrict dispatched staff to Dagu Road to assist the committee in dealing with problems. The staff developed an application process for the committee to manage problems, rate businesses and report blacklisted names.
It's not only bars and eateries that stoke resident ire. In May, a Dagu Road spa shop called Slim Spa was the target of resident complaints about the emission of odiferous steam. Complainants said they had to keep their windows closed for fear the emissions would harm their health.
Local environmental protection officials checked the site and found that the steam was harmless. Residents still balked at the smell.
Zhang visited the spa late in May and noticed that one of the machines in use was a newer model that didn't emit steam. After discussions, the spa agreed to replace older machines with the emission-free new models.
"In Jing'an, there are many similar nightlife streets, like Nanyang, Tongren and Maoming roads," said Wang.
Rising nighttime hot spots, including Julu, Fumin, Changle and Shaanxi roads, are important to the nighttime economy and to the lifestyle preferences of many residents, he added.
"Conflicts between businesses and residents are a problem that must be solved and Dagu Road serves as a successful model," he said.