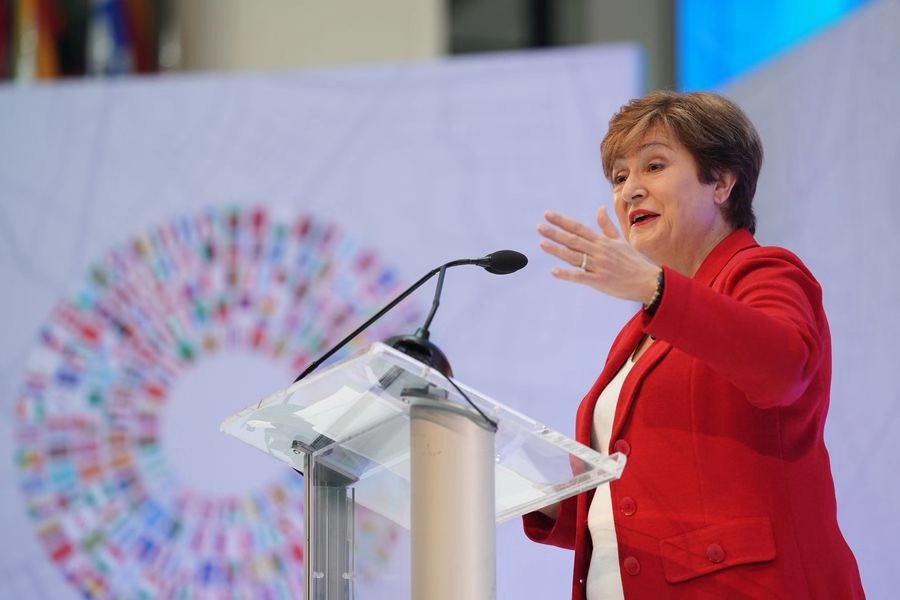 Kristalina Georgieva, the new chief of the International Monetary Fund (IMF) delivers a speech in Washington D.C., the United States, on Oct. 8, 2019. (Xinhua/Liu Jie)
by Xinhua writers Fan Yu, Liu Lina
BEIJING, Nov. 24 (Xinhua) -- China has been a major growth engine for the world economy, and its economic health bears global significance, International Monetary Fund (IMF) Managing Director Kristalina Georgieva told Xinhua in a recent interview.
The world economy is on its track to register the lowest growth over the last decade, and China's growth rate, though slowing, is still within the target range, said Georgieva, who paid her first visit to China as IMF chief this week.
She hailed the measures that the Chinese government has taken to prop up economy, including taxes and fees cuts, small trims in interest rates and supply-side structural reforms, which in her view, is "good for growth today and also competitiveness in the future."
"What China has done is exactly what the IMF recommends," she added, voicing confidence in China's transition from a high-speed growing economy to a high-quality growing one, and from one driven by manufacturing to one fueled by consumption and the service sector.
On Thursday, IMF and China Banking and Insurance Regulatory Commission signed an agreement on their technical cooperation in support of China's financial sector reforms. Georgieva said the fund expects more cooperation with the Chinese authorities on fiscal issues in which the fund's expertise could be helpful.
On IMF's future reforms, Georgieva said the quota and governance reforms will continue under the 16th general review that is to be initiated next year and completed in 2023.
The 189-member international institution decided to increase quotas in 2010, which was implemented in 2016. Some 6 percent of quota shares were shifted towards emerging markets, including China and India.
"As the first managing director of the IMF that comes from an emerging market economy. I do feel very strongly that we have to provide space for voice and participation of all countries," the managing director, who was born in Bulgaria, added.
In October, the Washington-based global institution downgraded its forecast for world growth in 2019 to 3 percent, the lowest rate since the 2008 financial crisis, citing synchronized slowdown and precarious outlook.
"What we are seeing is persistently low productivity growth," said the IMF chief, adding that while accommodative monetary policy in the major economies has helped boost growth, prolonged period of low interest rates could spur reaching-for-yield behavior, thus increasing the vulnerability of the financial system.
"The IMF is looking at this very carefully," she said.
The World Trade Organization (WTO) said in its latest projections that the global trade in goods is likely to remain below trend in the fourth quarter of 2019 due to rising tariffs.
"Trade tensions have impacted confidence. Uncertainty is the biggest enemy to investment." Georgieva said, pointing out that if different views and tensions can be addressed through "constructive discussions," business confidence will be restored.
Georgieva also underlined the necessity for adapting a modern-time multilateral trade system, noting that rules have to keep up with business realities and technical developments.
By making the system more relevant and inclusive, global trade, which has been the drive of economic growth for so long, could work at full capacity, rather than being idled, she added.
Talking about challenges facing globalization, Georgieva said rapid changes in technology and global value chains have added anxiety. As a result, governments and organizations like the IMF have to pay more attention to people who are left behind, and take measures to cushion the social impact.
"There are so many challenges that no country can address by its own, so the sense of global community is very important," she added.