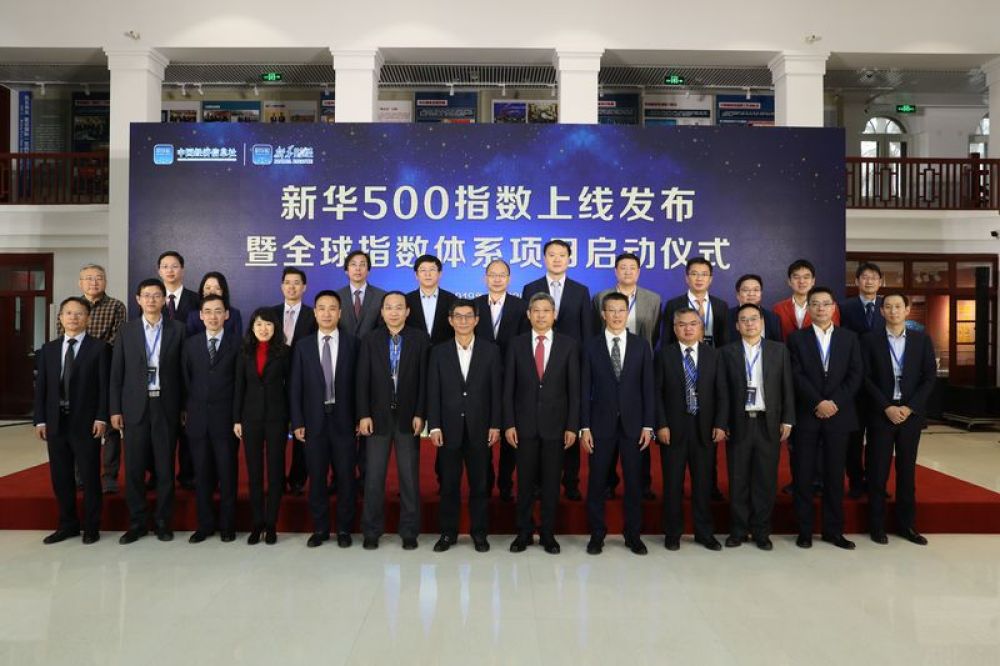 Photo: A group photo of guests attending the launch ceremony of Xinhua 500 Index and the global index system project
BEIJING, Nov. 22 (Xinhua) -- Xinhua 500 Index, a size stock index focusing on China's A-share market, has been officially launched in Beijing on Friday.
Compiled by Xinhua Finance, a national financial information platform undertaken by China Economic Information Service (CEIS), Xinhua 500 Index consists of 500 A-share stocks with large market value and good liquidity listed in Shanghai and Shenzhen bourses, featuring a relatively high representativeness of China's stock market compared to other stock indexes in China. Taking the calculation by the closing data of June 28 for example, the market value coverage of the index reached 66 percent.
Besides, it disperses weight on each stock to lower the impact of the fluctuation of a single stock, and adds weight on sectors like information technology, engineering industry, medicine and health, effectively tracking the restructuring and upgrading of China's economy, said an executive from the Department of Xinhua Index of CEIS.
With December 31, 2004 as the base date and 1,000 as the base points, Xinhua 500 Index realized a cumulative return rate of 299 percent by the end of June this year, higher than the 285 percent of Hushen 300 Index, the 135 percent of Shanghai Composite Index and the 199 percent of Shenzhen Component Index.
The sample stocks of the index will be adjusted every six months, and the current average adjustment rate is about 6 percent, boasting a relatively high mobility and low management cost of index fund products, said the above-mentioned executive.
The index is an important strategic resource for the capital market and a "baton" to guide global capital flows, noted Li Mingzhong, deputy general manager with Shenzhen Stock Exchange, highlighting that as the new round of high-level opening up proceeds, the index will provide a China solution in global asset allocation and add a China perspective in global index system.
Xinhua 500 Index, with a moderate sample size and strong investment attributes, will help provide new investment tools for the market that is conducive to further guiding the optimal allocation of resources at home and abroad, said Yang Zhishu, head of the Department of Finance with the School of Economics and Management of Tsinghua University.
At the ceremony, a global index system project has also been launched jointly by CEIS and Shenzhen Securities Information Co., Ltd., in a bid to provide market with an emerging value benchmark featuring global credibility, influence and market application value by establishing a market classification standard with Chinese characteristics and in line with international standards and proposing a Chinese approach for global asset allocation. (Edited by Gu Shanshan)