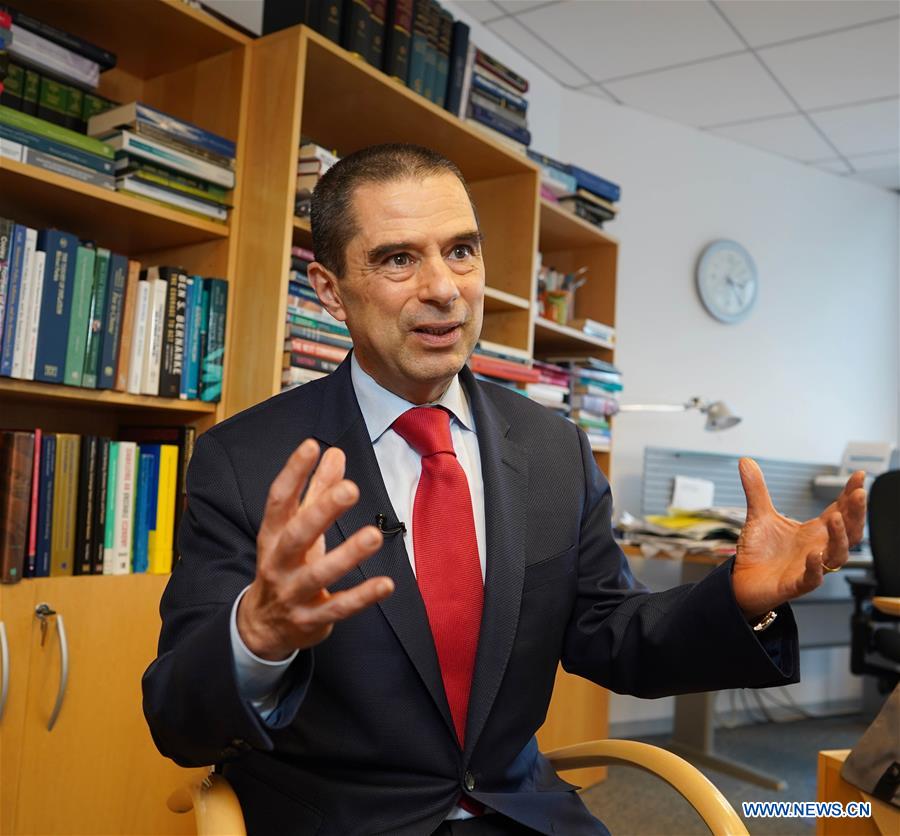 Vitor Gaspar, director of the fiscal affairs department of International Monetary Fund (IMF), speaks during an interview in Washington D.C., the United States, on April 2, 2019. As China makes its transition to a new growth model prioritizing the quality of growth, fiscal policy should "as much as possible" facilitate this transition and have a long-term view, Vitor Gaspar told Xinhua in a recent interview. (Xinhua/Liu Jie)
y Xinhua writers Xiong Maoling, Gao Pan
WASHINGTON, April 10 (Xinhua) -- As China makes its transition to a new growth model prioritizing the quality of growth, fiscal policy should "as much as possible" facilitate this transition and have a long-term view, said an official of the International Monetary Fund.
The transformation of China's fiscal policy in the past decades is "truly remarkable," Vitor Gaspar, director of the IMF's fiscal affairs department told Xinhua in a recent interview, highlighting the "tremendous" development on tax policy and budget system.
In the context of the global financial crisis, China resorted to fiscal stimulus which helped sustain its growth and contributed to the prosperity of the global economy, Gaspar said.
As the credit goes up, "China has rightly been emphasizing the need to ensure financial stability and slow down credit," Gaspar said, adding that the IMF's analysis shows that de-leveraging is progressing "at a good pace" in China.
However, in recent years, things have become more "complicated" because of the challenges having to do with the transition in the growth model, which demands adjustment in fiscal policy, he said.
Gaspar suggested China enhance fiscal transparency, utilize fiscal policy to foster inclusive growth, and reinforce the financial robustness of sub-national levels of government.
In its newly released biannual Fiscal Monitor, the IMF said policy response should be on budget to ensure transparency and avoid risks from excessive leverage incurred by borrowing entities.
Gaspar said that budget transparency issue has already been identified in China and progress is being made, with one example being China's local government bond.
Local governments issued a total of 782.1 billion yuan (117 billion U.S. dollars) of bonds in the January-February period, according to the Ministry of Finance. Last year, local authorities raised a total of 4.17 trillion yuan (620 billion dollars) via bond issuance, down from 4.36 trillion yuan in 2017.
Commenting on China's recently announced personal income tax cuts, the IMF said in its Fiscal Monitor that such measures would support consumption temporarily, and should be accompanied by medium-term reforms to broaden the overall tax base, improve the progressivity of the tax system, and introduce a recurrent property tax.
A recurrent property tax, Gaspar said, could give more resources to the sub-national levels of government, which will enable their public finances to be more robust.
On the expenditure side, the Fiscal Monitor suggested China facilitate macroeconomic re-balancing of the Chinese economy by re-prioritizing spending toward education, healthcare and social security.
At the global level, fiscal policy should prepare for "possible downturns," balancing growth and sustainability objectives, the Fiscal Monitor said, underscoring high public debt levels and downside risks to the global economy.
"Our analytical, and empirical work has shown repeatedly that countries that build up public finance resilience in good times are in a much better position to manage future challenges as they may occur," Gaspar said.
Governments should also be well advised to pursue "smarter and more agile" fiscal policies to facilitate change in face of technological transformation, globalization and demographics, Gaspar said.
Gaspar, who served as minister of State and Finance of Portugal, also called for international cooperation on global issues such as corporate taxation and corruption. "We have lots of interdependencies in the world," he said.
In wake of new challenges to international cooperation, Gaspar said it is crucial that countries avoid resorting to unilateral or bilateral action. "Multilateralism is a much more robust way of approaching problems that countries have in common."