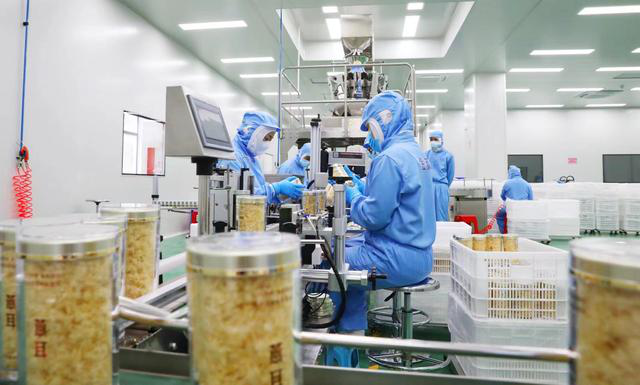 Photo shows a deep-processing factory of edible fungi in Gutian, southeast China's Fujian Province.
BEIJING, July 19 (Xinhua) -- With over 50 years of efforts in the cultivation of edible fungi, Gutian County in Ningde City, southeast China's Fujian Province, has reaped success in industrial development, brand building and improvement of people's livelihood.
Producing 910,000 tonnes of edible fungi in 2022, Gutian County generated an output value of 6.2 billion yuan (about 864.5 million U.S. dollars). Among them, the tremella output exceeded 385,000 tonnes, accounting for over 90 percent of the world's total, said a blue paper published on Monday.
Greg Seymour, President of the International Society for Mushroom Science, said during the event that tremella is a truly exceptional variety of mushroom known for its rich content of polysaccharides and polyphenols. These natural compounds offer numerous health benefits, including boosting our immune system, promoting healthy intestinal flora. 
The county has continued to upgrade the cultivation and production of edible fungi in the past fifty years. According to Tan Guoliang, head of Gutian's edible fungi association, riding on the wave of digitalization and intelligence, Gutian's tremella production, logistics and sales have been gaining steam, forming a close industrial cluster.
The ingenious people of Gutian have spearheaded five major waves of mushroom production, revolutionizing the cultivation of Tremella, shiitake mushrooms, bamboo fungus,and black fungus, said Greg Seymour, adding that these remarkable advancements have propelled the edible mushroom industry in Chinatowards industrialization and large-scale development.
The brand value of Gutian's tremella achieved 8.991 billion yuan, according to a rank of the brand value of China's edible fungi production bases released in March this year.
As more and more people are aware of the nutritional value and health care function of tremella, the county has strengthened its deep-processing capability of edible fungi by producing edible fungi seasonings, cookies and pies, and wine, which are popular on the market.
Thanks to the sound development of tremella industry, thousands of farmers have been lifted out of poverty. A total of 235 villages are producing edible fungi among 279 villages in the county, with some 300,000 people working in the industry. In 2022, the per capita disposable income of farmers in Gutian County exceeded 24,000 yuan, ranking the first place in Ningde City for 19 consecutive years, according to Zhou Xiang, director of Gutian's industrial development center of edible fungi.
Gutian is grabing opportunities to export the whole industrial chain including culture, technology and management and promote food culture and consumption patterns, said Zhuang Xuedong, head of edible fungi technology promotion center of Fujian Province.
(Edited by Li Shimeng with Xinhua Silk Road, lishimeng@xinhua.org)