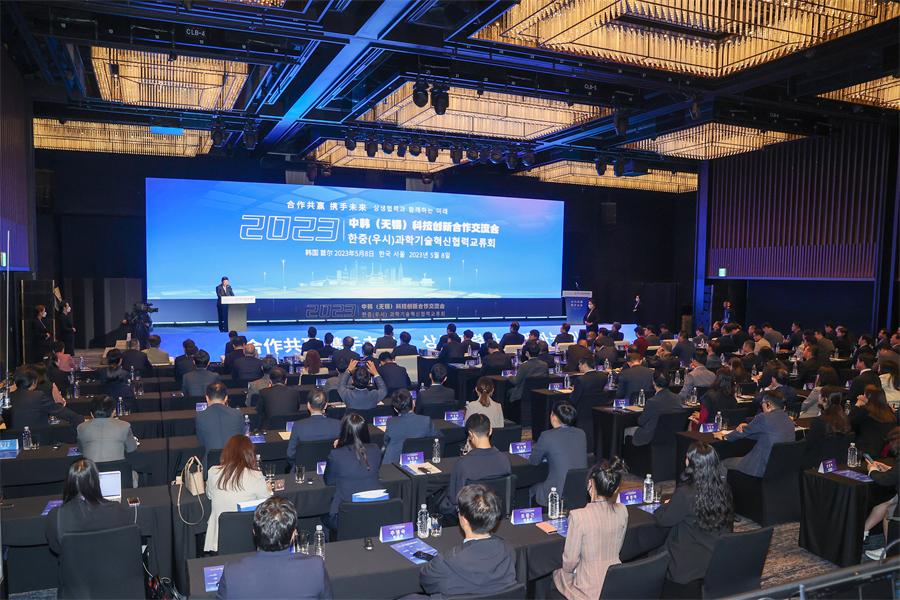 Photo shows the China-ROK (Wuxi) science and technology innovation cooperation and exchange conference held on May 8 in Seoul, capital of the Republic of Korea.
BEIJING, May 10 (Xinhua) -- A delegation from Wuxi, east China's Jiangsu Province conducted a series of economic and trade exchange events in the Republic of Korea (ROK) from May 7 to 9, aiming to further promote mutually beneficial cooperation.
During the three-day visit to the ROK, the delegation led by Zhao Jianjun, mayor of Wuxi, carried out economic and trade negotiations, held a sci-tech innovation cooperation and exchange conference, visited famous Korean companies and sister cities, and inaugurated a business innovation exchange center.
Deals of a batch of bilateral cooperation projects were inked at the sci-tech innovation cooperation and exchange conference held on Monday in Seoul. For example, Wuxi's high-tech zone signed an agreement with the ROK's Sungkyunkwan University on jointly building a China-ROK (Wuxi) sci-tech innovation center.
The Wuxi (Seoul) business innovation exchange center was also unveiled at the conference. As an important window for Wuxi to deepen opening-up and international cooperation, it will provide support for Wuxi-ROK cooperation by performing such functions as boosting business negotiations, connecting industrial chain and supply chain, propelling offshore innovation, and enhancing exchanges among talents.
When addressing the conference, Zhao expressed his gratitude to the ROK for supporting Wuxi's development.
According to the mayor, Wuxi will work with Korean partners to promote the early implementation and operation of signed cooperation projects in sectors such as integrated circuits, new energy, and biopharmaceuticals where the ROK has competitive edges and Wuxi has industrial foundation.
The city will also boost visits and exchanges on key technological fields such as intelligent manufacturing, information communications, and environmental protection between technology enterprises, scientific research platforms, and universities from the two sides.
Meanwhile, Wuxi will further explore new opportunities for cooperation in sectors such as culture and arts, education and sports, and healthcare to advance people-to-people exchanges.
With long historical connection, Wuxi and the ROK have carried out extensive economic and trade cooperation. Trade value between the two sides reached 16.9 billion U.S. dollars in 2022. As of now, the ROK is Wuxi's largest foreign trade partner and the second largest source of foreign investment. More than 700 Korean enterprises including SK Hynix and Samsung have invested over 25 billion U.S. dollars in Wuxi, and the Chinese city has also invested in 39 projects in the ROK. (Edited by Su Dan with Xinhua Silk Road, sudan@xinhua.org)