BEIJING, Feb. 2 (Xinhua) -- Restaurants, shopping malls and cinemas have been reopened in China nationwide recently with burgeoning foot traffic and rebounded income growth, a sign that experts believe adds the momentum for the sustained recovery of China's consumption market in 2023.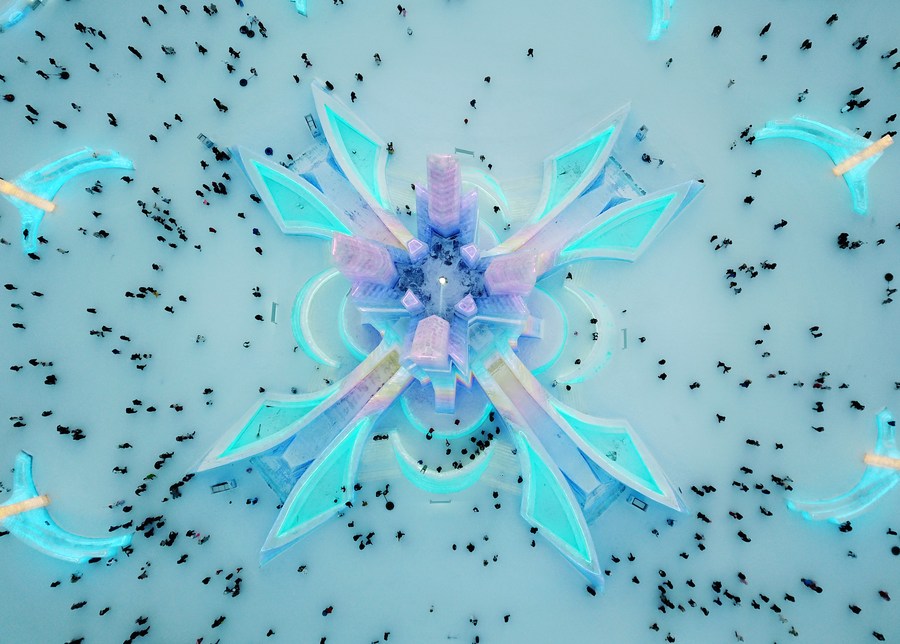 In this aerial photo, tourists visit the Ice-Snow World theme park in Harbin, northeast China's Heilongjiang Province, Jan. 25, 2023. (Xinhua/Wang Jianwei)
-- Strong tourism rebound
As one of the most popular tourist destinations during the Spring Festival holiday this year, southwest China's Yunnan Province handled a total of 45.15 million tourist trips, and garnered tourism revenue of 38.44 billion yuan during the same period, both recovering to more than 130 percent of that in 2019 and hitting a record high for holiday tourism, according to the statistics from the Yunnan Provincial Department of Culture and Tourism.
Wang Ke, a resident living in north China's Inner Mongolia Autonomous Region, took the family to Yunnan during the Spring Festival holiday. "People were rushing to the old town of Dali and queuing up in front of the trendy shops when we arrived on the first day of the lunar new year. We haven't traveled for three years and we took the children out to experience different festival customs this year", said Wang.
According to the Ministry of Culture and Tourism, this year's Spring Festival holiday has seen 308 million domestic trips, up 23.1 percent year on year, recovering to 88.6 percent of the 2019 level. Domestic tourism revenue reached around 375.8 billion yuan (around 55.52 billion U.S. dollars), up 30 percent year on year, recovering to 73.1 percent of that registered in 2019, the ministry added.
Spring Festival holiday travel boom at the beginning of 2023 bodes the revival and boosts confidence of the tourism industry, said Hu Yang, vice president of Tujia Homestay. With the recovery of cultural and tourism industry in the country, reservations for homestay and consumption demand will usher in significant growth.
As an increasing number of international flights resume operation, passengers will have more travel options all around the world with convenient services, and it is expected that the demand for cross-border tourism will explode during the May Day holiday this year, said Shen Jiayi, the Senior Researcher at the Strategic Research Center of Ctrip Research Institute.
-- Booming duty-free shops
During the week-long Spring Festival holiday, duty-free shopping boomed in south China's island province of Hainan as its tourism gradually rebounded, unleashing new consumption vitality.
From January 21 to January 27, Haikou Customs supervised a total of 1.56 billion yuan of offshore duty-free shopping, an increase of 5.88 percent over the Spring Festival holiday in 2022 and up 51.5 percent compared with the same period in 2021, showed statistics from Haikou Customs.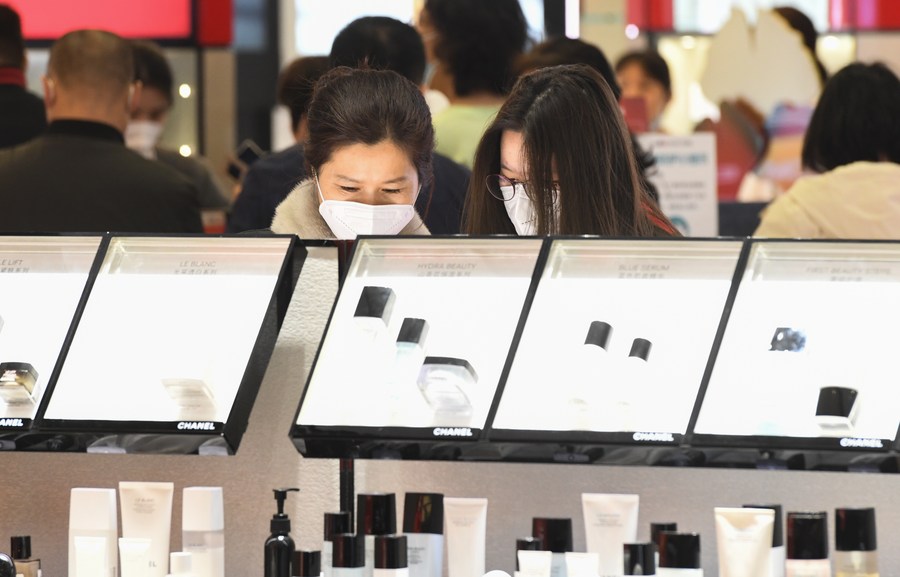 People shop at Haikou Riyue Plaza Duty Free Shop in Haikou, south China's Hainan Province, Jan. 25, 2023. (Xinhua/Yang Guanyu)
At the same time, the number of duty-free shoppers hit 157,000, up 64.9 percent and 9.51 percent over the same period in 2021 and 2022 respectively, with per capita consumption reaching 9,959 yuan.
As inbound and outbound tourism will gradually go back to normal, the proportion of high-end consumption overseas may rise, and domestic consumption will face spillover, and consolidating the trend of high-end consumption return to domestic market in 2023 will be an important entry point to promote domestic consumption, said Lu Zhengwei, Chief Economist of Industrial Bank Co., Ltd..
Lu suggested that the price gap of high-end goods at home and abroad could be reduced by revising the target of consumption tax and developing duty-free shopping stores to reduce spillover of domestic consumption.
Boosting the domestic consumption is currently the driving force for Hainan to promote the supply-side structural reform and improve the quality and efficiency of industrial development. Hainan should create a sound market environment with legal action, and attract consumers with honest management and quality services, said Li Shijie, president of the Hainan Institute of Open Economic System.
-- Movie consumption fervor
China's movie box office revenue reached 6.76 billion yuan during the 2023 Spring Festival holiday, up 11.89 percent year on year, making for the second-highest gross figure for the holiday to date. The number of moviegoers reached 129 million, up 13.16 percent year on year, according to the China Film Administration.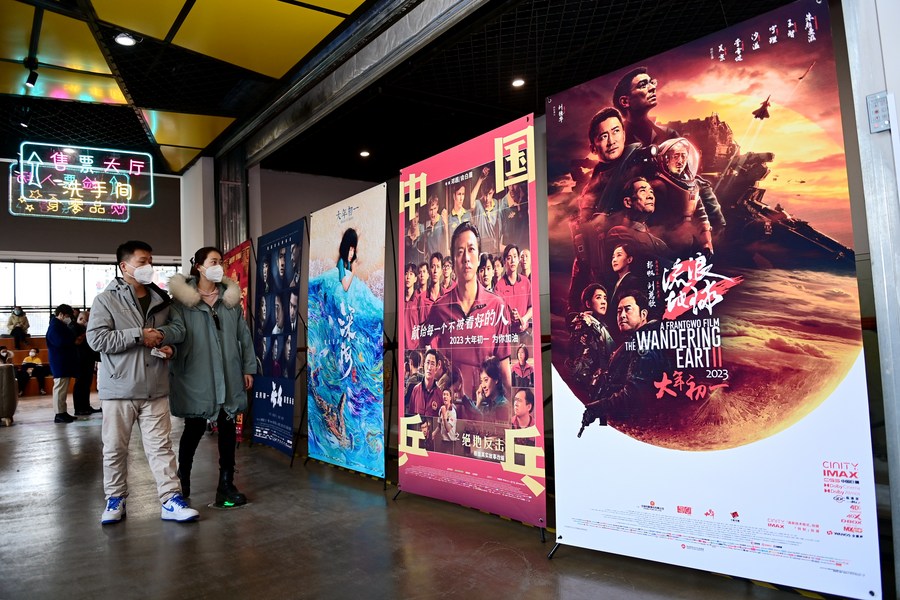 This photo taken on Jan. 23, 2023 shows people at a cinema in Xi'an, northwest China's Shaanxi Province. (Xinhua/Li Yibo)
"The theater is operating at full capacity, with about 50 shows a day and three or four thousand people in attendance," said Song Feng, deputy general manager of a cinema in east China's Nantong City.
Sun Shuyao, an audience in Yuncheng City of north China's Shanxi Province, told China Securities Journal that all the tickets were sold out one day before the holiday films screened.
Consumption coupons have been issued across the country during the holiday to enhance people's enthusiasm for cinema-going. Beijing grants 10 million yuan of subsidy to cover cinemas across the city while Guizhou Province issued more than 13,000 movie consumption coupons for the audience.
Zhu Jun, an analyst at Huatai Securities, said that film consumption is expected to continue to grow in 2023. A report released by Cinda Securities recently predicted that the annual box office is expected to amount to 50.1 billion yuan, an increase of 67 percent over the previous year.
(Edited by Tian Shenyoujia with Xinhua Silk Road, tianshenyoga0524@163.com)