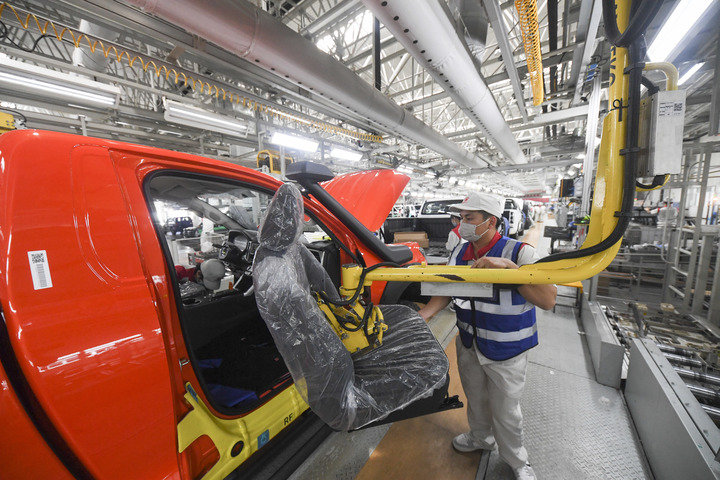 Workers work at an intelligent production base of the Great Wall Motors (GWM) in Yongchuan District of Chongqing, southwest China, Sept. 22, 2022. (Xinhua/Wang Quanchao)
BEIJING, Nov. 28 (Xinhua) – China's leading sport utility vehicle (SUV) maker Greater Wall Motor (GWM) launched its Brazil brand and world premiere of its HAVAL H6 PHEV 4WD at the Museum Of Tomorrow on November 23 in Rio de Janeiro, Brazil.
With the theme of "Tomorrow is on", the conference aims to further showcase GWM's technological innovation achievements in the field of new energy vehicle (NEV).
The brand launch conference was witnessed by major Brazilian dealership groups, hundreds of Brazilian media, Brazilian Internet Influencers with million of followers, as well as executives of the GWM.
GWM Group is committed to offer NEV for Brazilian users with innovative products and new technologies, bringing them clean and intelligent mobility experiences, said Yang Weiqi, President of GWM Motor Brazil, at the brand launch conference.
HAVAL H6 PHEV has been specially designed and tuned by GWM Research and Development (R&D) team based on local road conditions, user travel habits, and modern charging network, featuring a classing-leading 170 kilometers (Km) long range, which is the PHEV hybrid model with the longest pure electric driving range in the Brazilian market, according to the R&D team of the GWM.
In terms of market layout, GWM Brazil plans to open 50 sales and service centers through 28 local head dealer groups in Brazil. Different from traditional stores, these House of Tomorrow service centers will offer diversified online and offline services such as one-stop car shopping, door-to-door test driving and subscription car rental.
In addition, GWM Brazil vows to have 133 authorized sales and service centers in 112 cities in Brazil by the second half of 2024. (Edited by Jiang Feifan with Xinhua Silk Road, 346129473@qq.com)