BEIJING, Sept. 23 (Xinhua) -- A youth team with China's State Grid Wuxi Power Supply Company shared their innovative Sustainable Development Goals (SDG) solution on Tuesday at the Uniting Business LIVE, an event organized by the United Nation Global Compact (UNGC).
The State Grid Electricity Innovation Intelligence Sharing (EIIS) team, selected as one of the two representatives for China to attend the event this year, participated the UNGC's Young SDG Innovators Programme, which was first launched in 2018, for two straight years.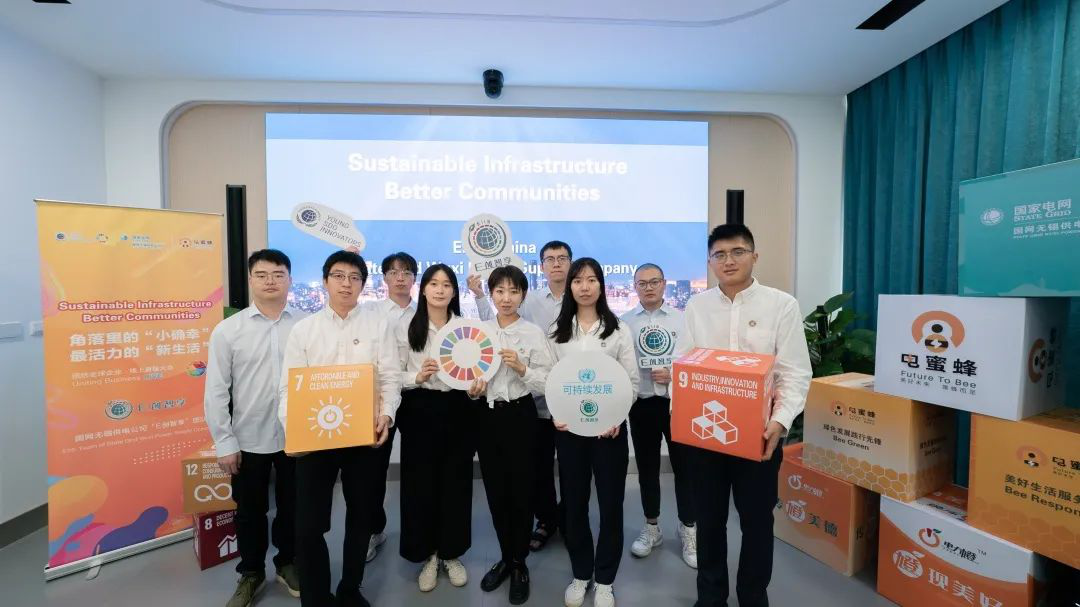 Photo shows the EIIS team members of China's State Grid Wuxi Power Supply Company participates in the UNGC event to present their project.
Featuring "sustainable infrastructure, better communities", the project of the EIIS team is centered on zero-carbon energy sharing e-station, which could provide 13 resident-friendly services in a limited space.
Considering factors of technology, operation and community impacts, the team designed three equipment plans for e-stations of different floor ares, two investment plans for communities that have finished or are under cosntruction, and various infrastructure modules to accommodate to multiple demands of different communities.
So far, the company has completed site selection and design for eight e-stations. The e-station solution was also adopted in the renovation project along the ancient canal in Wuxi, east China's Jiangsu Province in this June.
It is learned that with more than 15,000 companies and 3,000 non-business signatories based in over 160 countries, and 69 local networks, the UN Global Compact is the world's largest corporate sustainability initiative.
The UNGC event has attracted young innovators from China, the United States, the United Kingdom, Mexico etc., focusing on their SDG business solutions to promote sustainable development.
(Edited by Li Shimeng with Xinhua Silk Road, lishimeng@xinhua.org)