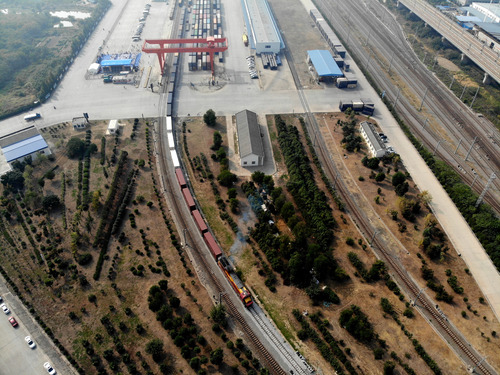 Aerial photo shows a freight train bound for Dusseldorf of Germany departing from a logistics base in Hefei, east China's Anhui Province, Sept. 27, 2019. (Xinhua/Huang Bohan)
BEIJING, June 27 (Xinhua) – The China-Europe freight train service in Hefei, the capital of east China's Anhui Province has so far made over 2,440 trips since it was launched in 2014, of which over 160,000 TEUs of cargoes have been transported by sea-rail intermodal freight trains, contributing over 10 billion U.S. dollars in foreigh trade volume to the local economy, reported Chinanews.com on June 26.
The Hefei China-Europe freight train has firmly maintained a rapid development momentum since its launch in June 2014, and has maintained a stable and reliable operation amid the COVID-19 pandemic. On December 8, 2021, the operation of the freight train in Hefei exceeded the record of 2,000 trips.
As of the end of May 2022, the China-Europe freight train service in Hefei has achieved an international logistics network connecting 81 freight stations in 17 countries and regions, injecting vitality into China's foreign trade development and stabilizing the international supply chain.
It is noted that Hefei launched its first freight train service to Southeast Asian countries on December 30, 2021, marking another milestone for Hefei to seize the cooperation opportunities under the Regional Comprehensive Economic Partnership (RCEP). (Edited by Jiang Feifan with Xinhua Silk Road, 346129473@qq.com)