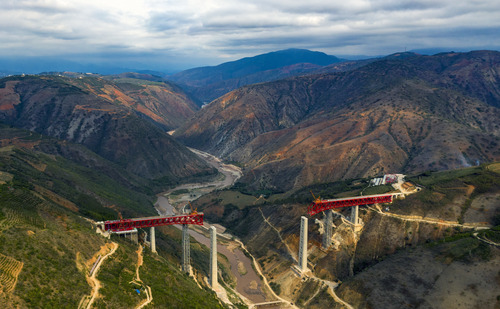 Aerial photo taken on March 5, 2020 shows the construction site of Yuanjiang River grand bridge along the China-Laos railwaythat is under construction in southwest China's Yunnan Province. (Xinhua/Jiang Wenyao)
BEIJING, June 13 (Xinhua) -- A China-Laos freight train carrying 20 TEUs of more than 10 complete vehicles departed from Mohan, a border town in southwest China's Yunnan Province, heading for Laos on Saturday, reported Chinanews.com on Sunday.
The cross-border freight train initially departed from Southwest China's Chongqing municipality to the border port of Mohan on June 7. It is the first China-Laos railway export train carrying finished vehicles, marking the regular operation of car export freight train along the railway.
As of June 6, the transport volume of cross-border cargo stood at 651,000 tonnes via the China-Laos Railway, and a total of 21 Chinese regions have designated cross-border trains for freight transport along the railway, with goods ranging from general merchandise, fertilizer, electronic products, rubber, iron ore and other products.
Meanwhile, the Mohan border Station has further optimized the customs clearance efficiency of export trains, helping the China-Laos railway to stablize the supply of the industrial chain between the two countries.
It is noted that the China-Laos Railway is a docking project between the China-proposed Belt and Road Initiative and Laos' strategy to convert itself from a landlocked country to a land-linked hub. (Edited by Jiang Feifan with Xinhua Silk Road, 346129473@qq.com)