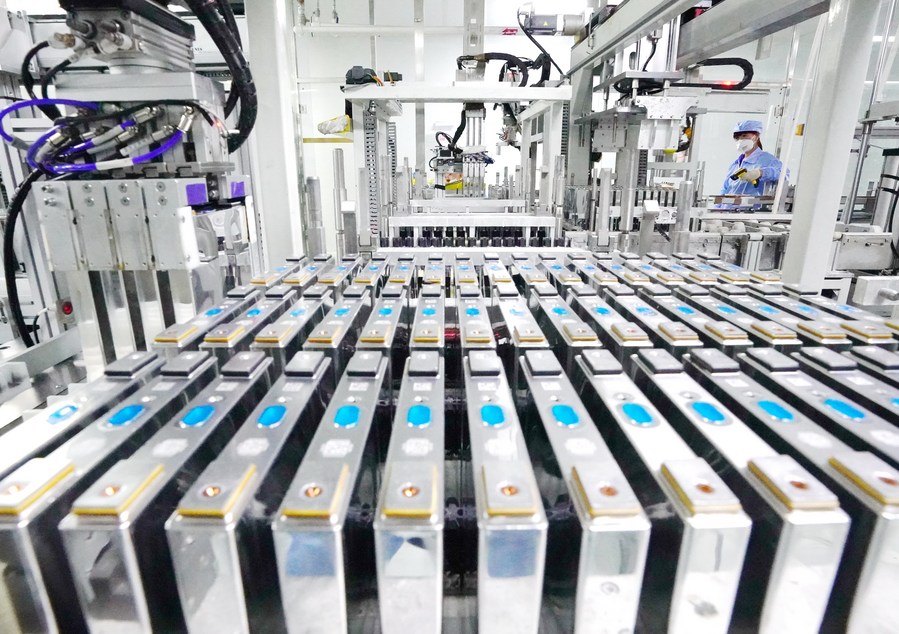 A worker operates on a production line at a lithium battery factory in Tangshan, north China's Hebei Province, Nov. 29, 2020. (Xinhua/Yang Shiyao)
BEIJING, May24 (Xinhua) -- Chinese supplier of lithium products Tianqi Lithium Corporation (TQC, 002466.SZ) expects that its net profit may increase by 620 million yuan in the first half of this year as the latest quarterly results of SQM (Sociedad Quimica y Minera de Chile S.A.), a core subsidiary of the company in Chile, beat expectations, reported stcn.com Sunday quoting the company.
SQM is a leading global manufacturer of lithium chemical products and the largest producer of iodine, potassium nitrate, and lithium from brine. In 2018, TQC bought 23.77 percent stake of SQM.
SQM disclosed on May 19 its performance report in the first quarter (Q1) of 2022 which showed that in Q1 this year, SQM achieved a net profit of 796.1 million U.S. dollars, equivalent to about 5.376 billion yuan, exceeding the estimate of TQC in its Q1 performance report.
TQC notes that the above-mentioned net profit increase is a preliminary calculation by the financial unit of the company. Both the net profit increase estimates of TQC and SQM have not been audited. The final result is subject to the semi-annual report of TQC in 2022.
SQM has a significant impact on the performance of TQC. In Q1 this year, TQC's net profit reached 3.3 billion yuan, about 2.1 billion yuan higher than the annual net profit of 2021. The main factor for the year-on-year turnaround is that the performance of SQM is expected to increase significantly in Q1 of 2022.
On May 19 when SQM disclosed its Q1 performance, the share price of TQC rose by 5.28 yuan per share and fell back on May 20.
By the end of 2021, SQM's effective capacity of lithium carbonate and lithium hydroxide in Chile was respectively 120,000 tonnes (metric tons) per year and 21,500 tonnes per year, and the figures are expected to increase to 180,000 tonnes and 30,000 tonnes respectively in the first half of 2022. In 2023, the capacity of the two kinds of products will be further increased to 210,000 tonnes and 4,0000 tonnes, respectively.
As SQM's second largest shareholder, TQC expects higher investment returns from SQM's rapid capacity expansion.
(Edited by Zhang Yao, Gu Shanshan with Xinhua Silk Road, gushanshan.1987@163.com)