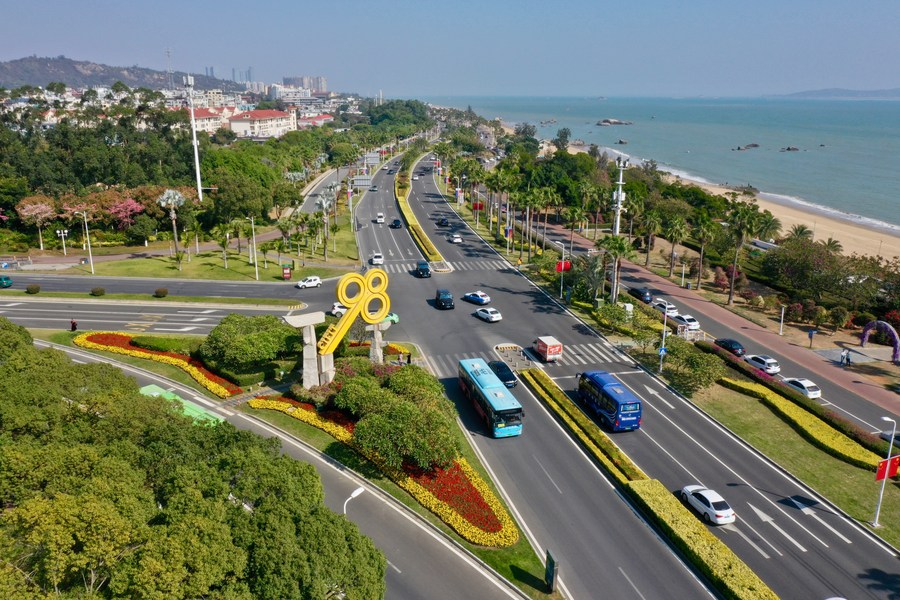 Aerial photo taken on Dec. 12, 2021 shows the sculpture of a symbolic "golden key" for the China International Fair for Investment and Trade in Xiamen, southeast China's Fujian Province. (Xinhua/Jiang Kehong)
BEIJING, May 17 (Xinhua) -- East China's Fujian Province will speed up the construction of world-class ports and build itself as an international shipping hub, said Fujian Provincial Department of Transportation on Monday.
Fujian Provincial Department of Transportation, Fujian Provincial Development and Reform Commission and Fujian Maritime Safety Administration jointly issued a plan recently to put forward 13 specific measures and 28 key tasks including stabilizing industrial and supply chains, promoting maritime transportation under the Belt and Road Initiative (BRI) and developing multimodal transportation services.
By 2023, the throughput of coastal ports in Fujian is expected to reach 730 million tonnes and 19.5 million 20-foot equivalent units (TEUs) of containers. And the figure is projected to exceed 800 million tonnes and 23 million TEUs containers by the year of 2025, according to the plan.
Meanwhile, the province will build coastal ports cluster with optimized spatial layout, sufficient transportation capacity and comparative advantages for better serving energy, mineral and bulk cargo trade.
In addition, the construction of highways and freight train services is in full swing so that the expressways will be able to reach in 11 key port areas within 15 minutes by 2025, said a local transport official.
(Edited by Tian Shenyoujia with Xinhua Silk Road, tianshenyoga0524@163.com)