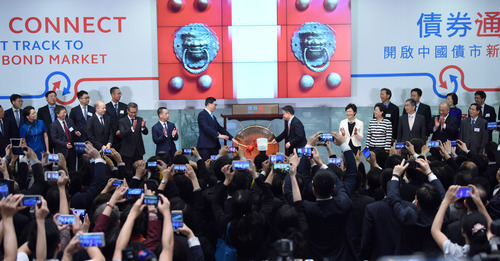 Participants attend a ceremony held by Hong Kong Exchanges and Clearing Limited to launch the "northbound" mainland-Hong Kong bond connect in Hong Kong, south China, July 3, 2017. (Xinhua/Wang Shen)
BEIJING, April 13 (Xinhua) -- Overseas institutional investors reduced their bond holdings on China's interbank bond market in March, with their aggregate holdings down 110 billion yuan month on month to 3.88 trillion yuan by the end of March, reported Economic Information Daily.
Industry experts said that despite the holdings decrease in March, overseas institutions are still likely to add their investment in RMB-denominated assets over the long run.
By the end of March, overseas institutions' bond holdings accounted for 3.3 percent of the total outstanding bonds on China's interbank bond market. Compared with other products, T-bonds and policy bank bonds were their favorite products and accounted respectively for 62.7 percent and 26.1 percent of their gross holdings.
Industry watchers deemed that overseas investors' holding reductions in February and March represented merely short-term volatility and prior to February, they had added for 10 months in a row their holdings of Chinese currency Renminbi (RMB)-denominated bonds.
Affected by external factors recently, overseas investment in stocks and bonds in China has been more volatile than the past, which was normal under the complicated international economic and financial situations, reported the newspaper quoting a department head with the State Administration of Foreign Exchange (SAFE).
In the long term, overseas investors are expected to continue to add holdings of RMB-denominated assets, said the official.
As the official held, China's relatively strong economic resilience, expected reasonable economic running, steady progress in financial market opening and the basically stable exchange rate of RMB enabled RMB-denominated assets to boast good long term investment value. Across the globe, the relatively independent performance of RMB-denominated assets in terms of asset returns could help overseas investors to reduce risks.
Moreover, there was still relatively large potential for overseas institutional investors to add their holdings of RMB-denominated assets given their around three percent and five percent of holdings of bonds and stocks on China's bond and stock markets, according to the official.
In spite of the decline in total holdings, nine more overseas institutions entered China's interbank bond market in March. By the end of March, a total of 1,034 overseas institutions came to trade bonds on China's interbank bond market.
Ming Ming, co-chief economist with CITIC Securities said changes in both the sovereign credit spread and the exchange rate of RMB slowed down the pace of bond purchasing by overseas investors in recent months. But alongside the financial market basic system improvement, China's bond market is likely to attract more overseas investment in future, Ming added. (Edited by Duan Jing with Xinhua Silk Road, duanjing@xinhua.org)