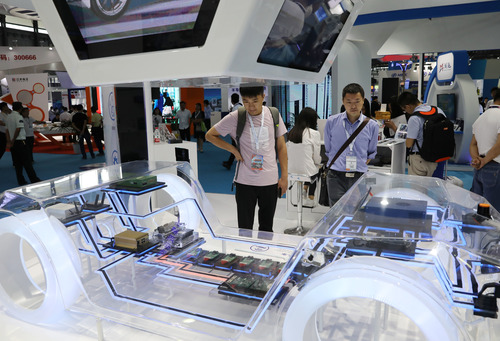 A photo taken on Sept. 3, 2019 shows that visitors view integrated circuit for cars during the 17th China International Semiconductor Expo in Shanghai, east China. (Xinhua/Fang Zhe)
BEIJING, Jan. 27 (Xinhua) -- Merck, a world-leading science and technology company headquartered at Germany, on Wednesday announced that it will make additional investments of at least one billion yuan (about 157.51 million U.S. dollars) in China by the year 2025, with the money mainly injecting to electronics sector, semiconductor manufacturing in particular.
The reason why Merck chooses China is because the Chinese market is emerging as the fastest-growing one for integrated circuit manufacturing across the globe, according to Kai Beckmann, a member of the executive board of Merck and CEO of Merck Electronics.
Merck believes that the semiconductor industry, as well as the general electronic information sector in China is currently experiencing a golden development stage full of opportunities and potentials, which makes it a necessary move for the company to go deeper into the Chinese market.
The future investment in China will highlight three specific goals, said Beckmann, noting that these include establishing or expanding a series of local production base for electronic materials in east China's Shanghai or the greater Yangtze River Delta region, forging localized electronic materials supply chain with high resilience in China, and supporting the construction of high-level R&D platforms in the country.
The Germany-based company has made around one-billion-yuan investment in the Chinese electronic market over the past ten years. "Merck recognizes China as not only its market, but a future birthplace for talents and innovation," said Alan Gabor, president of Merck China.
In the future, China will no longer play the role as a "world factory", but an engine for innovation instead, especially in the digital sector, said Gabor, adding that Merck is looking forward to becoming a Chinese-localized international enterprise.
(Edited by Yu Huichen with Xinhua Silk Road, yhc0267@163.com)