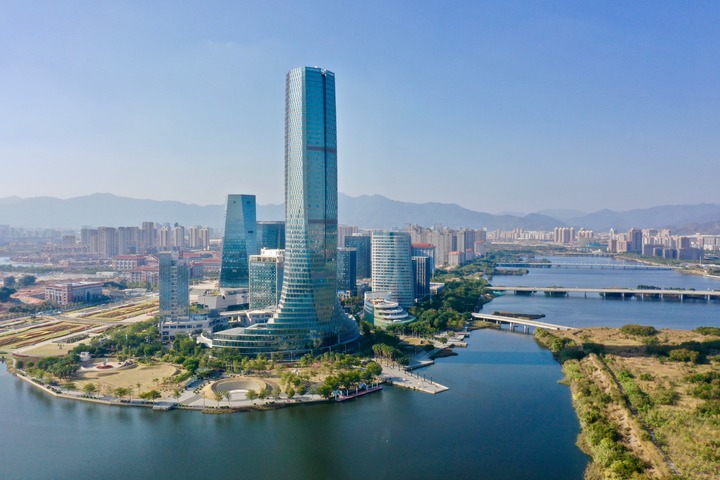 Aerial photo taken on Dec. 8, 2021 shows the city view of Xiamen, east China's Fujian Province. (Xinhua/Jiang Kehong)
BEIJING, Jan. 11 (Xinhua) – East China's Fujian Province vowed to maintain local social-economic stability and progress through precise measures in the first quarter of 2022 with effective COVID-19 epidemic prevention and control, reported Fujian Daily Monday.
Fujian Province will give priority to speeding up the construction of key modern agricultural projects, ensuring that 920,000 mu of grain and oil crops will be planted by the end of this January, and it is expected to launch 300 major projects in modern agriculture with a planned investment of 10 billion yuan.
To further promote stable industrial growth, Fujian Province would give corresponding encouraging policies to those manufacturing enterprises above the designated size with a total output value of not less than 50 million yuan and a growth rate of more than 6 percent in the first quarter of 2022.
Measures to promote effective investment in Fujian Province will be embodied in focusing on key areas such as new infrastructure, new energy, urban renewal, water conservancy, disaster prevention, and mitigation, and continue to plan industrial projects such as the digital transformation of industries, energy conservation and carbon reduction, and essential capacity enhancement.
While striving to promote local consumption, Fujian Province will also strengthen the steady development of foreign trade and foreign investment in the first quarter of 2022. Specifically, the Province vows to seize the opportunities brought about by the entry into force of the Regional Comprehensive Economic Partnership (RCEP) agreement to attract investment in advanced manufacturing and modern service industries from partner countries such as Japan and Singapore.
Efforts will also be made to optimize and improve the business environment in Fujian Province. For example, Fujian will continue to implement a more simplified process for handling government affairs in 2022 to facilitate domestic and foreign companies further to conduct business in Fujian. (Edited by Jiang Feifan with Xinhua Silk Road, 346129473@qq.com)