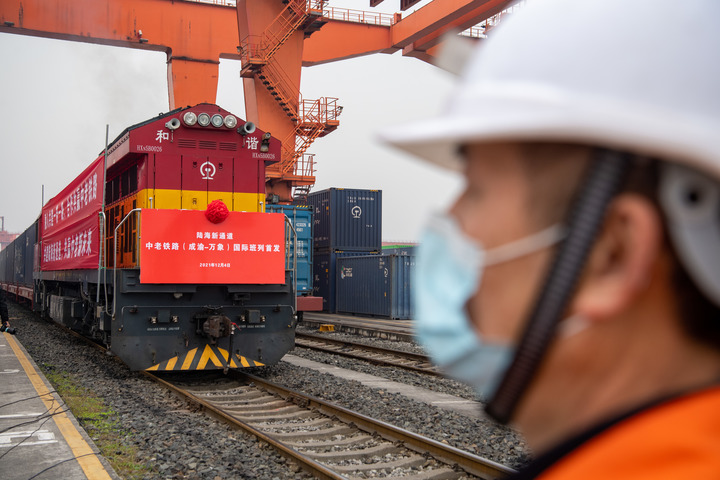 A freighttrainbound for Lao capital Vientiane is about to set off from southwest China's Chongqing, Dec. 4, 2021. (Xinhua/Tang Yi)
BEIJING, Jan. 10 (Xinhua) – The Chongqing Municipality and Chengdu, capital of southwest China's Sichuan Province, had run a total of 4,800 China-Europe freight trains in 2021, with 400,000 TEUs of cargoes transported, reported People's Daily Monday.
During the period, the number of freight trains departed from both cities accounted for more than 30 percent of the country's total, while the inbound trains accounted for about 50 percent of the total in 2021.
It is noted that the first China-Europe freight train, given a code of "ChengYu", was launched respectively in the two cities at the same time on January 1, 2021, which was the first time that the train was approved by the train operator China State Railway Group Co., Ltd (CHINA RAILWAY) to carry out the China-Europe freight train brand promotion under the same code for the two cities.
By far, the China-Europe freight train "ChengYu" has become the busiest freight train in China with the top freight value and the most stable operation. The opening of the China-Europe freight train "ChengYu" will become an important driving force for the high-quality development of the China-Europe freight trains, according to Chongqing Port and Logistics Office.
(Edited by Jiang Feifan with Xinhua Silk Road, 346129473@qq.com)