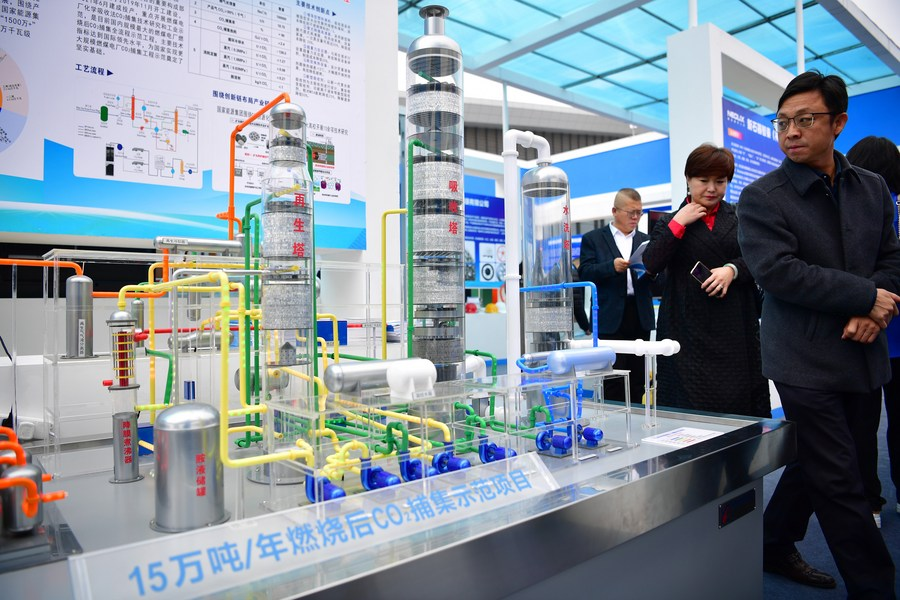 Visitors watch the model of a demonstration project for carbon dioxide capture, in an energy and chemical industry expo held in Yulin, northwest China's Shaanxi Province, Oct. 13, 2021. (Xinhua/Shao Rui)
BEIJING, Dec. 30 (Xinhua) -- Addressing global climate change, an important government goal, is becoming a China's conscious action.
The heating season has passed half in most places of China. Different from the past, the 62-year-old villager Pu Sufen from Xiaojia Village, Zibo City of Shandong Province is satisfied with the heating this year.
"In the past, large clouds of black smoke were emitted from coal-fired heating, and rooms were not warm enough. After the fire went out at midnight, we felt so cold that wrapped heads with towels while now we have access to natural gas to keep room warm and clean," said Pu happily.
Pu's new life is attributed to advancing clean winter heating in the local rural areas. It is noted that a total of 518,000 households completed the transformation of clean winter heating in Zibo City during 2017-2020 period and another 20,000 more households will complete the transformation in 2021.
This marks a vivid epitome of China's efforts to promote comprehensive green transformation of economic and social development and inject strong momentum into a "net-zero" world.
The 26th session of the Conference of the Parties (COP26) to the United Nations Framework Convention on Climate Change concluded in Glasgow on November 14, which nods on China's contribution in addressing climate change among international community.
Looking ahead, China will strive to peak carbon dioxide emissions by 2030 and achieve carbon neutrality by 2060 with a further promise to stop building new coal-fired power projects abroad.
As the largest developing country in the world, China has overcome its own economic and social difficulties and put forward emission reduction targets with practical commitments.
Since the 18th National Congress of the CPC in 2012, China has implemented multiple guidelines and policies to address climate change with greater prominence, cut down carbon emission, upgraded economic and energy structures to realize harmonious coexistence between man and nature.
Energy activity is a major source of greenhouse gas emissions. China attaches great importance to energy restructuring, energy conservation and efficiency improvement, and has stepped up emission reduction efforts to build a low-carbon and efficient energy system, said Fu Lin, assistant researcher with the National Center for Climate Change Strategy and International Cooperation (NCSC).
From 2005 to 2020, the proportion of coal in China's total energy consumption decreased to 56.8 percent from 72.4 percent while the proportion of non-fossil fuels in the total energy consumption increased to 15.9 percent from 7.4 percent, statistics showed.
From 2011 to 2020, China's energy consumption intensity declined by 28.7 percent according to preliminary calculations, making China one of the fastest in the world.
China has mulled efforts in prioritizing ecological conservation and boosting green development into economic transformation and upgrading.
China has promoted green and low-carbon industrial development to blaze a new path to progress in both industrial development and environmental protection, said Zhuang Guiyang, deputy director of Research Institute for Eco-civilization at the Chinese Academy of Social Sciences.
China's production and sales of new energy vehicles (NEVs) have ranked first in the world for six consecutive years, accounting for more than half of the global total.
China has also fulfilled the target of cutting 150 million tons of excess steel capacity during the 13th Five-Year Plan period two years ahead of schedule, and banned the production capacity of substandard steel by over 100 million tons, effectively controlling the expansion of production capacity in energy-intensive projects.
China, a leading force in promoting global ecological progress, has not only implemented a series of measures and actions to cope with climate change, but also carried out South-South cooperation with other developing countries to build a global climate governance system that is fair, rational, cooperative and beneficial to all.
A cargo ship carrying 500 bags of solar lights set off from Nansha Port of Guangzhou, capital of south China's Guangdong Province and finally arrived at Cotonou Port in the Republic of Benin in Africa after about 40 days. The cargo loads China's leading PV power generation technology and bears Ago Alban's dream of prospering his hometown.
Benin falls short of power supply but boasts high solar illumination intensity. Therefore, after obtaining his Master of Business Administration in China, Ago Alban set up an enterprise focusing on PV power generation products in Ningbo City of Zhejiang Province.
"I hope to contribute to building a cleaner and more beautiful Benin together with my Chinese friends," said Ago Alban with a smile on his face.
It is claimed that China's wind power and PV power equipment manufacturing has formed the world's most complete industrial chain, leading the world in terms of technological level and manufacturing scale to guarantee for the clean and low-carbon transformation of global energy.
To help other developing countries improve ability to address environment protection and climate change, China has allocated more than one billion yuan for South-South cooperation on climate change, donated energy conservation and new energy devices to almost 40 countries, and trained nearly 1,500 officials and technical personnel coping with climate change from 120 developing countries.
"China is firmly committed to upholding the goals, principles, and frameworks set by the UN Framework Convention on Climate Change and the Paris Agreement, fully implementing the Paris Agreement, and promoting the multilateral process," added Fu.
China's commitment to "peaking carbon dioxide emissions by 2030 and achieving carbon neutrality by 2060" means that China, as the largest developing country, will achieve the largest reduction in global carbon emission intensity in the shortest time.
"We will not only make promises. We honor our words by real actions. We not only set goal, but also have policies, measures, actions, and investments to support the implementation of our target and goals. We have clear timetables and a road map to achieve our goals. This is the true ambition we need to have," Xie Zhenhua, China's special envoy for climate change, made further explanations at a press conference of the COP26 in Glasgow.
China will speed up sci-tech innovation, break through bottlenecks in energy, industrial development and low-carbon consumption, strengthen international cooperation, lead the global sustainable development and ecological conservation to inject strong impetus into a "net-zero" world, according to Gao Xiang, researcher with the NCSC.
(Edited by Tian Shenyoujia with Xinhua Silk Road, tianshenyoga0524@163.com)