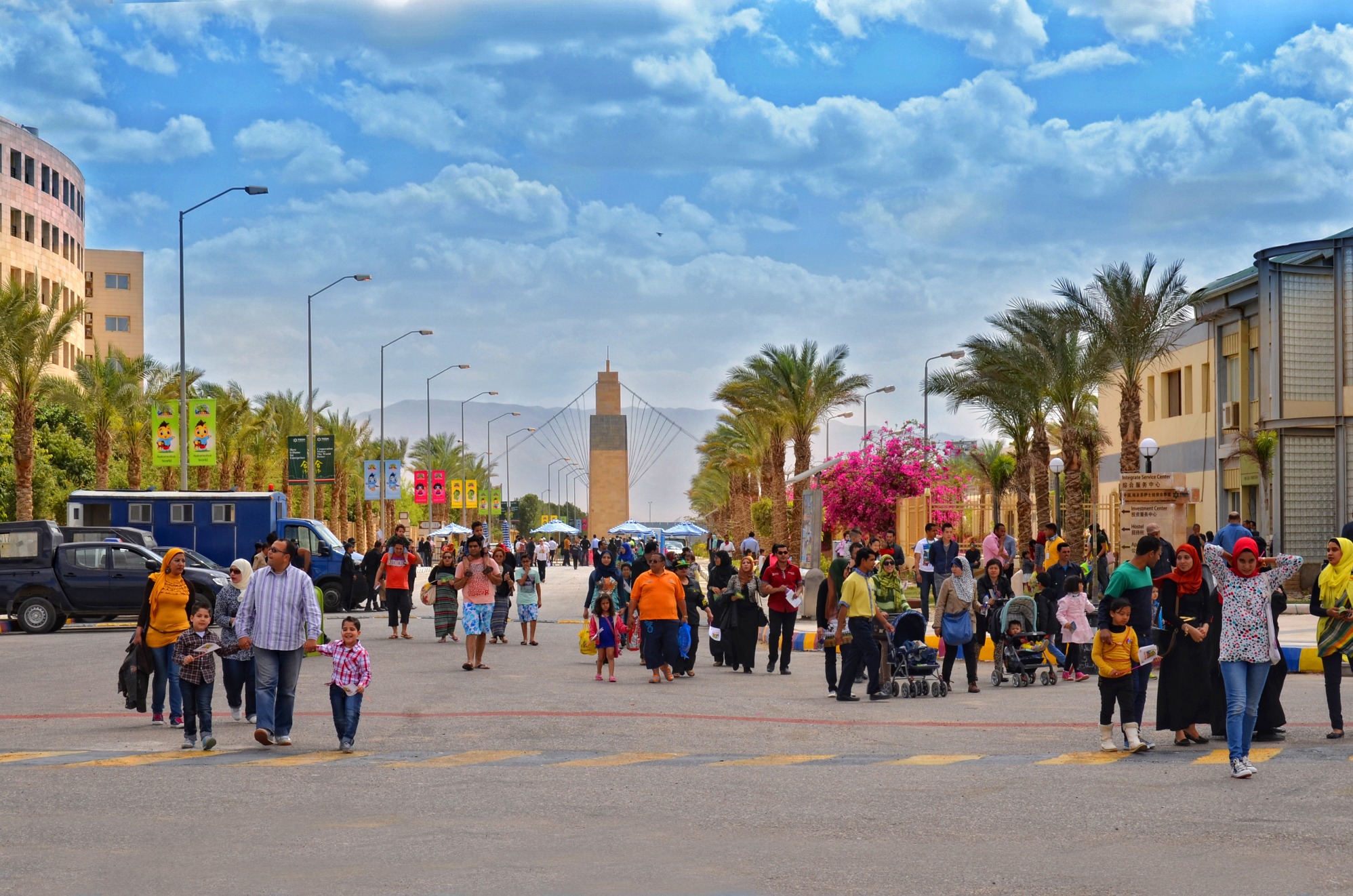 Photos shows locals walking in the China-Egypt TEDA Suez Economic and Trade Cooperation Zone. (Photo courtesy of China-Africa TEDA Investment Co., Ltd.)
BEIJING, Dec. 28 (Xinhua) -- Strolling at the China-Egypt TEDA Suez Economic and Trade Cooperation Zone, about 120 kilometers from the Egyptian capital Cairo, there is no place to find industrial smoke or fume, but the beautiful landscape of neatly arranged streets and buildings dotted with trees and flowers. Local residents are quite at ease for a walk around, and can't help taking photos of the beautiful surroundings.
If you find it hard to relate an industrial park to what the locals note as "weekend resort", the park's undertaker China-Africa TEDA Investment Co., Ltd., should be credited for all the green factories, energy conservation measures, as well as pollution control efforts.
In fact, what you see in TEDA represent in microcosm what China is efforting on as the high-quality Belt and Road (B&R) construction.
As China has entered a new stage of development, shifting economic development pattern from rapid growth to high-quality, the spillovers of economic transformation in quality, efficiency as well as impetus could benefit other economies a great deal through pushing forward high-quality B&R construction, experts say.
A Green Path
China-Egypt TEDA Suez Economic and Trade Cooperation Zone plays a significant role in advancing the social and economic progress and improving people's livelihood in Egypt, said former Egyptian Prime Minister Essam Sharaf.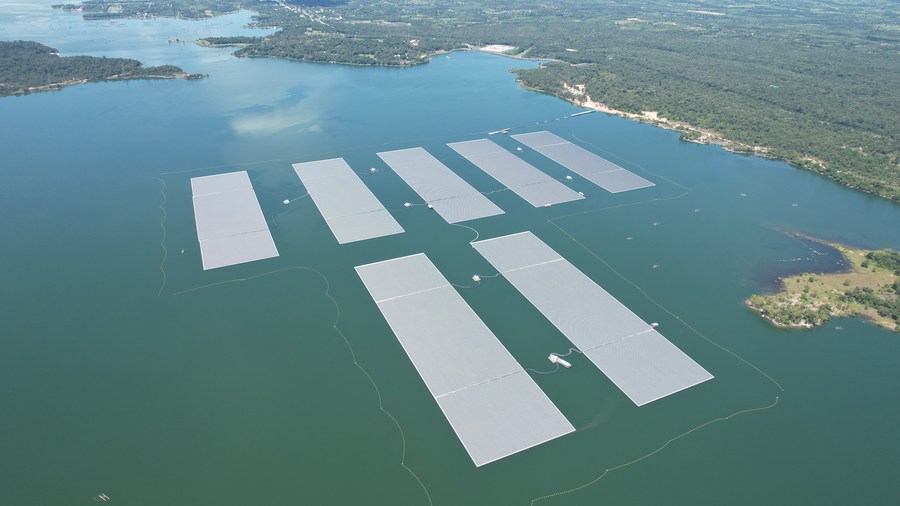 Aerial photo taken on Oct. 29, 2021 shows the floating solar farms at Sirindhorn Dam in Thailand's northeastern province of Ubon Ratchathani. (Photo courtesy of Electricity Generating Authority of Thailand/Xinhua)
Such project and comment echoes the Sirindhorn Dam in northeastern Thailand, which combines a floating solar farm with an existing hydropower plant. The hybrid project will enhance Thailand's power system security and provide clean energy to help mitigate global warming, according to Boonyanit Wongrukmit, governor of the Electricity Generating Authority of Thailand.
Indeed, just as green development pinned as an important dimension for China's high-quality economic development, philosophies such as low-carbon and sustainability also guides green B&R construction at every step.
From the Belt and Road Ecological and Environmental Cooperation Plan to the BRI International Green Development Coalition co-founded with international partners, and from the Green Silk Road Envoys Program to the Belt and Road Energy Cooperation, B&R cooperation is getting greener and greener.
China has announced not to finance any overseas new coal-fired power plants, and a large number of hydropower projects are completed, underway or in the pipeline. Such efforts could help drive B&R countries' energy transformation, according to Erik Solheim, former executive director of the United Nations Environment Programme.
A Road of Innovation
In a lab of the School of Life Sciences of Lanzhou University in western China, international student Mary from Rwanda, guided by Professor Xiong Youcai, is analyzing soil nutrients of various crops under different temperature and humidity conditions. While in Kenya, five international students of Professor Xiong are engaged in effective rainwater utilization research.
Though far away from each other, they share such common dream as to share China's dry farming rainwater utilization technology to B&R countries and regions to contribute to world food safety. With such Chinese technology, Professor Xiong's team had raised the yield of corn by 99-240 percent in the demonstration zone in Kenya. "The B&R cooperation provides a platform for Africa's grain production improvement and benefits local people greatly", said Mary.
Such projects epitomize China's efforts to build the Silk Road of innovation. In fact, China is working closely with the B&R countries and regions in new economic sectors such as big data, cloud computing, and AI.
China has co-launched the Belt and Road Digital Economy International Cooperation Initiative with seven countries, and has signed papers on enhancing digital Silk Road cooperation with over 15 countries.
The technical, equipment and financial assistance that China could provide to B&R related developing economies could help push ahead their industrialization and agricultural modernization progress, experts say.
"If we look at BRI and the Silk Road, one of the most important ones that's growing fastest is the digital Silk Road. That's coming from the innovation inside China that is building out along the Silk Road with foreign partners", said Stephen Perry, chairman of of Britain's 48 Group Club.
A Road of Common Prosperity
Salt lamps from Pakistan, woolen carpets from Afghanistan, beer from Serbia, coffee from Ethiopia…The 4th CIIE this year, against all odds, presents a constellation of featured commodities from all over the world.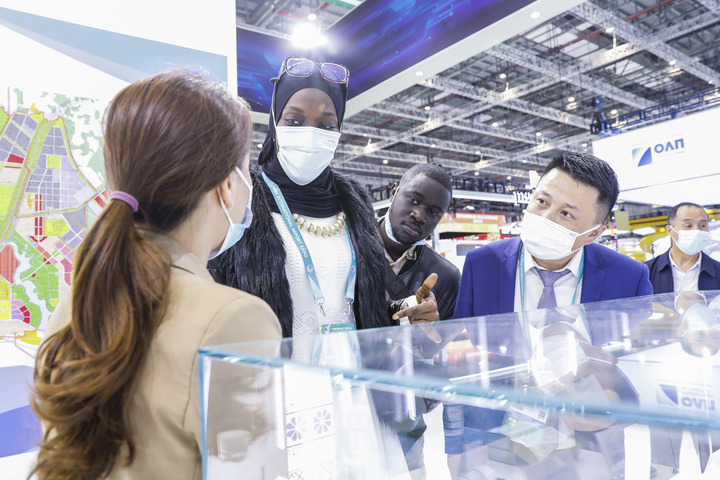 Visitors learn about products at the booth of China-Belarus Industrial Park at the Trade in Services Exhibition Area of the 4th China International Import Expo (CIIE) in east China's Shanghai, Nov. 7, 2021. (Xinhua/Zhang Yuwei)
But besides the dazzling part of the commercial activities, the CIIE provides a glimpse of the huge Chinese market and shows the power of trade in terms of connecting the world.
"The expanding Chinese consumer market implies more business opportunities for the B&R countries and high-quality BRI development," said Zhong Feiteng, researcher at the National Institute of International Strategy, Chinese Academy of Social Sciences.
Just as charted in the third high-level symposium on the initiative held in late November, China has shown determination and confidence in expanding high-standard opening-up and jointly promoting high-quality development of the BRI, letting more countries and people gain from it through stronger political mutual trust, more cooperative mechanisms and a better connectivity network linking land, sea, air and cyberspace, all concrete steps taken to promote global economic recovery and build a community with a shared future for humanity.
The joint construction of the Belt and Road Initiative (BRI), a development-driven path aiming for mutual benefit, will promote the common development of all countries, Sharaf made the remarks in an interview with Xinhua on the sidelines of the 2021 meeting of the Advisory Council of the Belt and Road Forum for International Cooperation (BRF) via video link on Dec.17.
B&R cooperation is becoming a Chinese solution for engaging global cooperation, improving global economic governance system, promoting common development, and building a community with a shared future for mankind, according to Bai Ming, deputy director of the international market research institute of the Chinese Academy of International Trade and Economic Cooperation under the Ministry of Commerce
"Only through sustained high-quality development could the BRI maximize its outreach and become an international public good favored by more countries and regions, added Bai Ming. (Edited by Niu Huizhe with Xinhua Silk Road, niuhuizhe@xinhua.org)