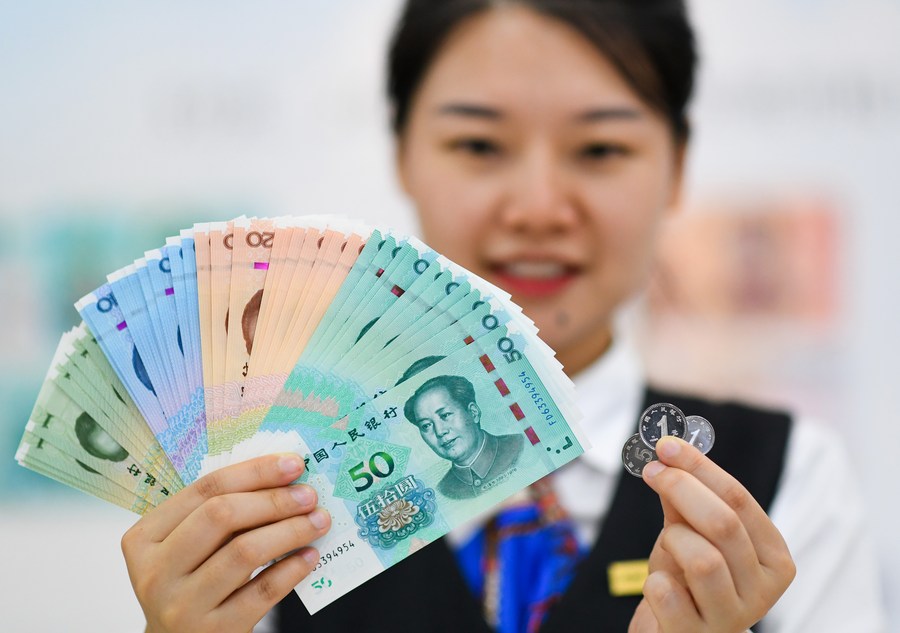 A staff member displays the banknotes and coins included in the 2019 edition of the fifth series of the renminbi at an Industial and Commercial Bank of China (ICBC) branch in Beijing, capital of China, Aug. 30, 2019. (Xinhua/Chen Yehua)
BEIJING, Dec. 23 (Xinhua) -- Despite the ravaging COVID-19 pandemic around the world, the internationalization of China's currency renminbi (RMB) has been advanced steadily in the year of 2021, thanks to the resilience of China's economy and the country's commitment to opening up its capital market.
Data showed that as of the third quarter of this year, foreign holdings of BMB stock and bond have hit 36 trillion yuan (about 5.65 trillion U.S. dollars) and 3.9 trillion yuan, respectively.
The number of market players participating in Cross-border Interbank Payment System (CIPS), an "expressway" designed to facilitate use of RMB in international trade and investment, has reached 1253 in November. According to Xu Zaiyue, president of CIPS, the volume of transaction stood at 2.12 million with an amount of 51 trillion yuan as of September 3, up 61 percent and 86 percent year on year, respectively.
The journey of RMB internationalization has gone well this year and there is more to look forward as new opportunities emerged, such as policy dividends, digital yuan and the inception of the Regional Comprehensive Economic Partnership (RCEP).
-- Favorable policies make headway with dividends
China aims to promote RMB internationalization in a steady and prudent manner, according to its 14th Five-Year Plan (2021-2025), a tone-setting development proposal for the coming five years.
In recent years, China has been forging ahead with wider two-way opening-up of its financial industry, providing more friendly and more convenient environment for foreign investors.
Since 2018, the country has rolled out a slew of measures to offer foreign investors easier market access and broader investment scope, including scraping quota restrictions on the QFII and RQFII schemes and setting up financial infrastructures of the Bond Connect scheme.
This year, China launched a southbound channel under the Bond Connect program to allow Chinese mainland investors to trade bonds in Hong Kong. Besides, China also initiated a pilot program to facilitate cross-border purchase of wealth management products (WMP) by residents in the Guangdong-Hong Kong-Macao Greater Bay Area (GBA).
Meanwhile, more targeted policies concerning RMB internationalization have been put in place during the year. For example, China further optimized cross-border Renminbi (RMB) policies and stabilize foreign trade and investment, according to a circular posted on the website of the People's Bank of China (PBOC), the country's central bank, which came into effect in Feb. 4 this year. This move could promote the facilitation of RMB settlement, simplify the cross-border RMB settlement process, optimize the management of cross-border RMB investment and financing, and facilitate overseas institutions' use of RMB settlement accounts, said the circular.
As China accelerates the building of its new development paradigm featuring "dual circulation," in which domestic and overseas markets reinforce each other, with the domestic market as the mainstay, the internalization of RMB has been playing a key role underpinning the paradigm amid the pandemic.
"Only high-level circulation at home and abroad could sustain high-level international use of sovereign credit currency," said Wang Fang, deputy director of International Monetary Institute under Renmin University of China, adding that strong domestic market could unleash potentials of China's consumption and investment market, thus ensuring RMB asset's profitability and security, while strong overseas market, depending on high-level opening-up and diverse form of trade, could add more application scenarios and reliance to the international use of China's yuan.
-- Digital yuan injects new impetus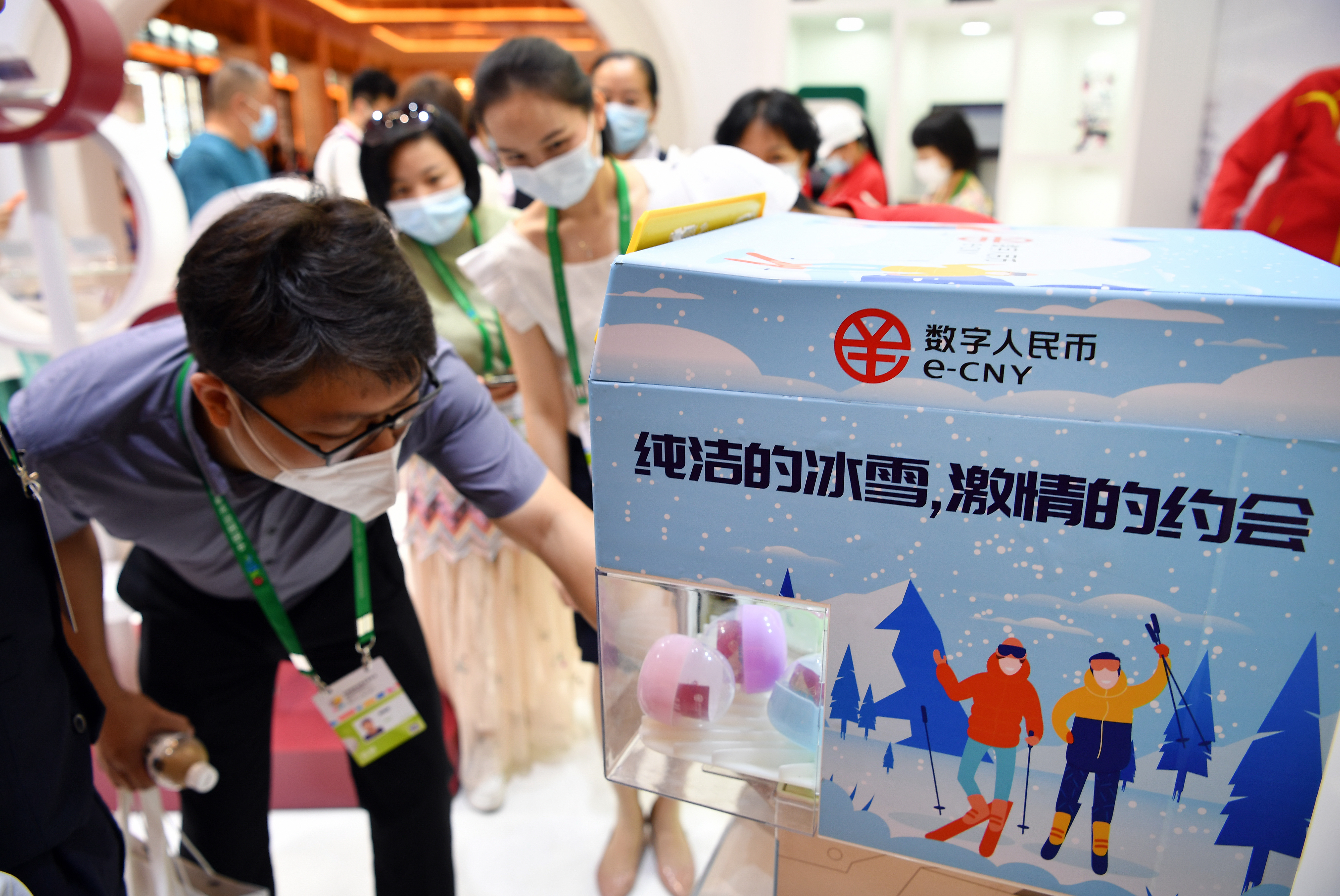 A visitor tries out a gaming machine that accepts payment with digital Chinese yuan (e-CNY) at the first China International Consumer Products Expo in Haikou, capital of south China's Hainan Province, May 8, 2021. (Xinhua/Guo Cheng)
The development of digital currency by China's central bank is consolidating the foundation and injecting new impetus into RMB internationalization.
The digital yuan is the digital version of fiat currency issued by the PBOC and operated by authorized operators. The digital yuan system aims to create a new form of RMB that meets the public demand for cash in the digital economy era.
"The central bank digital currency (CBDC) allows central banks to continue to provide a credible and secure means of payment in the digital era while improving efficiency and integrity of the payment system," said PBOC governor Yi Gang in an earlier speech.
The cross-border payment and settlement system featuring digital yuan will reduce reliance on the international financial transaction agency SWIFT which currently enabled RMB cross-border settlement, improve the efficiency of transactions and address security concerns, and therefore stand to be accepted by more users around the world.
At present, over 110 countries are at "some stage" of exploring CBDC, said Yi. Amid the fierce race of CBDC, countries around the world have stepped up research of theories and are exploring this sphere of financial activity.
Digital yuan is now in the stage of conducting extensive trials in various scenarios in China, with the number of pilot scenarios exceeding 3.5 million as of Oct. 22, 2021. And a total of 140 million personal wallets for digital yuan had been opened by then, official data showed.
Pilots of the digital yuan have rolled out in ten Chinese cities, including Beijing, Shanghai, and Shenzhen. The digital yuan was also adopted at the fourth China International Import Expo held in early November, where consumers could pay with the new form of RMB at restaurants, booths, and vending machines. Pilot scenario construction for using China's digital currency during the Beijing 2022 Winter Olympics has entered a final sprint, according to PBOC.
-- RCEP expected to further boost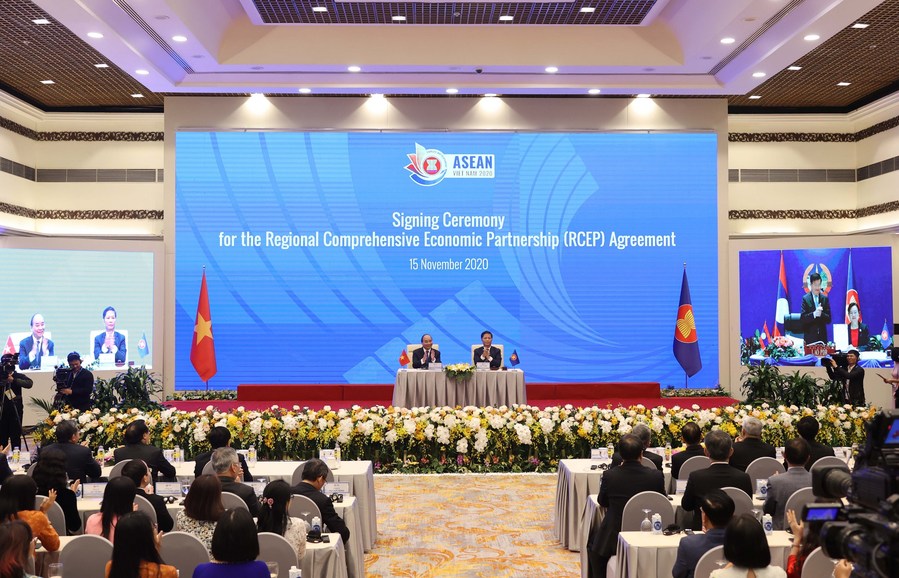 Signing ceremony of the Regional Comprehensive Economic Partnership (RCEP) agreement is held via video conference in Hanoi, capital of Vietnam, Nov. 15, 2020. (VNA via Xinhua)
The Regional Comprehensive Economic Partnership (RCEP) agreement, the world's largest trade deal so far will broaden space for the progress of RMB internationalization, said experts.
Agreed upon in November 2020 by the 10 member countries of ASEAN and five of their partner countries, including China, Japan, Republic of Korea, Australia and New Zealand, the RCEP will enter into force on Jan. 1, 2022.
The implementation of the agreement will provide a tremendous boost to RMB internationalization efforts as the bilateral local currency swap mechanism will further improve and will play an active role in facilitating bilateral trade and investment and maintaining financial stability.
Song Jin, analyst with Nomura Orient International Securities Co., Ltd. said that from a long-term perspective, the RCEP will lay a solid foundation for the "dual circulation" policy by ensuring a considerable amount of trade, promoting RMB internationalization and capacity output under the Belt and Road Initiative (BRI).
As the world's largest free trade agreement so far, covering 30 percent of global trade volume, the RCEP will prepare a strong market base for RMB use by promoting trade among RCEP members through a lower tariff.
Thanks to RCEP, more application scenarios have been created in the fields of cross-boarder e-commerce, China's interntional aid and financial services and trade among small businesses. In this way, RMB will be used widely in a broader market.
(Edited by Li Shimeng with Xinhua Silk Road, lishimeng@xinhua.org)