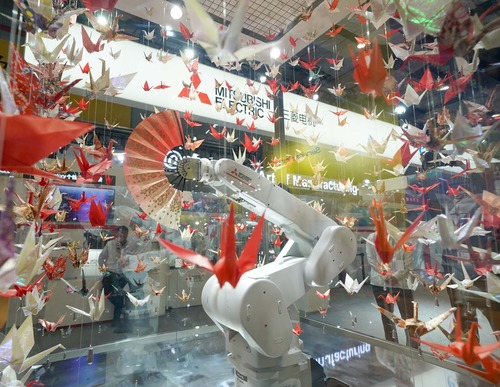 A robotic arm is seen at the booth of Mitsubishi Electric at the first China International Import Expo (CIIE) in Shanghai, east China, Nov. 6, 2018.
BEIJING, Dec. 2 (Xinhua) -- China's midstream and downstream sectors began presenting long-term investment value amid increasing market expectations for efforts on stabilizing economic growth, reported Xinhua-run Xinhua Finance citing a research report of China International Capital Co., Ltd. (CICC) Thursday.
In 2021, mid- and downstream sectors suffered valuation corrections and profitability erosion from the raw material prices surge, sluggish demand and weak economic growth expectation.
In the following 3-6 months, however, the CICC report emphasized three sectors for stock market investors to pay close attention to, including growth industries with high business morale, which will remain the main likely source of extra returns under the favorable industry policies, industries expected to hail a growth turning point in their life circle, consumption and other industries with space for recovery.
In December, the CICC report suggested investors to overbuy stocks of sectors such as electrical equipment, consumer electronics, light industry and home furnishing, securities brokers, and auto parts.
Meanwhile, they are advised to hold relatively low positions of stocks in coal, oilfield service and engineering, oil and gas exploitation, hotel and tourism, and catering industries. (Edited by Duan Jing with Xinhua.org)