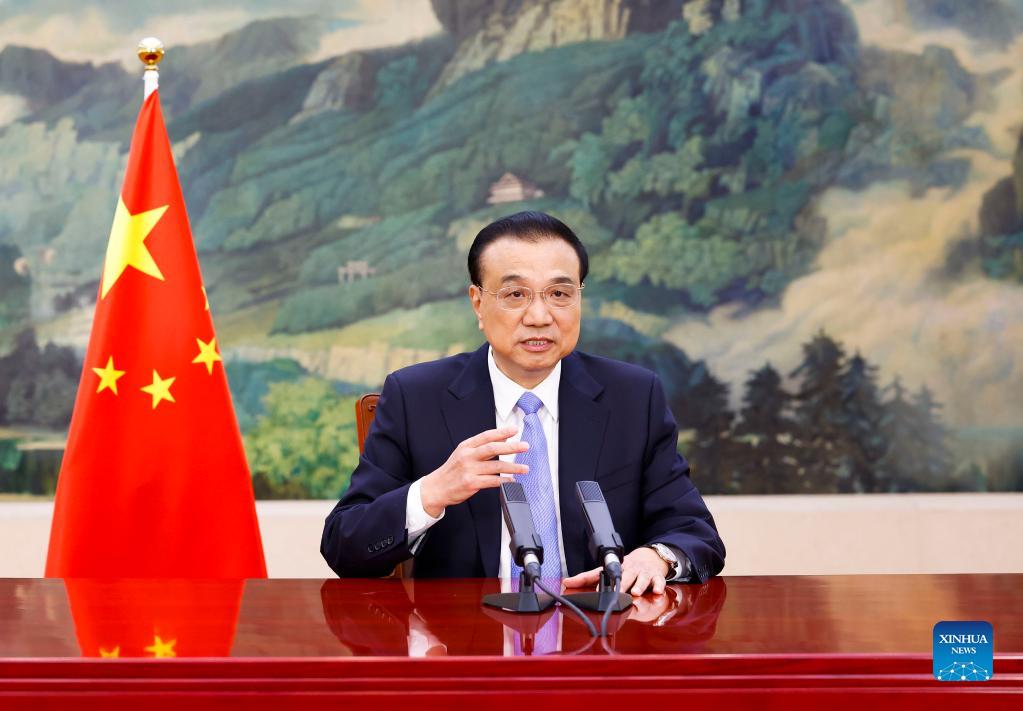 Chinese Premier Li Keqiang speaks while attending the 59th annual session of the Asian-African Legal Consultative Organization (AALCO) via video link on Nov. 29, 2021. (Xinhua/Huang Jingwen)
BEIJING, Nov. 29 (Xinhua) -- China will set up a regional arbitration center with the Asian-African Legal Consultative Organization (AALCO) in the Hong Kong Special Administrative Region to provide more accessible and efficient dispute-settlement services to Asian and African countries, Chinese Premier Li Keqiang said on Monday.
Li made the remarks while attending the opening ceremony of the 59th annual session of the AALCO via video link.
As an important outcome of the Bandung Conference, the AALCO is the only platform covering both Asia and Africa for cooperation on international law, he said.
Noting that Asian and African countries, whose combined population is three quarters of the world's total, are an important force for upholding the international rule of law and practicing multilateralism, Li made five proposals and called on the AALCO to further pool the strength of developing countries and make new contributions to building a better world.
The five proposals are: upholding sovereign equality and jointly practicing multilateralism; strengthening connectivity and jointly advancing opening-up for mutual benefit; building a strong line of defense against the coronavirus and jointly strengthening global health governance; accelerating a green transition and jointly promoting sustainable development; and upholding fairness and justice and jointly strengthening international rule of law.
"China will fully implement the Regional Comprehensive Economic Partnership Agreement and promote the Initiative on Partnership for Africa's Development," he said, pledging to work with all parties to enhance the synergy of development strategies and bolster global economic recovery and growth.
Li called for promoting good governance through good law, and increasing the representation and say of developing countries in reforming multilateral institutions.
He also urged active participation in the development of new mechanisms and rules in emerging fields such as deep sea, polar region, outer space, cyberspace and digital, among others, to protect the rights of Asian and African people in sharing the fruits of development.
The 59th annual session of AALCO, held in Hong Kong, was attended online and offline by around 200 representatives from relevant countries and international organizations. Enditem