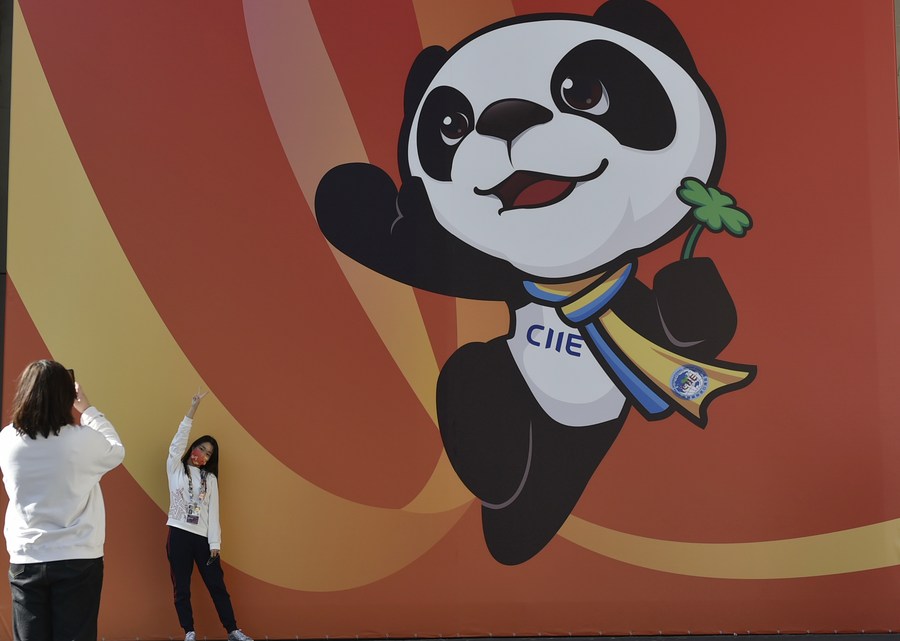 Visitors take photos with a poster at the 4th China International Import Expo (CIIE), in east China's Shanghai, Nov. 10, 2021. (Xinhua/Lu Peng)
BEIJING, Nov. 15 (Xinhua) -- The spillover effects of the just-concluded fourth China International Import Expo (CIIE) is continuing to expand, reported Shanghai Securities News Monday.
The Greenland Global Commodity Trading Hub, which is just across the road from the National Exhibition and Convention Center (Shanghai), the main venue for the fourth CIIE, is still crowded these days, as many CIIE exhibitors come to purchase goods here.
Data show that 164 of the 180 merchants in the Hub have received intended purchase orders from more than 20 provinces and cities in China since the opening of the fourth CIIE, with a total amount of 530 million yuan, up 12.8 percent year on year.
As the "6-day plus 365-day" perennial exhibition and trading platform for Shanghai to undertake and enlarge the spillover effects of the CIIE, the Hongqiao Import Commodity Exhibition and Trade Center has also been busy these days.
During the fourth CIIE, the Building A of the phase II project of the Center was officially put into use. With it as a new carrier, a number of key projects have been signed intensively, with a batch of first launches made and many first stores and exhibitions launched, injecting innovative vitality into the expansion of the CIIE spillover effects.
As the perennialvenue of the CIIE and the core bearing area of the spillover effects of the CIIE, the Hongqiao Business District has been upgraded to the Shanghai Hongqiao International Central Business District, noted Bao Bingzhang, Party chief and executive deputy director of the management committee of the District.
The Shanghai Hongqiao International Central Business Districtboastsmore open trade policies, freer trade environment, more convenient supporting functions and many other advantages, bringing new opportunities in building a collection and distribution center for imported goods connecting the Yangtze River Delta, serving the whole nation, and radiating the Asia-Pacific region, a centralized display area of the CIIE results, and a national import trade promotion innovation demonstration zone, Bao added.
It was proposed in a plan on improving Shanghai's function as an international trade center during the 14th Five-Year Plan period released in April this year that Shanghai would enhance the global influence and competitiveness of the CIIE and fully build itself into an international exhibition city.
One of the major measures listed in the plan is to continue to amplify the spillover effects of the CIIE and upgrade trade, industry, consumption and opening-up.
Related measures are being implemented at a faster speed. Since this year, the Qingpu District of Shanghai has been actively building the Hongqiao International Exhibition Industrial Park, which has attracted leading enterprises such as Informa and Digital Expo to settle in.
(Edited by Gu Shanshan with Xinhua Silk Road, gushanshan.1987@163.com)