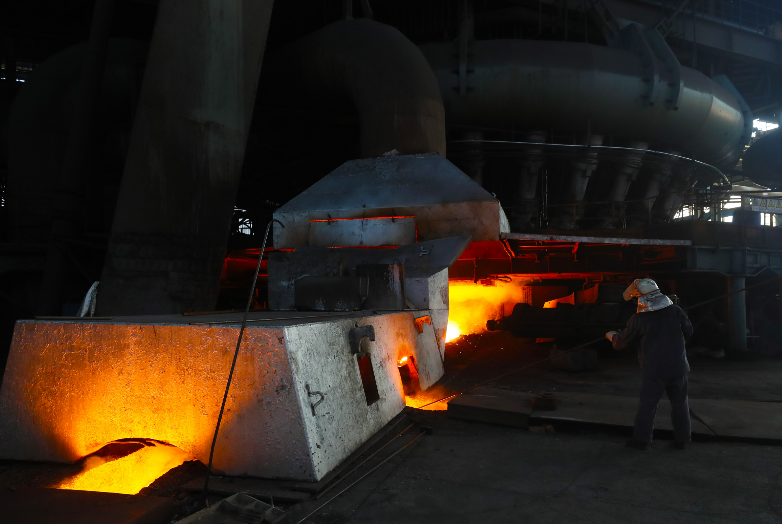 A man works at a factory of Ansteel in Anshan City, northeast China's Liaoning Province, Aug. 19, 2021. (Xinhua/Yang Qing)
BEIJING, Aug. 23 (Xinhua) -- 29 out of 31 steel companies listed on China's A-share market which have disclosed their performance predictions for the first half of the year as of last Friday expected their H1 performances to see year-on-year growth, according to the data of Wind, a data information provider in China.
Regarding the outstanding performances, some steel companies noted that the sales of the steel products in the period hit record highs.
For example, CITIC Pacific Special Steel Group (000708.SZ) said that its net profits surged 52.29 percent year on year to stand at about 4.19 billion yuan in H1.
During the period, the company saw its steel sales total 7.55 million tonnes, hitting a record high. Sales of its bearing steel, and steels for automobiles and the energy sector hit the best level over the same period in the past, and the average sales price has steadily increased.
Steel companies' excellent performances in H1 also result from the high steel prices in the second quarter.
Nanjing Iron & Steel Co., Ltd. (600282.SH) said that its net profits in the second quarter stood at about 1.28 billion yuan, a jump of 95.79 percent year on year.
According to its filing to the stock exchange, contributions of its advanced steel materials to the profits continued to increase, with the sales totaling 867,700 tonnes in H1, up 40.67 percent, and the gross profit margin being 16.2 percent, up 0.4 percentage point year on year.
Despite the optimistic predictions, some steel companies warned that in the face of the pressure on output reduction and volatile iron ore prices, they will likely face big pressure on business operations in the second half of the year. (Edited by Hu Pingchao, Wang Siyi, hupingchao@xinhua.org)