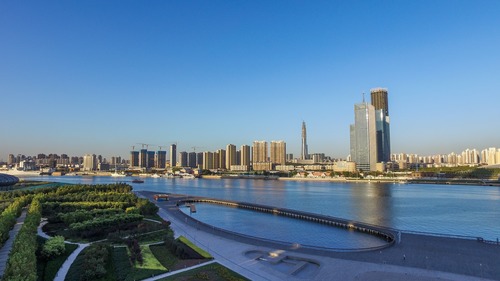 The landscape of Yujiapu Finance District is seen at Binhai New Area of the China (Tianjin) Pilot Free Trade Zone (FTZ) in north China's TianjinMunicipality, Sept. 17, 2017. (Xinhua/Bai Yu)
BEIJING, Aug. 16 (Xinhua) – Tianjin Pilot Free Trade Zone (FTZ), located in north China's Tianjin Municipality, inaugurated last week two new interconnected innovation zones, including the Binhai New Area and China-Singapore Tianjin Eco-City, aiming to better support its role as a test field for China's institutional innovation.
According to Yin Xiaofeng, deputy director of Administration of Tianjin FTZ and deputy head of the Binhai New District, Tianjin will give priority to the coordinated development of the interconnected innovation zone and the FTZ. For example, the Binhai New Area and the FTZ jointly carried out pilot projects in research and development on the comprehensive bonded area and cell therapy's clinical transformation and application.
By far, Tianjin FTZ has five interconnected innovation zones featuring complementary development advantages and is expected to further enhance coordinated development in innovation projects and promote the integrated development of the FTZ in the fields of industry, policy, talent, and innovation.
As the first FTZ in north China, the Tianjin FTZ has gained remarkable achievements by implementing 487 institutional innovations, of which 38 cases have been replicated and promoted nationwide.
In addition, the number of newly registered market entities in Tianjin FTZ reached 6,707 in the first half of 2021, up 34.9 percent year on year, with a total registered capital of 185.59 billion yuan.
(Edited by Jiang Feifan with Xinhua Silk Road, 346129473@qq.com)