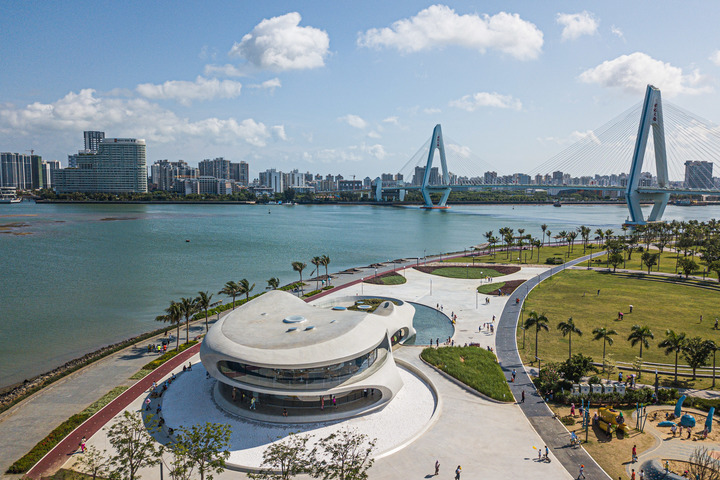 Aerial photo taken on May 3, 2021 shows the Wormhole Library in the Haikou Bay in Haikou, capital of south China's Hainan Province. (Xinhua/Pu Xiaoxu)
BEIJING, Aug. 12 (Xinhua) -- An imported helicopter valuing 4.018 million yuan was cleared by customs in south China's Hainan Free Trade Port (FTP) on Tuesday, reported Chinanews.com Wednesday.
Imported by a local aviation aircraft operator in Hainan FTP, the helicopter was granted zero-tariff treatment for the first time by the FTP with tax exemption valuing 613,000 yuan, further saving costs for the importing enterprise.
According to the zero-tariff policy on the import of vehicles and yachts in Hainan FTZ, the registered enterprises in Hainan engaged in transportation and tourism sectors are exempted from import duties when importing vehicles, aircrafts, ships and yachts that meet the requirements of the policy.
Local customs reveals that it will continue to facilitate the customs clearance procedure of zero-tariff products and bring preferential policies to more enterprises in the FTP.
In June of 2019, China came up with a master plan for the development of Hainan FTZ, which marked the first time in an official Chinese government document that the idea of zero-tariff is used, and Hainan FTP has vowed to fully implement a zero-tariff system in the province by 2025.
(Edited by Jiang Feifan with Xinhua Silk Road, 346129473@qq.com)