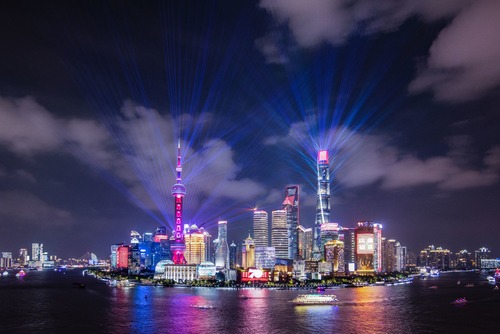 Aerial photo taken on Sept. 18, 2019 shows the night view of the Lujiazui area in Shanghai, east China. (Xinhua/Ren Long)
BEIJING, Aug. 11 (Xinhua) -- Lufax Holding Ltd. (Lufax), China's leading retail fintech enterprise, on Tuesday reported its total income of 14.828 billion yuan and net profit of 4.729 billion yuan in the second quarter (Q2) of 2021.
According to the company's unaudited financial results for Q2, the company has beefed up efforts to support small business owners in its retail credit facilitation business, with up to 77.6 percent of new loans disbursed to such entities.
In terms of wealth management, contribution from customers with investment of more than 300,000 yuan increased to 80.2 percent as of June 30, 2021, while legacy products dropped to zero.
During the first half (H1) of this year, Lufax maintained a steady growth, with its total income up 17.1 percent and net profit up 33.4 percent year on year.
Lufax's chairman Ji Guangheng noted that the company will shift its focus from volume growth to quality enhancement, striving for a regulation-based, technology-powered development pattern, to create more social value.
Meanwhile, the company also announced that it will repurchase up to 700 million U.S. dollars worth of American Depositary Shares (ADSs) in the coming 12 months, following its 300 million U.S. dollars share repurchase program authorized in May this year, making the total value of ADSs to a billion U.S. dollars.
(Edited by Li Shimeng with Xinhua Silk Road, lishimeng@xinhua.org)