BEIJING, Aug. 9 (Xinhua) -- Yangzhou, a city in east China's Jiangsu Province, has beefed up measures to race against time to contain the spread of COVID-19 caused by the highly contagious Delta variant.

Local authorities had asked people living in residential communities under closed-off management not to leave their homes, the city's epidemic control and prevention headquarters said at a press briefing Monday.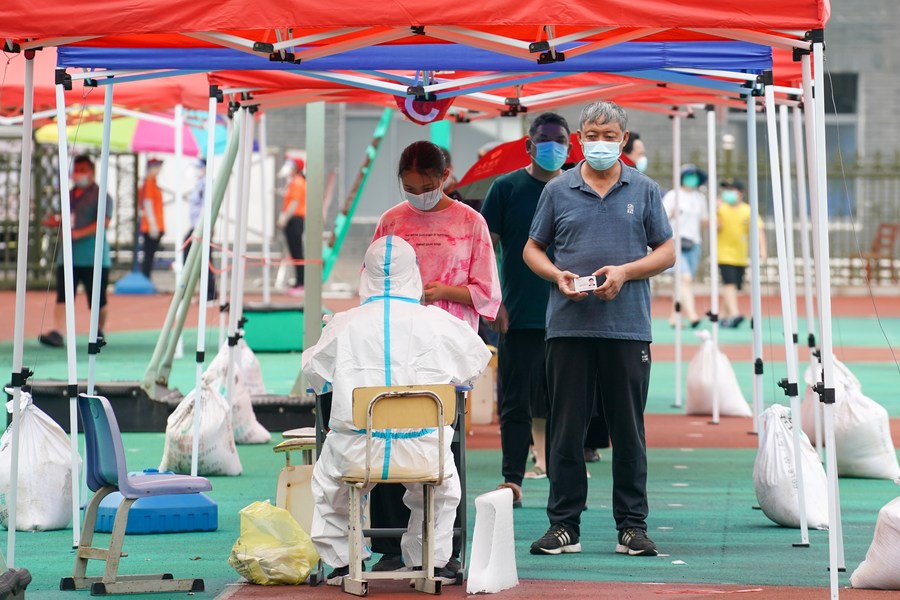 Residents register for COVID-19 nucleic acid tests at a testing site in Guangling District of Yangzhou, east China's Jiangsu Province, Aug. 9, 2021. (Xinhua/Li Bo)
After reporting new COVID-19 cases each day for the past few days, Yangzhou has become a new area marked with cluster infections after Nanjing, the provincial capital of Jiangsu, about 100 km away. The city had reported a total of 346 locally transmitted confirmed cases by Sunday.
CHALLENGE
The Chinese mainland on Sunday reported 94 new locally transmitted cases, including 38 in Jiangsu, all of which were reported in Yangzhou.
"Epidemic control is now the top priority, and Yangzhou has confronted a complicated situation as the city is in a period of a concentrated outbreak," said Wu Zhenglong, governor of Jiangsu.
"The proportion of elderly people infected with coronavirus is very high in Yangzhou, which poses a challenge to medical treatment, but we are trying our best to cure the patients," said Zhou Minghao, deputy director of the Jiangsu Provincial Health Commission.
The epidemic in Yangzhou was caused by the concentration of people in chess-poker rooms -- entertainment sites for the elderly particularly. It is expected to be brought under control within two to three incubation periods, said Gao Shan, an associate professor at Nankai University.
Zhangjiajie, a popular tourist city in central China's Hunan Province, has launched the second round of all-inclusive nucleic acid testing to stem the new COVID-19 infections.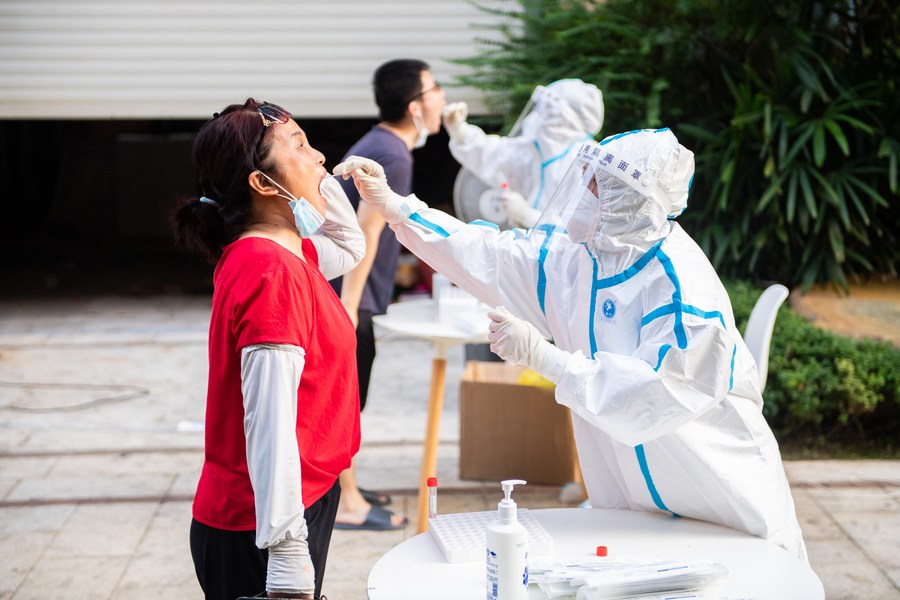 Medical workers take swab samples from residents for COVID-19 nucleic acid testing in Zhangjiajie, central China's Hunan Province, Aug. 4, 2021. (Xinhua/Chen Sihan)
Prior to that, the city launched three rounds of large-scale testing in higher risk areas for COVID-19 after new infections emerged.
After the first local case was reported, authorities in Hunan took swift epidemic prevention and control response, which also has the full cooperation of the general public, said Hu Chengping, a medical expert with the Xiangya Hospital in Changsha, capital of Hunan Province.
China has also reported new local infections in other parts of the country, with the first infections reportedly having exposure to the Nanjing airport.
There is an increasing risk of the epidemic spreading as sporadic outbreaks took place in multiple places during the peak of summer travel, according to Mi Feng, a spokesperson of the National Health Commission (NHC). Whenever there is an outbreak, the most stringent measures must be taken to bring the epidemic under control as swiftly as possible, Mi said.
The Delta outbreak has triggered massive travel restrictions in Jiangsu and some other parts of the country, including the suspension of flights, coach and train services, and travel to medium and high-risk areas.
Trips to Beijing from areas with high- or medium-risk for COVID-19 have been temporarily suspended.
The number of passengers departing and arriving at the city's six railway stations totaled nearly 2 million between Aug. 1 and 4, down 35 percent from the same period during the previous week. Its two airports have also suspended flights from more than a dozen cities nationwide.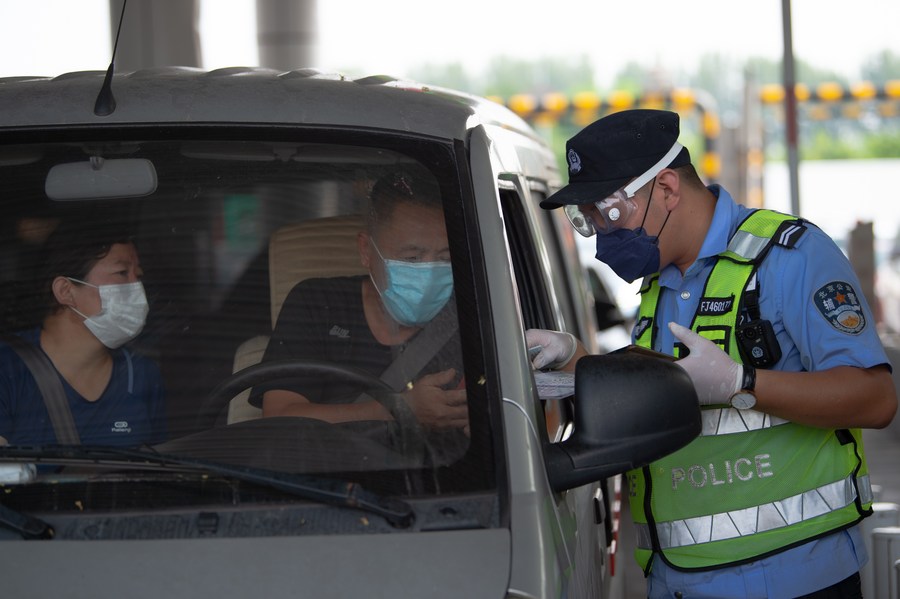 A policeman checks information of people entering Beijing at a road checkpoint in Beijing, capital of China, Aug. 6, 2021. (Xinhua/Chen Zhonghao)
The current epidemic prevention and control efforts in Hubei, featuring increased nucleic acid testings and large-scale inoculations, can help quickly contain the resurgence, said Yu Chuanhua, an expert in epidemiology and health statistics at Wuhan University.
"Given the severe epidemic situations worldwide, China still needs to be vigilant against the virus as any slacking could lead to bigger outbreaks and even ones spiraling out of control," Yu said.
CONTROLLABLE
Nanjing reported no new local COVID-19 cases for the first time on Sunday since some airport-related cluster infections of the Delta variant emerged in the city on July 20.
Following stringent control measures including rounds of mass nucleic acid testing, Nanjing has seen a downward trend in its confirmed cases, with only three new cases reported in the past three days and reporting a total of 231 cases as of Sunday.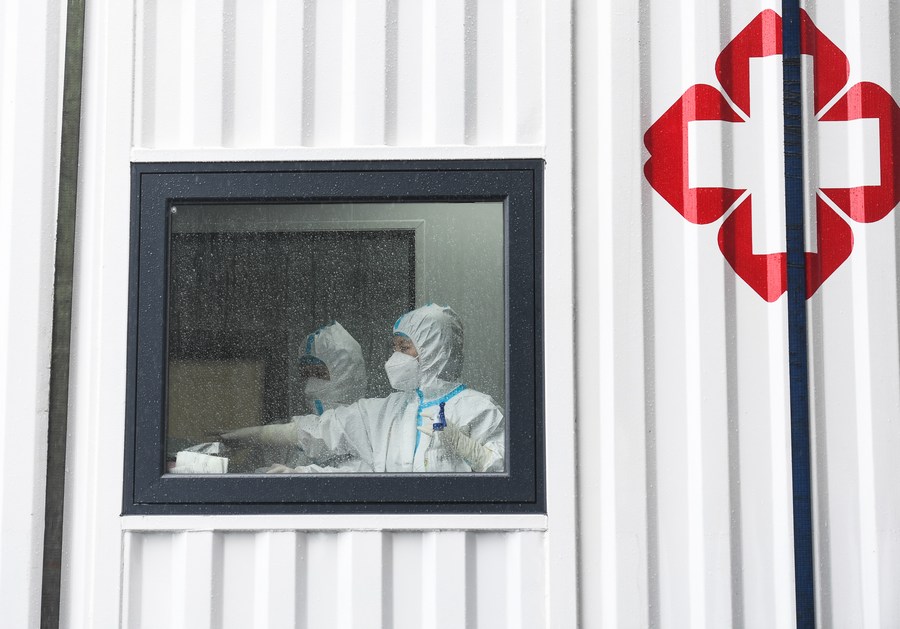 Staff members put on personal protective equipment in a "Falcon" air-inflated testing lab for COVID-19 nucleic acid testing at Nanjing Railway Station in Nanjing, capital of east China's Jiangsu Province, July 27, 2021. (Xinhua/Ji Chunpeng)
"It is not the first time for China to fight against the Delta variant. We have successfully contained the epidemic in Guangzhou, and the epidemic in Nanjing is gradually being put under control," said Zhang Wenhong, head of the Center for Infectious Diseases at the Shanghai-based Huashan Hospital of Fudan University.
China's experience in prevention, control and treatment is still very effective so far, Zhang said.
"Slowing down population mobility at this stage will be a great help to blocking the secondary transmission of the virus," he said.
He Qinghua, an NHC official, acknowledged that the current wave is more complicated and has put some strain on response efforts since it has multiple imported sources and has affected a wide range of people and places.
Vaccines administered across the country -- having surpassed 1.78 billion doses as of Sunday -- demonstrate good preventive and protective effects against the Delta variant, he said.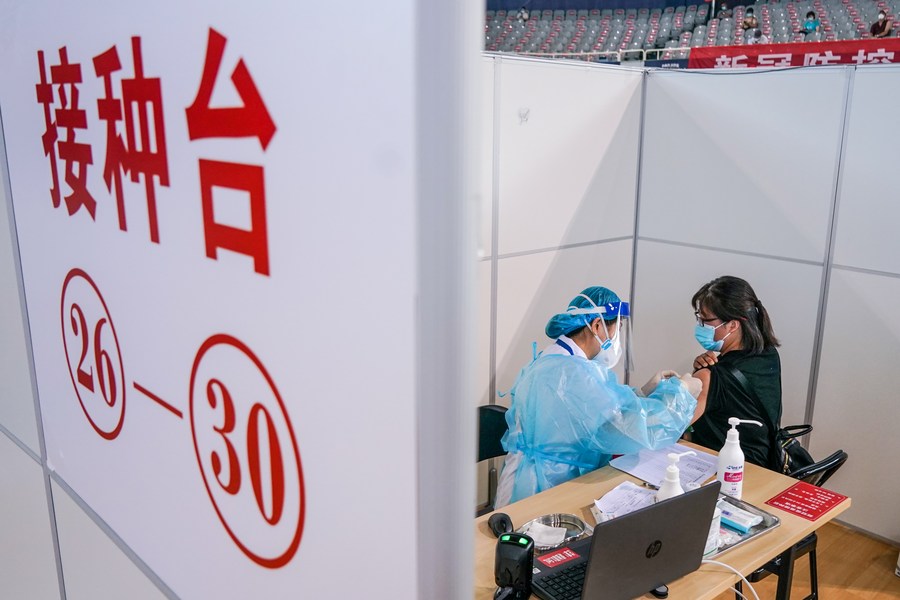 A resident gets inoculated against COVID-19 at a vaccination site in a stadium in Nanjing, capital of east China's Jiangsu Province, Aug. 2, 2021. (Xinhua/Li Bo)
"As long as local authorities strictly implement various prevention and control measures, I think the epidemic will be largely under control within two to three incubation periods," said the official.
(Reporting by Li Baojie, Li Laifang, He Leijing, Zhang Yujie, Zhang Ge, Zhang Dan, Yang Kai, Gong Wen, Ding Jing, Chen Zhonghao, Luo Xin, Li Chunyu, Yue Wenwan, Yu Pei, Jiang Fang, Zhu Cheng, Cao Peixian, Li Kun, Xu Hongyi; Video reporters: Li Hengyi, Zhang Yujie, Zhang Dan, Zhang Ge, Yang Jing, Zhai Zhuo; Video editor: Hong Yan)