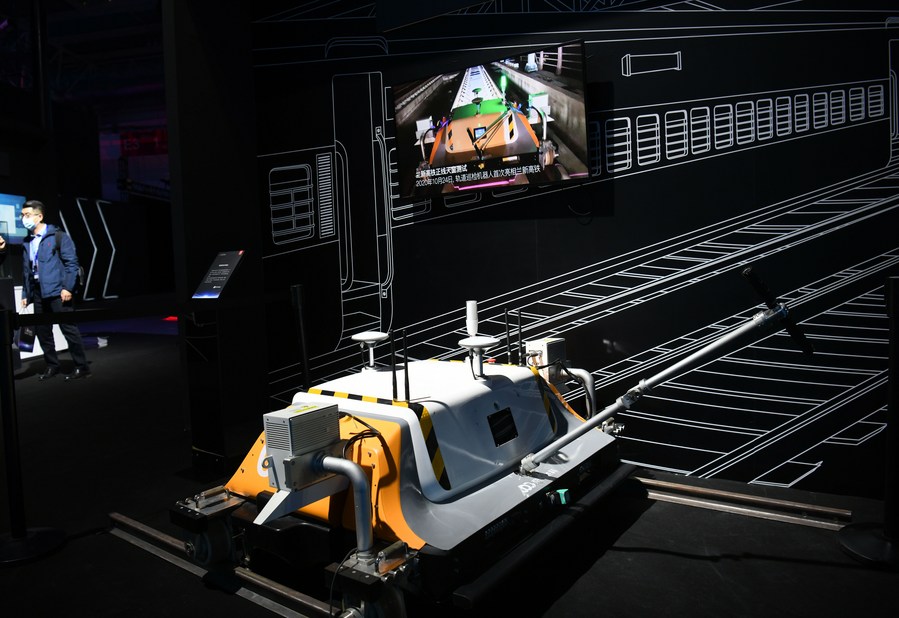 Photo taken on Nov. 25, 2020 shows an AI-powered robot for railway track inspection displayed at the JD Global Technology Discovery Conference in Beijing, capital of China. (Xinhua/Jin Liangkuai)
BEIJING, July 22 (Xinhua) -- The smart economy, with artificial intelligence (AI) as the core driving force, has become one of the new engines for the economic development of China, reported Economic Information Daily Thursday quoting Li Yanhong, chairman and chief executive officer (CEO) of Chinese tech giant Baidu.
AI will undoubtedly influence the course of human development in the next 40 years, said Li. The application of AI technology has provided new ideas and solutions for the digital upgrading of transportation, finance, energy, media and other industries, and even begun to reshape the entire industry, thus affecting the future of human society, he noted.
Baidu just launched its new-generation shared unmanned vehicle. It plans to promote the unmanned vehicle sharing services to 30 cities in China in the next two to three years.
The company's intelligent transportation engine has been implemented in more than 20 provinces, cities and regions in China, including Shanghai, Beijing, Guangzhou, and Chongqing, helping Chinese cities build world-class intelligent transportation system clusters.
"The construction of intelligent transportation infrastructure based on vehicle-road collaboration will improve traffic efficiency by 15 to 30 percent. And by our calculations, a 15-percent increase in traffic efficiency can be converted into a 2.4-percent increase in GDP," Li stated.
Building an intelligent transportation system through "smart cars" and "smart roads" can not only significantly reduce the occurrence of traffic accidents but also make travel greener and more environmentally-friendly, he added.
In the elderly care sector, AI is also playing a growing role. The elderly-related intelligent medical and health management equipment can help collect and track the health and medical data to better manage their physical conditions.
Besides, the integrated service platforms suitable for serving the aging and installed in smart devices can connect community service resources and health care resources, providing comprehensive services such as family medical services, chronic disease management and emergency calls for the elderly. Multi-mode interactive AI assistants can enable the elderly to enjoy the convenience brought by technological development in various scenes of their daily lives.
(Edited by Gu Shanshan with Xinhua Silk Road, gushanshan.1987@163.com)