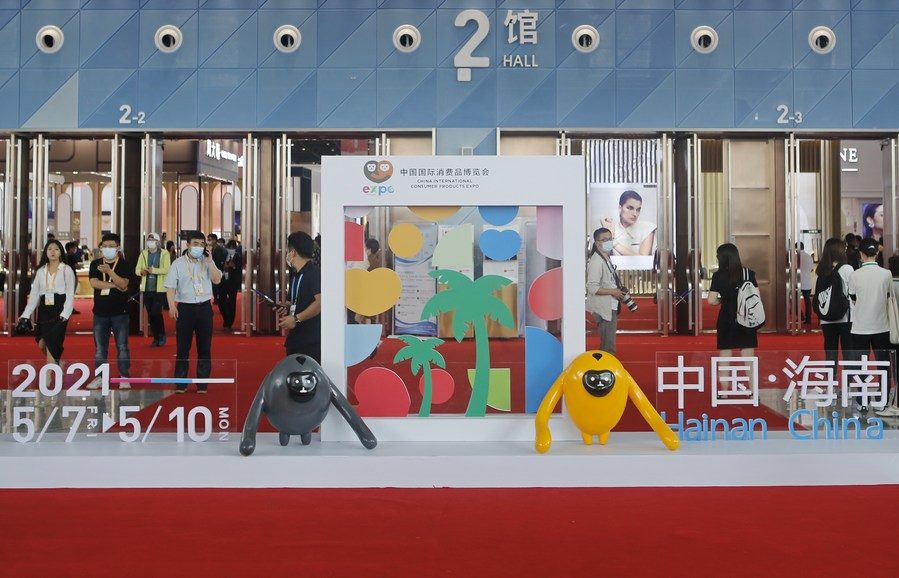 People walk into the venue of the first China International Consumer Products Expo in Haikou, capital of south China's Hainan Province, May 7, 2021. (Xinhua/Ding Hongfa)
BEIJING, July 21 (Xinhua) -- China will unveil more favorable policies to stabilize foreign investment in the second half of 2021, and with the release of the potential of the ultra-large market, China has become the layout focus of multiple multinationals, reported Economic Information Daily Monday.
At the second Qingdao Multinationals Summit concluded on July 16 in Qingdao of east China's Shandong Province, 96 key foreign investment projects were signed with a total investment of 11.85 billion U.S. dollars. The summit was attended by executives from 390 Fortune Global 500 companies and 517 leading companies.
This is just an epitome that China has become a hot destination for foreign investment.
Latest statistics show that in the first half of 2021, China attracted 607.84 billion yuan of foreign capital, with a year-on-year increase of 28.7 percent. Among them, the actual use of foreign capital in high-tech industries increased by 39.4 percent year on year, with that in the high-tech service industry registering a year-on-year increase of 42.7 percent and that in the high-tech manufacturing industry 29.2 percent.
"China has an ultra-large-scale market and a complete industrial chain system, with its average annual growth rate of labor productivity 5.1 percentage points higher than that of the world, average annual growth rate of research and development (R&D) investment among the highest in the world, and ranking of the business environment rising sharply, and China has become an important source of global profit growth for multinationals," said Gu Xueming, president of the Chinese Academy of International Trade and Economic Cooperation (CAITEC).
A report about multinationals in China released by CAITEC on July 15 shows that China's economy has rapidly recovered and maintained strong growth momentum despite the COVID-19 pandemic, demonstrating high-level national governance capabilities and strong economic resilience, and providing multinationals with confidence and impetus to develop in China.
At the same time, China is still speeding up the expansion of opening-up.
The Qingdao Multinationals Summit revealed that efforts would be made to create more market opportunities, open wider to provide a broader development stage for enterprises of all types of ownership, forge a better business environment, and enhance the resilience of the industrial and supply chains to provide better conditions for enterprise to innovate and develop.
Qian Keming, Vice Minister of Commerce of China, stated that China has always firmly supported the multilateral trading system with the World Trade Organization (WTO) at its core, and actively built a network of high-standard free trade zones with growing number of partners.
"At present, China has set up 21 pilot free trade zones, 230 national economic and technological development zones, as well as open platforms with the attributes of international public products such as the China International Import Expo (CIIE), becoming the main force in the construction of an open economy," said Qian.
In the post-pandemic era, customs and multinationals, as the junction of the domestic and international circulations, will become an important force for coordinating pandemic prevention and control and ensuring the safety and convenience of international trade, said Wang Lingjun, Vice Minister of the General Administration of Customs (GAC) of China.
He also calls for multinationals and other companies to enhance cooperation with GAC to actively deal with risks and challenges, effectively guarantee trade security, and continuously deepen trade facilitation.
Prior to this, the Ministry of Commerce of China has clarified to promote comprehensive opening-up, balanced opening-up, green opening-up, institutional opening-up, and win-win opening-up, continue to expand the opening-up of manufacturing, service, and agriculture sectors and build high-level opening-up platforms, fully implement the foreign investment law and its implementation regulations, and accelerate the transition of opening-up from centering on goods and factors flow to centering on institutions.
The National Development and Reform Commission (NDRC), China's top economic planner, also stated that it is working on the formulation of the 2021-version negative list for foreign investment access, which will be further shortened to promote the expansion of opening-up in the service industry and other fields.
NDRC will also continue to promote the implementation of major foreign-funded projects, focus on supporting such projects in advanced manufacturing and high-tech fields, and encourage foreign investors to participate in the high-quality manufacturing development, new infrastructure construction and innovation-driven development of China.
Multiple benefits have further strengthened the confidence of foreign companies to expand investment in China.
In Jinan, capital city of Shandong Province in east China, the Johnson Controls Shandong Regional Headquarters and Digital Low-Carbon City Collaborative Innovation Center invested by U.S. firm Johnson Controls was launched.
Zhu Yonghuan, vice president and general manager in China of Johnson Controls, said that the company will use its advantages in technology, products and talents to provide Jinan with solutions for smart buildings and high-efficiency energy.
China's rapid recovery from the pandemic and consequent strong growth undoubtedly impress global companies and investors, said Li Zhenmin, head of Greater China of Linde, a German industrial gas producer. "As a company that has been deeply engaged in the Chinese market for many years, Linde has strengthened its confidence and determination in long-term investment and development in China after the baptism of the epidemic," remarked Li.
Yang Xu, global vice president and president of China of Intel Corporation, has expressed optimism about China's huge consumer market and well-established industrial foundation. Yang said that the Chinese market is enormous where the consumers are very tolerant of innovative products, and the technology and products of multinationals and China's scale advantages are conducive to forming a larger market.
Yang further pointed out that over the past 40-odd years of reform and opening-up, China has built sound infrastructure, created a complete industrial chain, and cultivated many skilled industry talents, with industrial innovation accelerated under the strong support of the government, and users full of enthusiasm for new technologies, new products and new services, and all of these have further strengthened the confidence of multinationals to develop in China.
Nie Pingxiang, deputy director of the Institute of Foreign Investment with CAITEC, said that the dual-circulation development pattern clearly requires a higher level of opening-up. "A higher level of openness will directly provide a convenient open environment and institutional guarantee for multinationals to enter China, and thus increasing their interest in investing in China."
Nie also noted that the strategic basis of the dual-circulation development pattern is to expand domestic demand and smooth the domestic circulation, and in this process, the advantages of the ultra-large-scale domestic market will be continuously highlighted, which will provide multinationals with more opportunities to participate in the construction of the large domestic market.
During the 14th Five-Year Plan period, Nie noted, the high-quality growth of China's economy and the accelerated transformation and upgrading of the industrial structure will inevitably require the support of high-quality foreign investment.
"Therefore, during the 14th Five-Year Plan period and beyond, while promoting the steady growth of foreign investment, China will pay more attention to optimizing the structure of foreign investment and encourage more foreign investment in high-tech fields," said Nie.
(Edited by Wang Yuhang, Gu Shanshan with Xinhua Silk Road, gushanshan.1987@163.com)