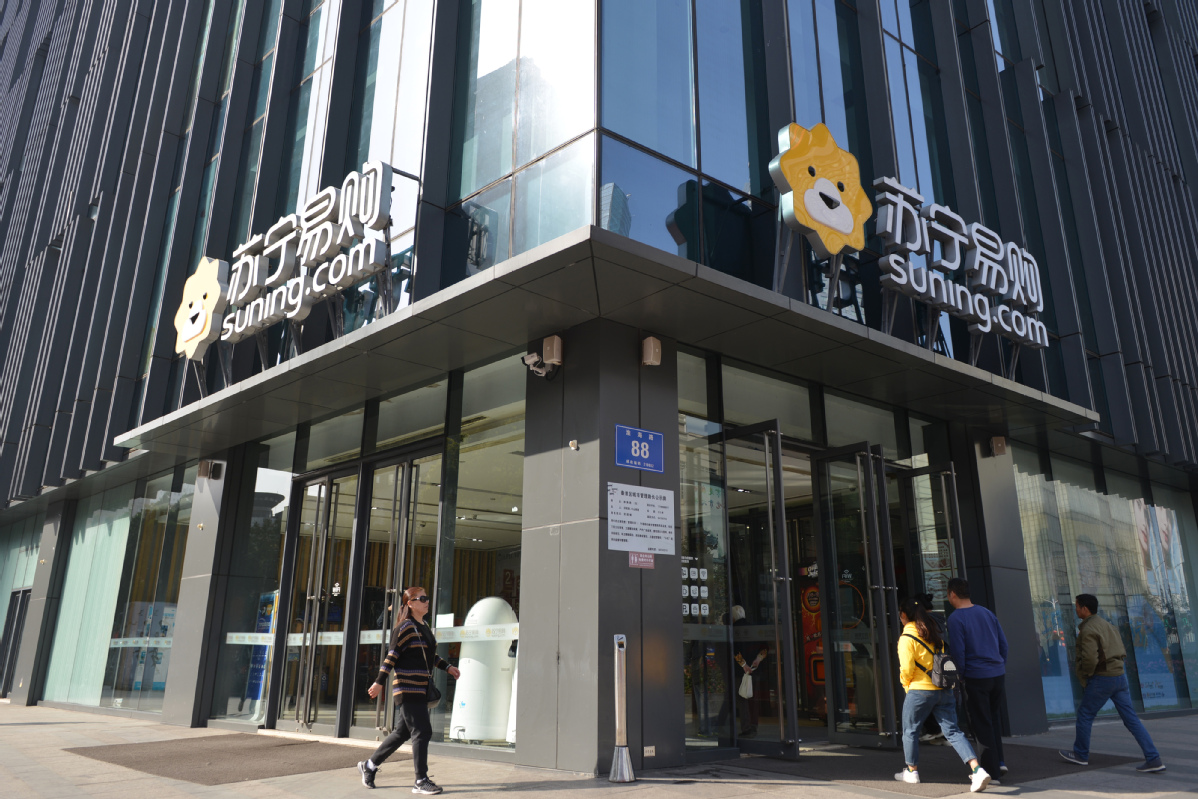 Shoppers enter an outlet of Suning in Shanghai. [Photo by Fang Dongxu/For China Daily]
BEIJING, July 7 -- Shares of Suning.com Co, a prominent retailer and e-commerce major, surged on the A-share market on the Shenzhen Stock Exchange on Monday after it announced it agreed to sell a 16.96 percent stake in its listed firm to a fund, or a sort of consortium with some State-owned investors, Alibaba Group and other corporate investors.
Intraday, Suning hit the daily upper limit of 10 percent and closed there at 6.15 yuan (95 cents) despite its forecast of major losses for the first half of this year.
Jiangsu Xinxin Retail Innovation Fund II will pick up the nearly 17 percent stake in Suning.
The effective date of the stake sale, and the amount involved, are yet to be determined.
In February, Suning sold a 23 percent stake to State-owned investors Shenzhen International Holdings, a logistics services company, and Kunpeng Capital, which is under the Shenzhen city government. The transaction was worth 14.8 billion yuan. But the parties failed to finalize contract terms, Suning. Com said.
Jiangsu Xinxin Retail Innovation Fund II has many well-known investors such as Huatai Securities, Alibaba Group, Xiaomi, Haier, Midea and TCL.
Jiangsu Xinxin Retail Innovation Fund II, which will become the third-largest shareholder in Suning, has the participation of Jiangsu province and the Nanjing municipal State assets supervision and administration commission. After the deal, no shareholder will have a controlling stake.
In June, Suning set up Jiangsu Xinxin Retail Innovation Fund, the precursor to Jiangsu Xinxin Retail Innovation Fund II, with State-owned investors, transferring 5.59 percent of Suning to the fund, with the latter paying 3.18 billion yuan to Suning.
Zhang Jindong, his trust and two of his Suning holding companies, will transfer the almost 17 percent stake to Jiangsu Xinxin Retail Innovation Fund II.
After the transfer, Zhang and the Suning holding company will remain the e-commerce firm's largest shareholder with a nearly 20.4 percent stake.
Taobao China of Alibaba Group will be the second-largest shareholder with a 20 percent stake.
In the short term, the share transfer will increase the credit and efficiency of the listed company and restore its liquidity. In the long term, the profitability of Suning will improve continuously, the company said.
"Capital from State-owned entities will inject confidence into the market and also create more opportunities for changes in shareholding structures," said Jason Yu, managing director of Kantar Worldpanel China, a consultancy firm.
Suning's annual fiscal report for 2020 showed short-term loans of 23.7 billion yuan, with liabilities reaching 124.6 billion yuan while assets were worth 107.4 billion yuan.
In its first-half forecast on Monday, the retailer estimated its loss will likely be between 2.5 billion yuan and 3.2 billion yuan, up 167 million yuan year-on-year.
Suning's heavy assets in the offline retail space and its aggressive acquisitions across multiple sectors over the years have piled much pressure on its liquidity, said Yu.
In recent years, Suning expanded its business footprint rapidly. It ranged from owning a world-leading Italian football club to acquisition of Japanese home appliance retailer Laox Co. Businesses in Suning's orbit range from retail, property, finance to sports. But, since the second half of last year, Suning has faced liquidity issues.
Source: China Daily