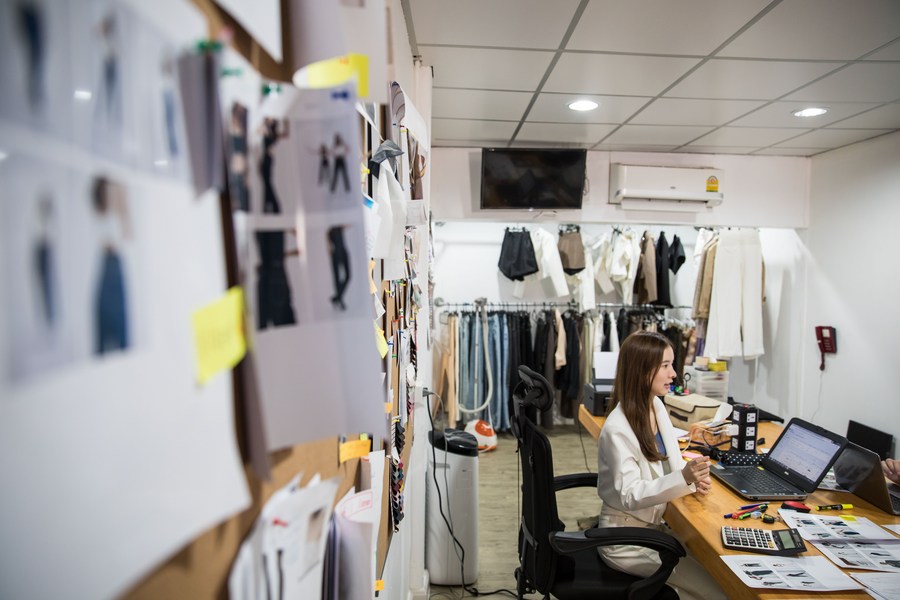 Kanittha works at her online clothing store studio in Bangkok, Thailand, Feb. 3, 2021. (Xinhua/Zhang Keren)
BEIJING, April 22 (Xinhua) -- With the development of Silk Road e-commerce, consumers from home and abroad, enjoy the pleasure of "global shopping at home".
Experts believe that Silk Road e-commerce is becoming a new and prospective economic driver for the Belt and Road development.
-- Global shopping at home
Many European people now prefer riding bicycles than taking trains to stay away from COVID-19 risk. Chinese bicycle brands, already available on cross-border e-commerce platforms, are the first to take the huge business opportunity.
Foreign consumers are placing favor on "global shopping", while their Chinese counterparts are getting more fond of imported commodities. It's the rapid growth of Silk Road e-commerce that allows their "global shopping at home".
In recent years, the Belt and Road countries are enhancing communication and coordination regarding e-commerce policies. Data from the Ministry of Commerce (MOC) showed that the number of Silk Road e-commerce partners has increased to 22 countries.
Only in China, there are 26,000 cross-border e-commerce businesses operating or existing, according to data from Qcc.com. In 2020, 5,688 newcomers were registered, including 3,130 ones in Belt and Road-involved provinces and cities.
The prosperity of Silk Road e-commerce is the result of the active cooperation and win-win achievement of the Belt and Road participating countries, said Wang Wen, executive dean of Chongyang Institute for Financial Studies, Renmin University of China.
-- Enterprises' accelerated pace of going global
According to insiders, Chinese retailers are better at online store operation. They offer customized products with appropriate prices and contents.
Many Chinese brands, though having no physical stores and relying completely on online sales, are making full use of the quick production, up-to-date variety and fast delivery features of e-commerce platforms to establish a potent supply chain system covering all processes from design to delivery.
Dongguan Dingzhi Furniture Co., Ltd. in Guangdong lost nearly all orders from offline customers due to the COVID-19 pandemic in 2020. In response, the company invested more in its online stores on cross-border e-commerce platforms. Through new promotions such as live commerce, 3D and video visits, it has obtained many new customers from the Belt and Road countries and regions, bringing 68 percent and 326 percent of year-on-year increase in number of orders and trading volume, respectively.
Dingzhi will continue to focus on Silk Road e-commerce and make better use of cross-border e-commerce platform stores to quicken its "going global" pace, said Cheng Bing, a business manager of the company.
In recent years, Chinese e-commerce platforms such as JD, Suning and Tencent are focusing on overseas markets. Data revealed that Chinese e-commerce businesses take half of cross-border online shopping market shares in Russia and report good performances on leading e-commerce platforms in Southeast Asia.
-- Digital Silk Road sees a brilliant future
Chinese regions are getting more involved in Belt and Road development and, particularly to tackle with the pandemic impacts, are intensifying Silk Road e-commerce development.
In early 2021, China (Ganzhou) Cross-border E-commerce Comprehensive Pilot Area and Central European Trade and Logistics Cooperation Zone reached a cooperation agreement on import/export of 88,000 TEUs via 1,000 China-Europe freight trains from Ganzhou to Budapest in the following three years. The government of Jiangxi Province says it will build Ganzhou into a global comprehensive service center for Silk Road e-commerce in 3 to 5 years.
Northwest China's Gansu Province proposes to launch a 3-5 year pilot reform to build Tianshui Comprehensive Pilot Area into a Silk Road e-commerce pivot featuring "cross-border e-commerce + featured products + comprehensive services".
Central China's Henan Province, a traditional agricultural province, seizes the Silk Road e-commerce opportunities to sell large quantity of industrial and agricultural products globally.
Shaanxi Province and some southwest provinces are actively developing overseas-oriented cloud services, animation industry, software service industry, manufacturing and IoT industry, etc.
MOC has recently issued a document, listing Silk Road e-commerce as one of the five major approaches to achieve digital commerce development.
In the future, MOC will help China's regions engage in international cooperation and encourage them to formulate and implement regional Silk Road e-commerce cooperation plans and set up dedicated work mechanisms.
(Edited by Bao Nuomin with Xinhua Silk Road, baonuomin@xinhua.org)