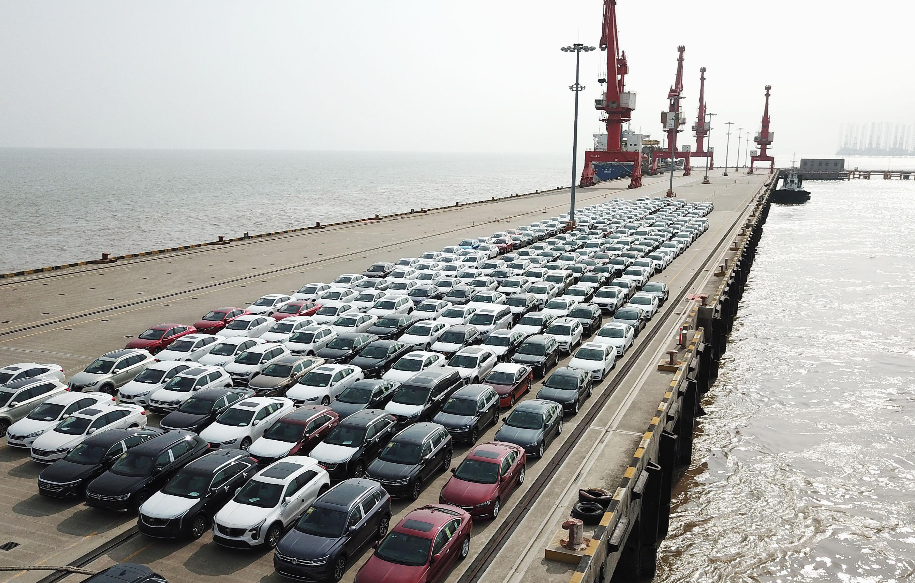 Aerial photo taken on June 27, 2019 shows new cars waiting for shipment at a port in the Lingang area in Shanghai, east China. (Xinhua/Fang Zhe)
BEIJING, July 5 (Xinhua) -- Construction of an industrial park project invested by China's Lingang Group has recently kicked off at the Zeebrugge port in Belgium.
The project covers an area of 30 hectares with a total investment of 100 million Euros. The first phase of the park will cover an area of 15 hectares, with 76,000 square meters of logistics warehouses and 22,000 square meters of container yard.
Cross-border e-commerce is one of the key businesses of the park which has seen 40 percent of areas rented out in advance with contracts signed, according to Yang Jing, chief financial officer of Lingang Group.
The Zeebrugge port is a famous deep-water port in Europe, with good sheltered conditions and developed service of automobiles and cold chain transportation. As a hub connecting trade flows between China and Europe and transshipment to the UK, it can berth 24,000 TEU cargo ships.
Lingang Group is the largest industrial park development enterprise headquartered in Shanghai. It is reported that the industrial park will provide high-end infrastructure and professional service for Chinese enterprises to strengthen their business and supply chains in the European market. At the same time, the logistics trade business of the park will also cover new energy vehicles, cross-border e-commerce, cold chain transportation and so on.
In 2018, Lingang Group and the Port Authority of Zeebrugge in Belgium decided to strengthen connectivity through integration of capital, technology, talent, management and other resources. (Edited by Hu Pingchao, Wang Siyi with Xinhua Silk Road, hupingchao@xinhua.org)