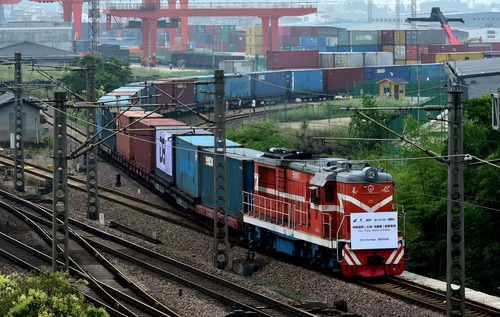 A China-Europe freight train carrying medical supplies bound for Madrid of Spain departs from the city of Yiwu, east China's Zhejiang Province, June 5, 2020. (Photo by Lyu Bin/Xinhua)
BEIJING, July 2 (Xinhua) -- A China-Europe freight train carrying with 100 TEUs of goods set off from Yiwu, east China's Zhejiang Province on Thursday, bound for Kyrgyzstan and Uzbekistan, marking the first road and rail intermodal freight services starting from the Yangtze River Delta to the two countries.
Loaded with goods of textiles, hardware and other products, the freight train will transit to road transport at Kashgar in northwest China's Xinjiang Uygur Autonomous Region, and will arrive in Central Asia after passing through Irkeshtan Port in Xinjiang.
The freight train operator issued China's first bill of lading with property rights for the goods, which will help open up a new international logistics channel for Yiwu's flourishing small commodity trade and effectively improve the accessibility of Chinese-made goods in the global market.
The Yixinou freight train, which runs between Madrid and Yiwu, has been optimized operation quality while maintaining stable operation in recent years, and the goods transport structure is also transformed from small commodities to high-tech products such as automobiles and photovoltaic (PV) power equipment.
It is noted that the Yixinou freight train made 737 trips in the first six months of the year, with its container volume surged by 149 percent year on year.
(Edited by Jiang Feifan with Xinhua Silk Road, 346129473@qq.com)