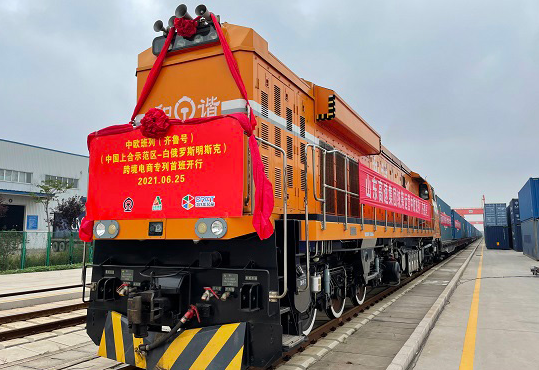 Photo: A train departs from Qingdao city, heading for Minsk, capital of Belarus, June 25, 2021.
BEIJING, June 28 (Xinhua) -- A China-Europe freight train for cross-border e-commerce business has recently departed from Qingdao city, east China's Shandong Province, marking the first of its kind in the province, according to dzwww.comon Monday.
Carrying 100 containers of daily necessities worth about 4.3 million U.S. dollars, the train will reach Minsk, capital of Belarus in 15 days.
In recent years, with the rapid development of new forms and models of foreign trade, the scale of cross-border e-commerce has also soared year by year. The freight train provides a safe and efficient international logistics channel for Shandong's cross-border e-commence trade.
As of June 24, China-Europe freight trains (Qilu) have made 857 trips in total this year, an increase of 18.9 percent year on year. To be specific, such trains for imports and exports have made 655 trips, accounting for 76.4 percent. The number of the routes linking cities in Shandong with cities in other Asian and European cities has increased to 48, enabling goods to arrive in 50 cities in 20 Belt and Road countries, according to the report. (Edited by Hu Pingchao, Wang Siyi with Xinhua Silk Road, hupingchao@xinhua.org)